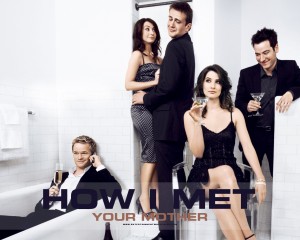 As someone who is a huge admirer of Bollywood cinema, I also happen to be a big fan of US sitcoms. I have seen many great shows from beginning to end that include Friends, Frasier, Everybody Loves Raymond and of course How I Met Your Mother. Although the classic TV show ended last year, I only recently finished watching the final season where the male lead Ted Mosby (played by Josh Radnor) ultimately ends up with the love of his life Robin Scherbatsky (played bv Cobie Smulders). As someone who happens to be a fan of both Bollywood and US sitcoms, I cannot help but notice that How I Met Your Mother is ultimately a tribute to all the love stories that are told in the world of Bollywood. It is something which I have rarely seen in a US television show before, but How I Met Your Mother has a strong zest of one key ingredient which is commonly used in Bollywood films – and that is romance. Of course romance has been used in other key sitcoms like Friends, but this has been done in the more Western tradition.
What makes How I Met Your Mother almost parallel to a Bollywood love story is the fact that during the course of the nine seasons, a lot of the romantic scenes between Ted and Robin have depth, soul, intensity and a unique form of chemistry (things which I have only seen in Bollywood and nowhere else). Moreover, the way in which the finale closes will pretty much remind you of one major Bollywood film; and that is Karan Johar's Kuch Kuch Hota Hai (1998). The fact that Ted marries 'the mother' Tracy (played by Cristin Milloti), has kids with her, and then she dies from an unknown illness and he then finally gets back together with Robin seven years later screams nothing else but Kuch Kuch Hota Hai. This is something which I have also read about in blog posts about the show and I cannot help but side with the bloggers. It was essentially the perfect ending done Bollywood ish-tyle.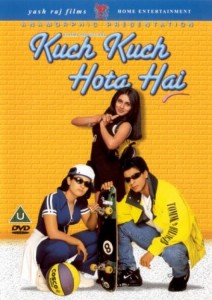 On another note, the famous blue French horn which Ted stole for Robin in the first season and acts as a symbol of their relationship definitely reminds me of another major Bollywood film. And that is Aditya Chopra's classic film, Dilwale Dulhania Le Jayenge (1995), where Raj (played by Shah Rukh Khan) buys a cow bell for the love of his life Simran (played by Kajol), which acts as a symbol of how their relationship blossomed during their tour of Europe.
What also makes me think that How I Met Your Mother is a tribute to Bollywood are the key characters (three of them to be more specific). The one major character who I think has all the traits of a typical Bollywood hero is Ted Mosby, whom I consider to be the American version of Bollywood's King of Romance: Shah Rukh Khan. Anyone who has seen Shah Rukh's major films like Dilwale Dulhania Le Jayenge, Mohabbatein (2000), Kabhi Khushi Kabhi Gham (2001), Kal Ho Naa Ho (2003) and of course Kuch Kuch Hota Hai, will know that Shah Rukh's skills in romance are similar to that of Ted Mosby. He's romantic, good at flirting, serious about commitment, treats a woman how she should be treated and always talks and thinks about his future with the love of his life. If that's not the Raj or Rahul which we have seen Shah Rukh play in numerous Bollywood films, then I don't know who is. Also I find Robin to remind me a lot of the wonderful and talented actress Kajol. She's dramatic, beautiful, funny, gives in to romance and performs with a lot of conviction and substance. In addition, who else does the womanizing, athletic and comedic Barney Stinson (played by Neil Patrick Harris) remind you of but Bollywood's bad boy, Mr Salman Khan? Pretty much Barney reminds me of the many characters which Salman has played over the years and Salman is known to be 'legendary' for this. As for the witty married couple Marshall (played by Jason Segal) and Lily (played by Alyson Hannigan), as amazing and iconic as their characters are, they have been constructed in a more Western style and hence; they are probably the least Bollywood-y type characters in the show.
Although the final season was to some extent bland (with the exception of the last few episodes), I will always consider How I Met Your Mother to be one of my all-time favourite sitcoms. Not only is it funny, humorous, as well as soppy in many places; but the love story between Ted and Robin, which is told through a lengthy nine seasons, pretty much reminds me of how the concept of romance is commonly exemplified in Bollywood. I find it fascinating that this has been successfully transmitted on to a popular American sitcom. That too without the writers, directors and actors knowing that they would subconsciously be paying tribute to the remarkable film industry that is Bollywood!