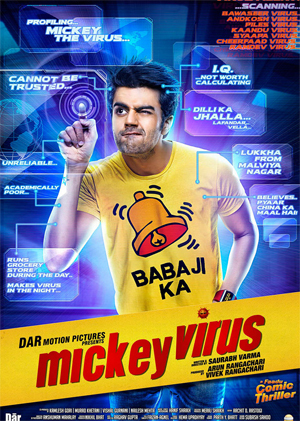 Starring Manish Paul and Elli Avram, the comedy thriller Mickey Virus hits theaters on October 25th. Composer and lyricist Hanif Shaikh was brought in to create the songs for the film about hackers and hacking. I enjoyed Shaikh's songs for Paathshala so I was looking forward to hearing what he brought to the table for this quirky film. So was it a good follow-up? Well…
One of my favorite singers brings emotion to the OST with the brilliant Tose Naina. As always Arijit Singh is in perfect tune singing from the heart and you can feel every note. A lovely ballad with a great musical line that is such a gorgeous mix of guitar, synth notes, classic Indian drums and more. One of the coolest things about this track is that the music surrounds you. This one had me from the first Iss lamhe and kept me to the last Naina Naina laage and the last note. I wanted to play it again before it was even over! Definitely added to my 'I love this song' playlist (everyone has that right? No? Just me well…).
With a title like Pyaar China Ka Maal Hai you certainly are unsure of what to expect and this one is indeed different! It begins very jarring to the ears and never really gets better. The music has a nice beat – very synthy but very ordinary so yes, it is just nice. The vocals fit the tone and the song very well but not something you want to hear over and over. Then that rap… oh dear that is just wrong. Since this is a comedy, I imagine what this all is will make more sense and I say wait until you see the movie to experience this track.
Sajna Ve Sajna Ve is very, very, very electro synth in the underlayment and on top of it are the strong Punjabi flavored vocals of Altamash Faridi and Shadaab Faridi and it just does not work. It felt like the music was fighting the vocals instead of supporting them. Even on the softer sections it was a battle for the music and the vocals. The vocals are great but are let down by the music. Overall it made me want to turn it down. Not a good thing for a song.
The oompa loompas have joined in for the Mickey Virus title song. Well, not really but that is what it sounds like. It has a very interesting underlying musical line with some cool vocals as instruments aka beatboxing but with a very quirky flavor. Composed by Faizan Hussain, Agnel Roman this song is just a bit too much. It has almost a 60s feel in parts and reminds me of a Paul Simon song. In parts it sounds like they are just jammin', which sometimes is very cool but on this song it is just a hot mess. The vocals by Nikhil Paul George and Siddhant Sharma are good but other than that it is a very confused track and confusing to listen too. Not one for a repeat.
Start a song off with an acoustic guitar line and I know I am going to like it and that is true with Aankhon Hi Aankhon Ne. Sung by the soft, melodious voice of Palak Muchhal it is such a pretty song. Though I love her, I do wish she had sung a bit lower on the register in parts to give it more depth. Musically a lovely layer of instruments that converge to make it well… lovely. Give this one a spin especially for the music.
Then I get to smile again because the Aankhon Hi Aankhon Ne (Duet) once again begins with the acoustic guitar and it is so good. Mohit Chauhan joins Palak on this track and he sounds great. But I think the echo misty mix they added took away some of the richness of his vocals and the song needs that. I wanted the strong Mohit Chauhan and I got the light version. I thought I might like this one better but I liked it about the same. Lovely song but needed some richness and depth to make it a classic and one to add to my 'I love this song' playlists.
Starting off with 'Tose Naina' I had such high hopes, but sadly the rest of the tracks did not live up to the promise of that song and his earlier work. Though Aankhon Hi Aankhon Ne in both versions is lovely the rest of the OST is not one for a replay. I am going with a 2, which is a little generous, but that is for Tose Naina and the two Aankhon Hi Aankhon Ne's which take it up a notch.