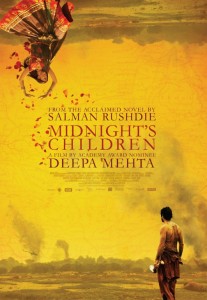 Deepa Mehta's cinematic interpretation of Midnight's Children was adapted in collaboration with the book's author Salman Rushdie. The film features an ensemble cast of Bollywood actors and actresses and follows the narrative of Rushdie's book which charts the birth of a newly divided Indian subcontinent through the eyes of a young boy named Saleem Sinai, who is born at the stroke of midnight on Indian independence.
There will a number of sections of the audience who will be interested in watching Midnight's Children: those who have read and love the book, those with a historical interest in the Indian sub-continent's history and those who are eager to see some big mainstream Bollywood names who feature in this big international English language film. We will try to cover all those interests as best we can.
First and foremost the film production: Deepa Mehta has created a beautiful and epic film. It takes some effort to recreate the period settings from the pre and post independence era, combined with recreating both East and West Pakistan. Above all that, is the mammoth task of adapting a long and multi-layered book of 600 pages, which was split into three parts and holds a number of characters and subplots. Deepa manages to weave a number of those plots, with the periodical and geographical settings, colourful costumes, characters, dialogue and music to present it as an epic feature. In that sense, she has managed to bring what was previously called an 'unfilmable' book to the big screen.
For those who have read the book and those who perhaps have not, here is where you may hold mixed views. If you have read the book, you will instantly relate to much of what has been adapted from the book. You will have moments of realisation, moments of appreciation and of course moments of disagreements – why did they do this like that? Why did they miss that out? If you have not read the book, beyond appreciating the lovely cinematography, music and fine performances, you may find that there is a lot going on and that a fair amount has been squeezed into the 146 minute running time. To balance both sides, Midnight's Children may perhaps have been a far satisfying product if it was presented as say, a four part HBO style drama. That way one could have fully explored the characters and subplots, rather than worrying about what to include and what to drop. Just a thought, which takes nothing away from the film as it stands. What some fans will enjoy though, is Salman Rushdie as the voiceover narrator.
It has been a while since so much of India's modern history has been captured on screen, which for many will be a point of interest. The film moves from 1917 through to India's independence and the birth of East and West Pakistan. It covers the Indo-Pakistani war, creation of Bangladesh and Indira Gandhi's State of Emergency in India. Furthermore the film moves effortlessly between pre-partition Kashmir, to post-partition Bombay, apparently being shot in around 651 locations, paying much attention to the period details. Midnight's Children condenses over 60 years of history and 600 pages of the book into a two and half hour film, so for those who may never end up reading the book, the film is a historical treat to watch.
One of the successes of Midnight's Children is the casting. Deepa Mehta manages to rope in a whole host of Bollywood actors which include Anupam Kher, Shabana Azmi, Rahul Bose, Soha Ali Khan, Seema Biswas, Ranvir Shorey and Siddharth, amongst many others you will recognise. Some of the standout performances were Rahul Bose as the firm and cold General Zulfikar, Seema Biswas as the fateful nurse and 'aiyya' and Shabana Azmi as the mother. What is great, is that all the actors play characters who make up part of an ensemble cast and though in places their screentime may seem short, the impact is nevertheless felt. We should make a special mention of the main leads, for example Siddharth who plays Shiva, the main antagonist of the book and Shriya Sharan who plays Parvati, Saleem's wife. The main lead Satya Bhabha has to be commended in his performance throughout. Being of British origin, he manages to deliver a convincing portrayal of the character of Saleem and to integrate his performance with what is essentially a cast of completely Indian based actors. Another quick mention for our readers who will remember Darsheel Safary from Aamir Khan's Taare Zameen Par, he plays the young Saleem and is an absolute pleasure to watch.
Midnight's Children may not be a perfect film, but rather than focus on dissecting the film, we believe that there is something for everyone, as fans of the book, as interested historians, as intrigued Bollywood fans. It is a film deserved to be watched for one, or all, of those reasons.