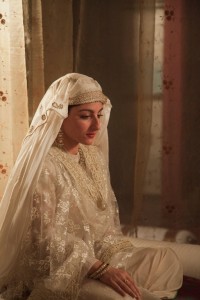 Soha Ali Khan is back in Deepa Mehta's cinematic adaptation of Salman Rushdie's novel Midnight's Children, which features a host of Indian actors and actresses. She plays the role of Jamila Sinai, who is the main character, Saleem's younger sister.
There is a strong connection to the book in the U.K, with it also being the home of author Salman Rushdie and with Soha having studied in both Oxford and London, we felt that we had to ask her what her experiences of the book and working on it's film adaptation were. Read on to see what she had to say…
You had read the book before, what did you think of it?
I had read Midnight's Children, when I was at college. I have always loved Salman Rushdie's novels – his intelligence shines through his words. Historical fiction is my favourite genre and Midnight's Children is one of my favourite books. It is the product of a brilliantly imaginative mind.
Did you get the chance to finally meet Salman Rushdie during the making of the film?
I did get the chance to meet Salman Rushdie in Mumbai during the casting sessions when I was offered the part of Jamila. He was charming, affable and personable. I took my battered copy of Midnight's Children for him to sign. The scrawl is completely illegible – if I meet him again I must remember to ask him what he wrote!
What was it like then being directed by Deepa Mehta in the movie adaptation?
Deepa is wonderful to work with – gentle yet firm, she encourages you to bring of your own to your character and helps to guide you when you stray. It was one of the most professional sets I've worked on to date. We were equals, all actors – no perks or special treatment – we all participated in a gruelling workshop. Deepa knew exactly what she wanted and how to get it.
Were there any lessons learnt for from working on an international production?
I suppose we have method in our madness in India – busy film sets, no clear job delineations, last minute hustle bustle and adjustment – it somehow all comes together – for the most part! In this intl prod though when someone yelled silence you could literally hear a pin drop. We had workshops, rehearsals, one make up hair team for everyone, actors came on time, stood in for eye-lines and cues…it was incredibly professional.
What was it like acting alongside with Satya Bhabha, your main co-star?
A pleasure – he worked so hard, was so sincere and earnest and full of energy, positivity – it was contagious. We share some of the lighter moments in the film – singing, dancing, doing the twist! We had so much fun!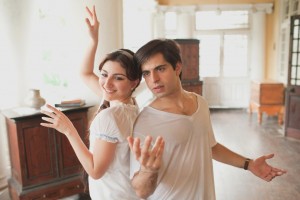 How do you think the film will fare with Indian audiences?
Very well. It is a film about India and so it is so important it is released and seen by us here in India. It will strike a chord with the audience. And for those who have not read the book, it will be a special treat.
What do you think about Indian cinema at the moment? Good directors, films? Critiques?
Indian cinema is rich, diverse, eclectic – the good old formulaic escapist hero-centric song and dance numbers continue and do very well – and then there is a strong emerging band of realistic films; true to our cultural identity, with very talented actors (not stars) made for smaller budgets that ring true with the audience and do very well. I am encouraged by the latter.
What forthcoming assignments do you have?
Sahib Biwi Gangster Returns and Chaarfutiya Chhokare, both of which release early next year. I am all set to start shooting my first all out comedy called Joe B. Carvalho – with Arshad Warsi, Paresh Rawal and Javed Jaffrey. I play a cop, Inspector Shantipriya. It's one of the funniest scripts I've read and I'm really looking forward to filming from early January.
Midnight's Children releases nationwide in the U.K on 26th December.
It features a whole host of Bollywood actors including Anupam Kher, Shabana Azmi, Rahul Bose, Soha Ali Khan, Seema Biswas, Ranvir Shorey and Siddharth .