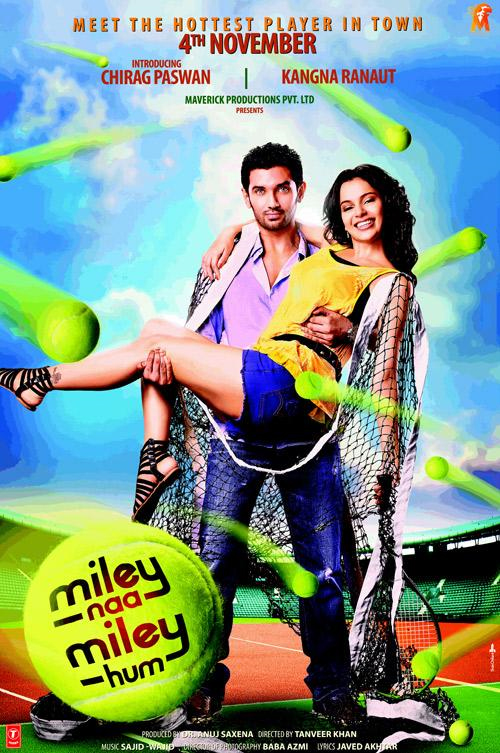 Starring Chirag Paswan, Kangna Ranaut, Neeru Bajwa and Sagarika Ghosh, Kabir Bedi, Poonam Dhillon
Directed by Tanveer Khan
There are some unexpected surprises in this sleeper rom-com, the newcomer Chirag Paswan being one of them. In a tailormade role that projects him as an ideal son, considerate boss, supportive friend and sensitive lover Chirag doles out the schmaltz and the sweetness without tripping over his own goodness.
This is a benign film, innocuous in its intentions and harmless if somewhat pointless too. There are absolutely no villains in the script. In fact some of the people populating the plot seem to belong to another planet in their goodness. Dalip Tahil in a turban stops his spunky daughter (Neeru Bajwa)'s engagement when he gets to know his best friend Kabir Bedi nursed a secret desire to see his hon-haar son (Chirag) married to the almost-engaged girl.
The hero is an angel in designer-disguise. He drives the best cars, wears the best sunglasses, romances a struggling model (Ranaut, struggling to shrug off her emotionally traumatized image) and yet sits with the staffers of his imperious father's sprawling vineyard for a meal of roti and achaar.
The core idea of the film is to propagate a kind of picture-postcard bonhomie into the plot. The worst thing that happens in the hero's life is that his parents are separated. But that's hardly a deterrent for his life being a seriously satirical celebration of slow-motion joys that include romancing three ladies, two chosen by his respective parents and one chosen off a hoarding by Chirag himself.
Kangna as the struggling model who keeps bumbling into hard surfaces (including hero) has an interesting believable part. She starts off being a casualty of her own ambitions and then gradually gets closer to her real emotions.
Nice touch, that one. The tennis backdrop, though never done with the professionalism that hockey achieved in Chak De (and never mind Sagarika Ghosh the actress who played one of the hockey players in Chak De , surfacing in Miley Na Miley Hum as Chirag's potential Biwi). It's all too pretty, too predictable and too soft and gentle to make a lasting impact.
But the heart is the right place. And you can't help smiling at the world that the film encompasses with such tender hands that don't want to brush against any evil.
Debutant Chirag Paswan is likeable when he isn't caught out 'acting'. He comes with the added burden of having to prove he isn't just the brat with the golden spoon. He conducts himself with reasonable aplomb in a film that's just a wee bit different from the boy-meets-girl routine.