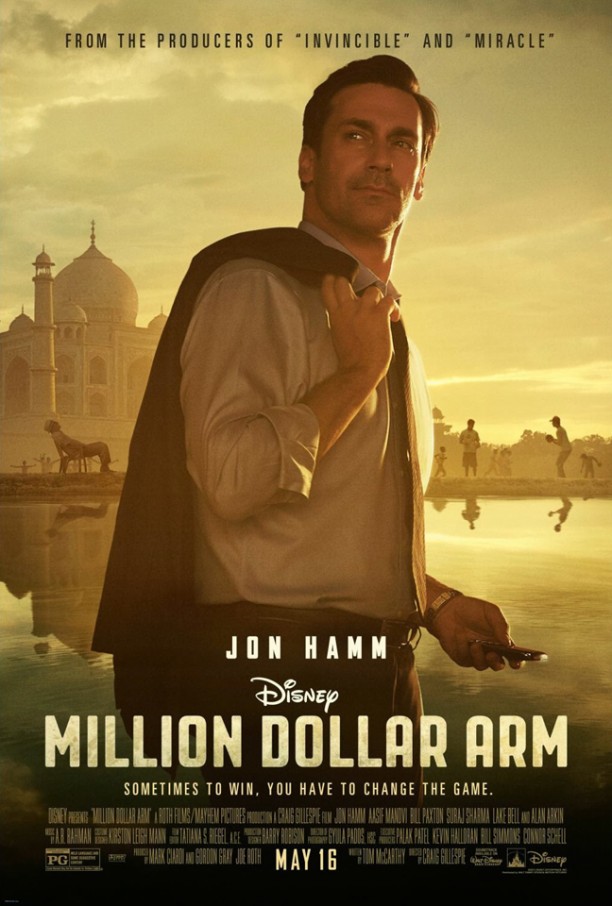 Released in the US on 16th May, Million Dollar Arm is one of the highlights of the 5th London Indian Film Festival, which takes place at the capital from 10th to 17th July.
Disney produces this sports drama film directed by Craig Gillespie. Million Dollar Arm is based on the true story of baseball pitchers Rinku Singh and Dinesh Sharma, discovered by sports agent J.B. Bernstein through a reality show competition. The film portrays their journey and struggles until they became the first Indians to play in the American baseball league. The film stars Jon Hamm (Mad Men), Suraj Sharma (Life of Pi) and Madhur Mittal (Slumdog Millionaire) in the lead roles, as well as Aasif Mandvi, Lake Bell, Bill Paxton, Alan Arkin and Pitobash Tripathy.
Sports agent J.B. Bernstein (Hamm) is going through a bad patch. His business is declining and he has just lost the opportunity to sign a celebrity sportsman. In a last move to save his career, he decides to travel to India in the search for young cricketers that can become baseball players. With the help of a retired scout (Arkin) and Amit (Tripathy), an Indian baseball enthusiast, J.B. sets up a talent contest, "The Million Dollar Arm", which will identify the best cricket bowlers and bring them to the US for a chance to get a major League baseball contract. Bernstein finds Rinku (Sharma) and Dinesh (Mittal), and takes them to the LA to train, but the boys will struggle to adjust.
Sports films are a popular genre in Hollywood, and they can be formulaic as plot options are limited. Most such films revolve around someone who thinks his dreams are unattainable. After struggling and overcoming numerous obstacles, he will reach the point of no return, when he will either succeed or fail.
MDA's strong point is not an innovative story, but the way it is developed. Tom McCarthy takes a real story and turns it into a dynamic script, which Craig Gillespie manages to take to the screen. The director captures the contrasts between America and India, although he is careful not to resort to clichés and stereotypes. Besides, Indian characters' dialogues are mostly in Hindi, a surprising but welcome decision considering that American films tend to mostly use English even for multicultural stories.
Although the film has the search for baseball stars as a backdrop, the focus is on the relationships of its characters, and how they evolve throughout the film. Bernstein is a womanizer who avoids any kind of emotional attachment and only cares about his career. In order to relaunch his business, he finds himself in charge of two boys who have travelled thousands of kilometres away from their families and feel insecure about their future. This is what matters and it is the way their relationship is portrayed what mostly appeals the audience.
One of the elements that make MDA stand out among other similar stories is the cast and the quality of their performances. Jon Hamm's performance is splendid, as he accurately manages to portray the internal dilemmas that trouble Bernstein. Despite being young actors, Suraj Sharma and Madhur Mittal have already showed their talent. As Rinku and Dinesh they offer a fresh and natural performance that helps the spectator to relate to the story. Pitobash Tripathy's character is a screen-stealer. He is the source of most of the comical scenes in the film, as well as a good contrast to Bernstein's sullenness. A numerous group of secondary characters teams up in order to give more credibility to the story.
A.R. Rahman is responsible for the soundtrack of the film. The most reknown music composer in Bollywood, A.R. Rahman has also built an extensive career in international cinema, being 127 Hours and Elisabeth: The Golden Age some of his most celebrated soundtracks. In this film, the composer mixes Western music and Indian tunes to find the right balance which will sound appealing to most ears.
Million Dollar Arm is fun and touching, an excellent family film with Disney's hallmark. Jon Hamm offers an outstanding portrayal of real life JB Bernstein, while young Suraj Sharma and Madhur Mittal add an awesome performance to their promising careers.
This is a story about hope, about dreams that can come true and about love. The vibrant soundtrack by master A.R. Rahman adds the finishing touch to this highly recommended film.
Million Dollar Arm will reach UK cinemas on 29th August.