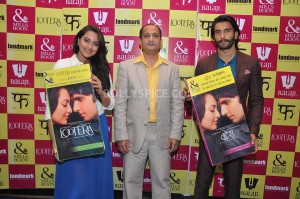 Ageless hero, eternal romance, zealous fantasy, upright comrade all form part of the special journey of the iconic romance fiction series Mills & Boon, with world-wide appeal since 1908. Romance being one of the basic emotions that we all seek in our lives, these widely read novels provide an entertaining & enriching experience.
To commemorate the beautiful essence of romance, Harlequin India and Balaji Motion Pictures have launched a special edition Mills & Boon – Lootera Collection. Available in two languages, the English edition of Mills & Boon Lootera collection is priced at Rs. 295 whilst the Hindi edition is priced at Rs 150/-. The pack, consisting of enchanting love tales by popular authors like Emma Darcy, Lynne Graham & Penny Jordan, effortlessly depicts the depth and intensity of love, similar to the way Sonakshi Sinha and Ranveer Singh exhibit onscreen in the film. The evening captured the entertaining Ranveer Singh and effervescent Sonakshi Sinha exchange notes on their idea of love, followed by the unveiling of the much awaited pack and a book reading session. The evening ended with an overwhelming response as enthusiastic readers and fans got a copy of their favourite Mills & Boon novel autographed by the charming starcast of Lootera. A magical romantic extravaganza indeed!
Mr. Manish Singh, Country Manager, Harlequin India Pvt. Ltd. states, "Mills & Boon is a leading global brand in the romantic fiction space & at its core remains a story that is both real and aspirational. Bollywood is the cultural face of India, hence it's only a natural extension that Bollywood is in some way associated to our novels. At Mills & Boon we always strive to give our readers something special from their purchases. We saw the theme of Lootera as a perfect fit with the brand."
Says Mr. Tanuj Garg, CEO – Balaji Motion Pictures, "Lootera epitomises pure, classical romance. Given the values that Mills & Boon stands for, the integration between the two is seamless and perfect."
Lootera releases worldwide in cinemas on July 5 and has been produced by Balaji Motion Pictures and Phantom. It has been directed by Vikramaditya Motwane, who shot to fame with his critically acclaimed Udaan.