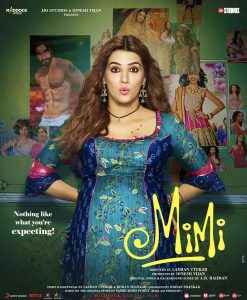 Mimi(Netflix, Jio Cinema)
Starring Kriti Sanon, Pankaj Tripathi
Directed by Laxman Utekar
Somewhere in the middle of the paternity muddle created by a screenplay that is smart and savvy but not always logical, a doctor played by Jaya Bhattacharya looks straight at expectant mother Kriti Sanon and says, "Your unborn child will be born disabled…. He has Down Syndrome".
What????!!!!
Later the child is born perfectly normal. No one thinks of taking legal action against this abominably ill-informed doctor. Instead there is the child's legal parents, an American couple who should be denied visas the next time they decide to come to India to collect a baby, threatening to take the child's biological mother to court. Pregnant pauses are alien to the world created in this entertaining but somewhat irksome dramedy.
But hang on. Mimi is not as heavyhanded as it seems to be. It has its really blithe moments where Kriti Sanon, in a role written to make her shine, plays an ambitious Rajasthani dancer who wants to be a Bollywood star, and has Ranveer Singh's poster in her room .She also has Deepika and Kareena's pictures on the wall just to remind herself that once she gets to Bollywood those divas are done with.
Here is an over-reacher from the outback, flying so high in the sky she can't see the pigeon shit hitting her giddy head.Egged on by a cocky driver Bhanu Pratap(Pankaj Tripathi, as priceless as only he can be) and driven by her greed to make quick bucks she settle for surrogacy.Mimi decides to become surrogate mother to an American couple(Evelyn Edwards and Aidan Whytock) who flee from the country, and their ambitions of parenthood, when the female doc announces the child would be born "disabled".
Could we please disable the word disabled when talking about children born different from normal? And since when are doctors allowed to make such hasty careless judgments?
The pre-pregnancy portions underline some gleeful moments where Pankaj's comic timing is no surprise, but Sanon's aptitude at creating humour is a surprise. I specially liked the sequence where Mimi's best friend played by the redoubtable Sai Tamhankar looks at the American surrogate father and sighs, "I'd sleep with him without being hired for surrogacy".
The film has some interesting ideas on parenthood and the woman's right to her womb. But the treatment gets progressively guillotined by excessive melodrama. The end-game with the biological mother battling it out with the American couple who hired her womb, seems like a very oldfashioned 'Hey re kanhaiya kissko kahega tu maiya' situation, created for tears.The chuckles get a wrap on the knuckles as the drama kicks in like a baby kicking to get out of the womb.
Truly the chuckles when they are allowed to be, are the life and breath of Mimi. Bolstered by Kriti Sanon and Pankaj Tripathi's feisty performances the film succeeds in drawing us into its far-from-logical plot and keeping us engaged even when the characters start behaving as if they had just seen Main Tulsi Tere Aangan Ki in a loop.
Mimi has its flashes of brilliance, like Manoj Pahwa as Mimi's father hiding his grandson's toy in his dhoti when the Americans threaten to take away the child. These firangis, I tell you.
The music and songs are used sparingly. Rahman's Rihyaai De and Kailash Kher's Choti si chiraiya are unusually evocative in present day context when music in our films has become royally redundant.