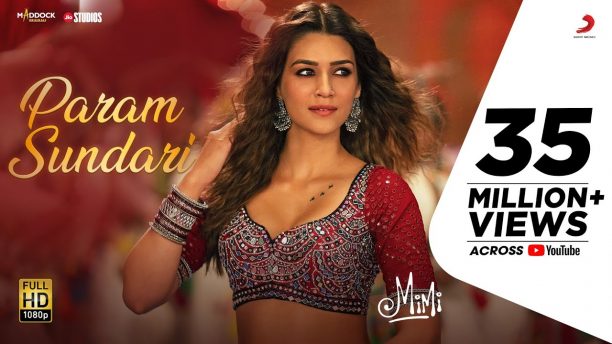 A. R. Rahman weaves his signature magic in Mimi's Param Sundari. If it's Rahman, it's beyond beautiful! The maestro always wins us over with the most brilliant of songs, so it comes as no surprise that his newest creation is a listener's delight. And the listener's certainly agree with over 36 million views on YouTube alone!
Param Sundari, the latest track from "Mimi", is a delectable mix of folk and funk. Featuring a gorgeous Kriti Sanon dressed in dazzling desi attire; this catchy number sees her break into quite a few snazzy "thumkas".
Complemented by an exquisitely royal set, Kriti displays just the right amount of pep and zeal, mesmerizing the audience with her fiery charm. The actress is at her natural best, having a blast performing to the melody. We also steal glimpses of co-stars Pankaj Tripathi and Sai Tamhankar in the song.
Talking about the track, A. R. Rahman says, "Param Sundari is a reflection of the lead character Mimi's dreams. We wanted something catchy and desi which could capture the simplicity of life in small towns and the love that ties all people together. I think we found the right balance with this track. Enjoy Param Sundari!"
The film follows the journey of an aspiring actress who becomes a surrogate mother to make easy money. Unfortunately for her, life has other plans as she drowns into a crazy rollercoaster.
Mounted on a grand scale with majestic visuals and vibrant colours, this tangy number not only enriches our ears but is a treat for the eyes too. It also brings together the finest musical talents of Indian cinema, with A. R. Rahman as composer, Shreya Ghoshal as singer and Amitabh Bhattacharya as the lyricist.
Raw, rooted and rustic check out the beats and the dance to Param Sundari
As a special treat we have a behind the scenes look into the making of the incredible video!
Jio Studios & Dinesh Vijan present, Mimi. A Maddock Films production, produced by Dinesh Vijan, directed by Laxman Utekar, starring Kriti Sanon, Pankaj Tripathi, Sai Tamhankar, Supriya Pathak and Manoj Pahwa, starts streaming 30th July 2021 onwards on Jio Cinema and Netflix.