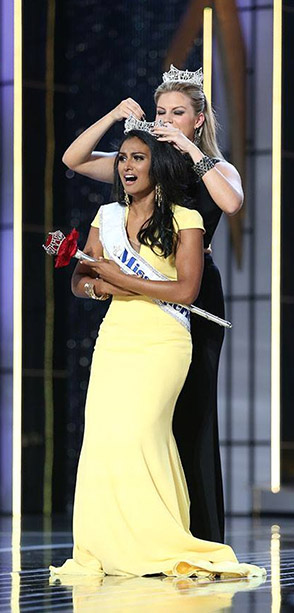 On the 15th of September 2013, Nina Davuluri was the first Indian American to be crowned Miss America. One of Miss Davuluri's biggest platforms is diversity and the diversity of the US was celebrated with her win. Indian-Americans are the third largest Asian community in the USA according to The Times of India. Having an Indian American win is not only a first time and a cornerstone in history, but is a positive message on embracing USA's diversity. However, along with the amazing comes the ugly and there was indeed some ugly in the way of racist backlash to having a non-White, Indian American win.
Of Telugu descent, Nina was born in New York and bought up in Oklahoma. A graduate of the University of Michigan in Cognitive Behaviour and Brain Science, as well as having won academic awards including the Dean's List and National Honour Society Award, Nina is certainly not just a pretty face. Apart from her success in academia, Nina also plays the piano and is a trained Kuchipudi and Bharatanatyam classical dance. Nina stole the show through her dancing skills as she performed to Om Shanti Om's spectacular Dhoom Taana as part of the Talent section pageant. This is the first time in history that an American Pageant has boasted a Bollywood performance. Nina expressed her pride and honour at this as she told USA Today:  "It's the first time Bollywood has ever been performed on the Miss America stage and it's such an honor for myself, my family and the Indian community, as well."
She now plans to use the $50,000 scholarship won as part of the pageant towards Medical School. However, many have chosen to ignore these qualities and celebration of diversity by branding Nina into a stereotype and unleashing racist remarks.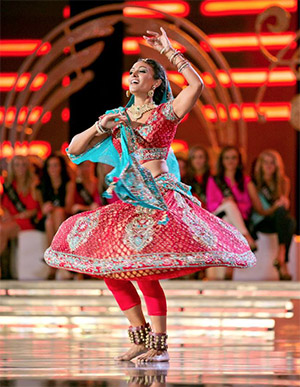 One tweet stated: 'Miss America? You mean Miss 7/11?'– referring to the stereotype of Asians and convenience stores. It is not just the stereotyping but the ignorance that is prevalent through these remarks. Nina was confusedly referred to as 'Arab' through one tweet and Muslim through another. The anger and prejudice that is still stirring since the 9/11 terrorist attack is clear through one tweet stating '9/11 was 4 days ago and she gets Miss America?' Unfortunately, this is not the first time that the beauty pageant has sparked off racist remarks. According to CNN, reactions were similar when Rima Faikh of Lebanese descent was crowned Miss USA 2010. Some were quick to associate her with Hezbollah, a militant group.
What the angry racist bigots don't seem to understand is that people are individuals and that you cannot discriminate against someone for the colour of their skin. That is the very foundation of racism – something that Martin Luther King gave up his life fighting for, more than 50 years ago. Something else that those criticizing don't understand is that Nina being crowned as Miss America is clearly a point to embracing diversity, not resorting to stereotypes and ignorance.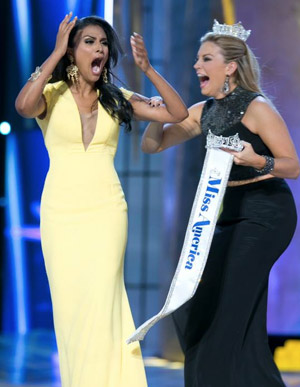 However, Miss America 2014 has risen above these negative remarks, saying "I have to rise above that … I always viewed myself as first and foremost American."
BollySpice Editor, Stacey Yount's recent interview with Nina's choreographer Nakul Dev Mahajan (coming up tomorrow) highlights that Nina's important message is about bringing diversity. According to Parade, Nina stated in a press conference, "I'm so happy this organization has embraced diversity… I'm thankful there are children watching at home who can finally relate to a new Miss America."
In the words of Miss America 2014, "…We're making history right here, standing here as Asian Americans – so we are really proud." We are indeed proud. You do not have to be of Indian heritage to feel proud and celebrate the positive message of diversity that Nina Davuluri's victory symbolises.
BollySpice now has one more favourite to win at Miss World this year!