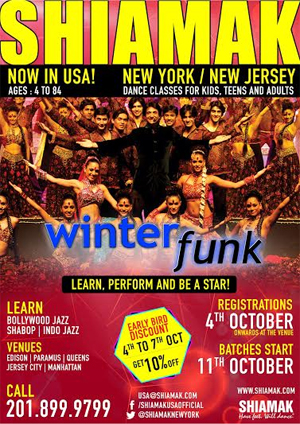 As we told you recently, Bollywood Dance Guru Shiamak is getting ready to bring the magic of his Bollywood dance to the US. Reaching out to over a million dance enthusiasts across India, Canada, Australia, United Kingdom and United Arab Emirates, the Shiamak Dance Academy classes opening in New York and New Jersey, are just another way for the choreographer and teacher to, as he says "spread the joy of dance". Free classes are being held this weekend and then the first batch of classes begin on October 11th.
We got the exclusive scoop from Shiamak about bringing his amazing Bollywood Jazz dance technique to America! Check out what he had to say!
If you had to explain Bollywood dance to someone who wants to come to your school what would you say?
Bollywood is celebration of India! For over hundred years, Bollywood has expressed our emotions, lives, colors and culture! And just like that, Bollywood dance is a celebration of life. It adapts itself to all types of music and movement. It's energetic, entertaining and fun!
Are you excited to open your schools in the US?
Yes, I'm very excited. USA is the hub of the performing arts and always welcomes new cultures. For many years dance enthusiasts have been requesting me to start classes in USA so after the success of the IIFA Awards in Florida this year we decided to kick off SHIAMAK USA in New York and New Jersey.
Why did you decide to expand into the US?
My mission has always been to spread the joy of dance. So after India, Canada, Australia, UK and UAE, it was about time that I started classes in the US!
What went into the decision to decide to open in New York and New Jersey?
I've been to New York many times and there is a certain energy about this city like no other. The multi-cultural vibe and the reach of dance and the performing arts is boundless here. It takes a lot of planning before starting off in another country in terms of set up, studios and faculty. Everything has fallen into place and I'm glad it's finally happening.
What do you think are the thoughts on Bollywood and dance in the US?
Bollywood dancing has become very popular globally. Everyone loves the energy and the colors. Unfortunately, what I see of Bollywood dance here isn't really what we do back in Mumbai. So with my academy, USA will get to learn Bollywood dance from the heart of Bollywood!
http://youtu.be/iczQMArQpYo
Do you think IIFA has had an impact on the US knowing more about Bollywood and especially Bollywood dance?
I think because of the popularity of Bollywood in USA, the IIFA Awards took place here! Packed audience, screaming fans and a great weekend, IIFA re iterated the fact that Bollywood really is a global phenomenon!
What classes will be offered the schools in the US?
The dance classes are for three age groups- kids (4 to 6 years), juniors (7 to 12 years) and adults (13 years onwards) . My motto is Have Feet, Will Dance!™ so my instructors will ensure that all participating students learn in a fun, relaxed environment. While the core style would be Shiamak's Bollywood Jazz™, they will also teach Shabop (Hip Hop & Street Funk) and Shiamak's Indo-Jazz™.
Does the curriculum or how you teach the classes change from country to country?
I set the curriculum in India and choreograph with my instructors here. All instructors abroad have been trained by me and then sent to the various cities/countries. So to ensure the same quality, we send them choreography and the syllabus from here. Of course, we adapt it to their preferences and style popularity but the basic framework remains the same.
Tell us about the teachers Deeba Patel, Bhuvan Sharma & Devashree Pande.
They are three of my finest instructors! Deeba has been learning at my school in Mumbai since her childhood! All three have worked closely with me in films and shows. They've danced with and also trained Bollywood stars, taught across India and managed programs. They will now share their expertise with students in USA and I'm sure they'll do a great job!
What to you makes a good dance teacher be it Bollywood, ballet, hip-hop or any style?
Passion. I think this lies at the core of anything that you do. To be a teacher, I'd take it one step forward and say compassion. To be able to recognize your talent and share it with others is a beautiful gift. And of course, as a dance instructor you need to have the talent, fitness and knowledge to be able to share it with others.
http://youtu.be/IZl01dEd8_U
What do you think is the most challenging thing about teaching Bollywood dance?
Bollywood dance is more about self-expression. The challenge is to make everyone feel good about themselves, feel comfortable expressing through dance and then making the dance their own!
What would you say are the trends in dance in Bollywood today?
Bollywood dance has progressed in toe with Bollywood music. And Bollywood music has drawn inspiration from various genres and cultures, be it Rock'n'Roll to Disco to Arabic to Hip Hop. Whatever is popular internationally, Bollywood adapts itself to it and makes it its own. Whatever the influence, Bollywood music has its distinct identifiable sound. The current influences are EDM and Hip Hop.
Name who you think are the best dancers of Hindi films both past and present?
Govinda is the king of expressions and performance, something that is extremely essential in Bollywood dancing. Madhuri and Aishwarya are very graceful. Hrithik is a complete perfectionist and Shahid, my student is the most trained and that comes across in his videos.
Will perhaps Debbie Allen teach a class at your school?
Debbie Allen is my guru. I have always looked up to her. I was honoured to have her teach my instructors and students at my studio in Mumbai when she visited years ago. And some of Company dancers also trained at the Debbie Allen Dance Academy. And I will be honoured to have her teach my students in the US.
Will you have a US Shiamak Dance company?
The core Shiamak Davar Dance Company is based in India and perform with me and on their own steam all over the world. In Vancouver, Toronto, London, Melbourne and Dubai we have 'The Shiamak Dance Team'. The dance team comprises of Senior Instructors (who are members of my Dance Company), local instructors, assistants and senior students. So at shows and events in that country / city, the local dance teams represent me. It's a great platform for the local talent to perform as well. Over a period of time we will develop The Shiamak Dance Team, New York as well.
http://youtu.be/FG5lxjAe_Xw
Will there be performances?
Yes, in fact we've already had one – Diwali at Times Square which was very well received. In keeping with our mandate we endeavour to spread the joy of dance education, entertainment and empowerment!
Do you plan to expand further in the US?
New York and New Jersey is a great start to the dance academy in the US. So slowly we will take the dance movement across the country.
What is would you say is your mission?
My mission is to spread the joy of dance to ALL regardless of age, background or ability. So now with the USA, it is another opportunity for me to give people a chance to experience dance. Have Feet. Will Dance.
For more information: http://www.shiamak.us