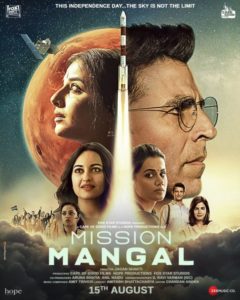 Misson Mangal is Akshay Kumar's Independence Day 2019 film following up on last year's hit Gold. An impassioned performance of another real-life story of the ISRO Mars Orbiter mission, this one however is all about the women who make up the story. Played by a host of Bollywood's best and up and coming actresses, this film brings women to the fore like never before. Led by Akshay this team become like the women of Bletchley Park working with Alan Turing in WW2, to put together vital knowledge about Mars before NASA landed there. Since this is both a drama looking into the many complications of every day life as well as a space documentary, the music is not likely to play much of a part in this film but since its Bollywood can't really be avoided either. So, to set the right tone Amit Trivedi has been asked to make a short 3 song album of hope, dreams, fantasy and achievement.
To shuru mein, Dil Mein Mars Hai! Where else to begin but with a song about the idea of getting an orbiter to Mars. Peppy and upbeat, where bhangra meets jazz, this is a well-known trope for Amit Trivedi to write a 'life journey' style song on. There are strong similarities to other albums that Amit has done especially 'Love You Zindagi' from 2016's Dear Zindagi. More synth is involved to give the fantasy element and Benny Dayal and Vibha Saraf are a good team of singers for this song. While this song doesn't lack for rhythm or beat, it doesn't quite have the power of melody like 'Love You Zindagi' did, with Amit relying on the singers to carry themselves. Depending on how this is used in the film, there may be sound reasons for this but as a song it does lose a mark.
When in Western movies cinemagoers watch great feats being performed inevitably the Chariots of Fire theme song pops into the mind. For the next song, Shaabaashiyan there is more than a hint of the same here. Shilpa Rao, Anand Bhaskar and Abhijeet Srivastava all play their parts on the mic to tell the story of the emotions of what's likely to be a backdrop to some CGI, but inevitably this song is about the human tale. Thus, this is a slow, even song which doesn't really have a beat but there is an element of the underlying Chariots of Fire theme, just like the rocket on the orbiter itself.
Of course, the album will get an ending song with Tota Udd. A fun club beat with lyrics sung by Raja Hasan and Romy, this will give everyone a bit of a chance to dance but still being respectful to the people in the story. Plenty of fun is had with the beat and synth rhythms, with Amit Trivedi mixing acoustic drums, synth sounds and a rocket to complete the picture.
Amit Trivedi is well-known in Bollywood as the music director for a journey moment where a character or group of characters go above and beyond what they thought was possible and achieve something unexpected. Films he has written for in the past have shown through their music the ups and downs of self-belief, disbelief from others, fighting spirit and the willingness of the human spirit to keep trying even in hopeless conditions. Mission Mangal's album, even with its limited space and scope, is no different as it perfectly encapsulates the hope of an idea, the success of that dream and allows for everyone to let down their guard and have some fun at the end. The biggest criticism of this album is that there's nothing different in it… its another great bit of work by Amit Trivedi.