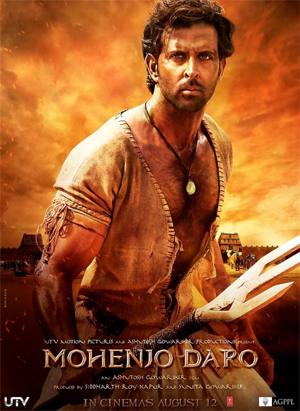 The super team of Ashutosh Gowariker, A.R. Rahman and Javed Akhtar are back together after a hiatus with Hrithik Roshan in another period film, Mohenjo Daro. We are to be taken back to a time "before India was what it became" in which the vivid tunes of Rahman combined with the beautiful lyrics of Javed Akthar come together to give the viewer the experience of life in pre-India. Let's see if the team that gave all the wonderful songs from Jodhaa Akbar meets up to their own set standards.
We begin our musical journey the title track Mohenjo Mohenjo with a rustic African drum feel to it. In some ways, we get an expected style of percussion and tuning for a title track. But neither does this take away the grandiose charm nor does it stand out above all others. One does notice the percussion is quite heavy, unlike ARRs previous magnum opus musicals. Arjit Singh is faultless but it is the kind of track that focuses less on the male lead and more on background singers a la Azeem-O-Shaan Shahenshah in Jodhaa Akbar.
Next up is Sindhu Ma. We swing straight into it with Sanah Moidutty's sweet praise and ARR's unconventional rhythm to throw caution to the wind. Sanah's voice gives an edge but one can detect a bit of struggle for her as singer. ARR has always tried to sound a little different in songs he lends his voice to. Here too he lingers in a new dimension from his previous renditions. In effect this is the timeless classic we have heard before but it has the added aspects making fresh and somewhat shocking in a 'wait I wasn't ready for this' way.
Sarsariya begins with a possible made up language. While it's unsure why this was needed, the switch back to smaller drum percussion does help overcome it, and that too in perfect measure. You can't help but move to the music and lyrics flow better than ever. As a simple, sweet, flirtatious number, it brings the love story to the forefront. Shasha Tripathi is confident and a delight to hear. Shashwat Singh has almost a cameo part but ties in well in the flirty banter written well by Javed Akhtar. The instrumental of Sarsariya, Lakh Lakh Thora, ups the playfulness and flirtatious tone. Tapas Roy on mandolin and PMK Naveen Kumar on flute to fill in for voices, and give a more authentic pre-India age feel.
The jodi from Sindhu Ma return again with Tu Hai. However this time we have classic duet but the percussions move back to congas, giving it a jungle feel to it. Magical, earthy and magnificent like a rainforest. The lyrics and the clip indicate the sly banter between star-crossed lovers unbeknownst to the crowd around them. Yet a divine praise is also present, like Sindhu Ma. The Shimmer of Sindhu, the instrumental of Tu Hai, continuing a sensual conversation between the acoustic guitar and the flute by Keba Jeremiah and Kareem Kamalakar respectively. Almost floating along a river. The pure notes are strong from both instruments allowing the listener to imagine the magical moment of love, beauty and wonder.
Whisper Of The Mind is haunting like a memory that flickers through the mind but never quite makes complete sense. The quest to know what it means is there but there is never enough to entirely understand it. Before you realize Arjun Chandy and his hypnotic vocals are seeping through the barriers in the mind, you enter an almost sleep state. The enchanting rhythm washes over you in subtle fashion, leaving you dumbfounded yet enlightened.
And finally, Whispers Of The Heart. In an almost conversational manner, you begin the journey of love. First discovering the magic, followed by the mesmerizing allure then the lingering pursuit without being seen. Till the open flirting with the percussion to set the scene and vocals by Arjun Chandy and female vocalists bring life to the imagination.
So how does A. R. Rahman, the maestro that raised his flag high enough that Hollywood had to take notice, fair in his latest venture? Much like Mohenjo Daro, the mystery has yet to be discovered but that won't stop the magic and the intrigue from surrounding, engulfing and tantalizing the audience. Familiar in some cases yet if left to the imagination, unfolds a whole new level of wonderment. It's hard to pick one of the songs as favorite so that will be left to you reader to decipher. This writer is just happy to see the Maestro from Madras back in business, pushing his boundaries and ours.