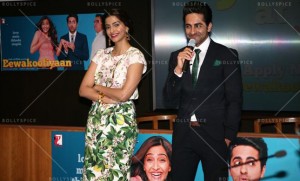 At a B-School event attended by working students in their interview-best, Ayushmann Khurrana (Mohit Chaddha) and Sonam Kapoor (Mayera Sehgal) presented a tongue-in-cheek look at the corporate world while announcing the unique promotional campaign 'Get a Job at YRF.'
To know more watch a special message from Ayushmann and Sonam at: http://www.bewakoofiyaan.com
Along with having the required qualifications for the marketing position, one must also be able to impress Ayushmann and Sonam in the final selection round. While Ayushmann who plays Mohit – a marketing whiz kid will judge the applicant's marketing and communication capabilities, Sonam playing Mayera – a financial brain will conduct the interview on the grounds of personal conduct and presentation skills.
'Get a Job at YRF' has received an overwhelming response with excited and enthusiastic applicants from across India participating in it since the contest was announced!
As Mohit says, apply karo kyuki love mein BEWAKOOFIYAAN chalegi, par career mein nahin!
Directed by Nupur Asthana and Produced by Aditya Chopra, BEWAKOOFIYAAN, is a contemporary slice of life story which turns set notions about relationships on their head. The film has been written by the versatile writer/director Habib Faisal.
The film stars Rishi Kapoor, Ayushmann Khurrana and Sonam Kapoor in lead roles. BEWAKOOFIYAAN releases worldwide on 14th March 2014.