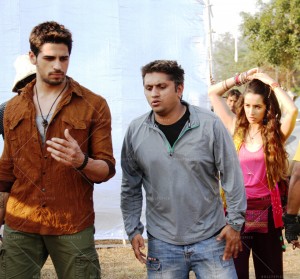 Mohit Suri's Ek Villain starring Riteish Deshmukh, Sidharth Malhotra and Shraddha Kapoor is among the most keenly awaited films of the season what with his enviable track record of blockbusters behind him.
Talking about the film's unusual casting, Mohit says, "I've never followed convention. I've never cast people just because they're hot or popular. For me, it's always been about who is right for the role. Riteish, for instance, has never done something like this before. You've seen him largely in comic roles. Yet when you watch Ek Villain you will realize that there is no one better than Riteish for this role. Sidharth has struggled his way up; he's seen dark days. There was angst in him that made him a perfect fit for this film. Shraddha is more like a boyfriend, a guy buddy I can call in the middle of the night. We had a great time working together in Aashiqui-2 as well."
He adds, "We've also put together a great ensemble supporting cast who lend tremendous credibility to the roles they portray in the film."
As a director, Suri, perhaps, has the best track record when it comes to chart-busting music. All his films Awarapan, Kalyug, Woh Lamhe, Zeher, Raaz 2, Murder 2 and Aashiqui-2, have had a hit album. The 'Galliyan' number from Ek Villain has rapidly climbed up the popularity charts. Says Suri, "I belong to a school (Vishesh Films) that has emphasized the importance of good music. I'm never satisfied with my music till the end. I'm always looking to better the last song I've finalized. I'm happy that Galliyan is faring well. It's a difficult time for Ankit Tiwari (the composer & singer of Galliyan). Aashiqui-2 made him famous and that's why everyone's talking about him."
Ek Villain releases worldwide on June 27.