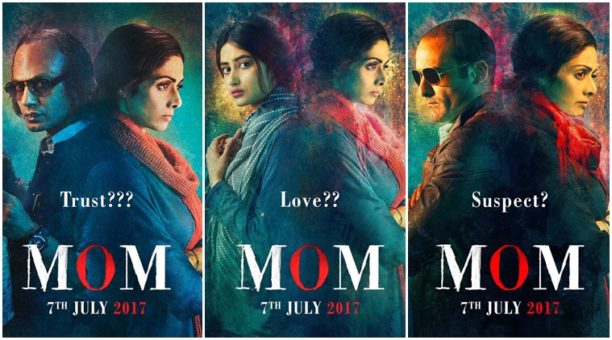 MOM is an exciting and provocative thriller, and fear not because you won't find any spoilers here.
The story begins with Sridevi playing a biology teacher called Devki Sabarwal, a strong woman who is capably juggling her career along with her home life. This is made all the more complex because she has two daughters, but the eldest one (Arya played by Sajal Ali) is a step daughter who resents her and misses her own mother deeply.
There's the usual teenage rebellion and angst but, as you start to feel comfortable watching what appears to be a film full of cliches, Arya goes through a horrific ordeal. I will warn you, MOM is not easy viewing. It is deeply unsettling in parts, but the strength of the performances and the direction keep you hooked. It's very much worth your time and effort.
Sridevi has plenty to work with as matters progress, in particular the scenes where the true nature of the ordeal is revealed, showing the anguish of a mother for her child. There was a ripple of conversation around the movie theatre at the end, with comments such as "it's the best thing she's done". There were certainly many very emotional moments as she portrays a mother who will do anything to fight for her daughters, even when it comes to choosing between "what is wrong and what is not right". Tough decisions lead her down a path where the consequences mount up to the point where you wonder whether the family can survive.
The father, Anand, is played by Adnan Siddiqui who is a steady rock for Devki in her time of need. Adnan manages to convey strength and fairness, along with the understanding that he will also protect the family, just not to the lengths that Devki is driven to. We also get to meet a tough cop named Mathew Francis (Akshaye Khanna) who is constantly lurking in the background, figuring out what's really going on. Akshaye's performance manages to be forceful, macho, but also tinged with deadpan humour. He keeps you guessing as to where his real allegiance lies.
Other star turns include a lovable private eye called DK for short, admirably played by Nawazuddin Siddiqui, who provides some much needed comic relief in what might otherwise have been too harrowing a film. The character appears an oddball almost to the point of being unlikeable, but Nawazuddin fleshes DK out so that we behind him and invested in his quest to help Devki. However, like most of the characters there is light and shade, bringing a believability to the film. Even the police, who are under the impression that they uphold the law above all else, can be brutal in their methods.
In fact, one of the things that Ravi Udyawar has managed to do is to carefully handle the tone throughout the movie. He dabs a bit of comedy in at the right moments, but manages to keep the tension ratcheted up, especially in the second half of the film. Having seen a lot of Hollywood thrillers, I found myself thinking that I knew what was going to happen next, only to have those expectations dashed, right up until the end.
The tense atmosphere is also greatly down to the music, provided by industry-veteran A. R. Rahman who has composed over 150 film scores over his 25 year career. If you think that you've not heard his work before then you're probably not taking into account such global hits as Slumdog Millionaire and 127 Hours. His score for MOM is yet another example of how this film shows a polish and slickness with its production that you might expect from a Hollywood film, except this was made on a much smaller budget.
The film is in Hindi with subtitles, but as a non-Hindi speaker I found the subtitles easy to read and they didn't detract from the film much at all.
MOM is in theaters now.