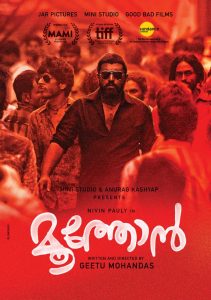 Moothon
Starring Nivin Pauly, Roshan Matthews, Sanjana Dipu
Written and Directed by Geetu Mohandas
In her sophomore film, the Malayalam masterpiece Moothon, which should be on everyone's must-see list of lockdown films, director Geetu Mohandas (whose debut film Liars Dice is an undiscovered gem) has actually yoked two films together into a work of stunning impact.
On the surface Moothon is a travel tale of a 15-year child's search for his missing elder brother. Amir has gone missing in the bustle of Mumbai. The male child, played by a female actor Sanjana Dipu, travels to Mumbai alone and gets sucked into the city's brutal underbelly with barely space for anyone to breathe.
Geetu Mohandas recreates an asphyxiating Mumbai, filled with seedy bars and bustling brothels, with Shobha Dhulipala bringing in a little too much lipsmacking joy into her whore's part. I know she's a happy whore. But lady, calm down! This is a film about holding in, holding back.
With her husband cinematographer Rajeev Ravi to capture every hearbeat of her creative outpouring Geetu Mohandas breathes resplendent life into every frame.Her Mumbai is a breathless morass of self-destruction.And Nivin Pauly is the emperor of Mohndas's simmering inferno.
Let me say this right here. Nivin Pauly is a revelation. With this one performance—actually it's two performances so seamlessly fused together that they become completely unified—Pauly joins the elitist circle of the most accomplished actors of our country.
His Akbar is force of Nature. Thundering against the humanity that he has buried under the rubble of roughness, his performance epitomizes that musk of machismo that men are supposed to flaunt to be considered "man enough".
Miraculously, and with a fascinating fluency, Geetu Mohandas flips the coin, and takes us into a ravishing romance captured by the splashing seawaves of Laskshadweep in a flashback between Akbar and his mute soul-mate Amir(Roshan Matthew).This is a love story so freed of gender restrictions that I wanted to stand up and applaud not just the supreme sensitivity of the director but also the indomitable bravery of the two actors.
In scenes that are reminiscent of Barry Jenkins' Moonlight, the two actors portray love with spellbinding immersive intensity. When Nivin Paul amd Roshan Matthew look at each other they see neither man nor woman. They see only love.
We copy that. Paul and Matthew don't "play" lovers. They embody love at its sublimest. With shattering abruptness the romance ends suddenly.The plot somersaults into the sordid violence it had left behind and lands on its feet.The violent life that Akbar has chosen for himself is challenged by the presence of a child who needs to be protected from sexual aggression.
I felt this part of an other-wise flawless film to be over-burdened with the task of coping with LGBT issues. There is also a transgender character (played with cogent urgency by Sujith Shankar) who doesn't quite fit into this epic jigsaw that tackles the age-old question of sexual identity without getting sweaty under the collar.
Moothon is a remarkably restrained and ruminative treatise on love, intimacy, longing and grieving. It is one of the decade's bravest most accomplished Indian films with heartbreaking moments of meditative melancholy.
The film has been chosen as the closing film at this year's prestigious New York Indian Film Festival, which will be digital this year. The film will screen on August 2nd.