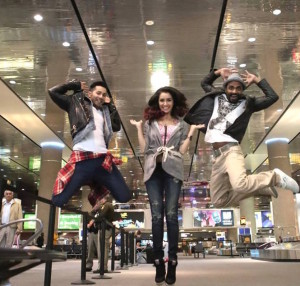 We gave you the killer trailer for the highly anticipated film ABCD 2 yesterday now we have some other cool news to share about the dance flick!
Disney India is creating a unique experience with ABCD – Any Body Can Dance for all Indian fans. With ABCD 2, a sequel to the first successful instalment ABCD, the company is planning to extend the cinematic experience to a television show on bindass; a dance inspired game and branded merchandise.
The franchise will be Disney India's first effort to create multiple touch- points of the ABCD phenomena across various platforms. Weaving in a narrative themed around dance, friendship, love and courage, the concept lends itself into a great franchise opportunity and offer fans a complete ABCD branded experience.
"Globally Disney has created some of the biggest franchises, and we are excited to have now developed our first truly local franchise with dance at its core. Our creative teams across the company are focused on delivering great content, quality products and memorable experiences for our family audiences, across platforms of their choice. With ABCD, we have created a franchise which is tailored to provide its fans with a unique multi-platform experience", said Siddharth Roy Kapur, Managing Director, Disney India.
With the first edition of ABCD performing phenomenally well at the box office, Disney India is all set to release the sequel on an even higher note. With stunning international locales, foot-tapping music, sizzling performances, the film stars youth sensations – Varun Dhawan and Shraddha Kapoor in the lead. They will be seen grooving with Prabhudheva and ace choreographer Remo D'Souza directing them. The film is based on the real life struggle of a Mumbai based dance troupe who go on to win the World Hip-Hop dance championship.
Along with witnessing this dance extravaganza on the big screen, fans can also own a piece of the film with cool ABCD merchandise. Disney India's Consumer Products business has tied-up with Voxpop Clothing for an exclusive branded range of apparel and accessories around the movie. Disney India's youth channel bindass, will also be coming up with a special dance series themed around ABCD. This show will trace the journey of three passionate dancers who come together to pursue their dream of representing India at one of the biggest international dance stages in the world. In addition to this, Indiagames, Disney India's gaming arm will be developing a rhythm based game where fans can engage with their favourite movie characters and dance their feet off on their mobile phones.
"ABCD as a concept is and will always remain close to my heart as it allowed me to explore my passion for direction, along with dance. The phenomenal response to the movie made me realize the significance of dance in the hearts and minds of audiences in India. With a promise of a television show, branded merchandise and a game, I am extremely delighted to be a part of this dance-inspired franchise" remarks Remo D'Souza, director-ABCD and ABCD 2.
ABCD 2 releases internationally on 19th June 2015 through UTV Motion Pictures.
After bringing to the audiences, India's first 3D Dance Film; ABCD Any Body Can Dance, Disney India and ace Choreographer turned Director Remo D'Souza are back with its spectacular sequel, ABCD 2. The second chapter promises to be even bigger in scale with current heartthrobs Varun Dhawan and Shraddha Kapoor in the lead and the inimitable dancing Star Prabhudheva reprising his role of Vishnu Sir. The story traces the journey of an Indian dance troupe, a motley assortment of boys and girls who come from the backstreets of a Mumbai suburb; their rise to fame, sudden downfall and then their heroic attempt to seek vindication by regaining their lost glory and pride. Will they be able to achieve success at the biggest International platform? Will they make their beloved Vishnu Sir proud, who is himself struggling with his not so perfect past? ABCD 2 is a grand 3D Dance Film which travels to the vibrant city of Las Vegas and is a bittersweet journey of love, friendship, betrayal, honor and redemption.
Check out the trailer!