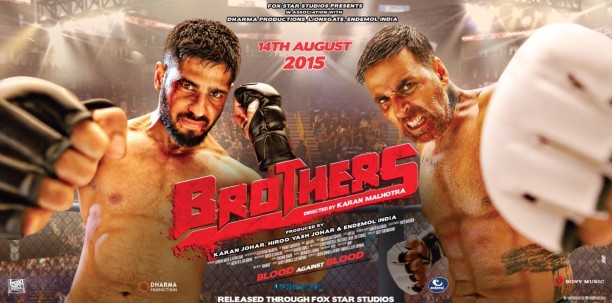 An Indian adaption of the hugely popular hit, Warrior with Tom Hardy, BROTHERS is the hard-hitting action-drama surrounding a broken family forced to face up to one another mentally and physically, all within the world of mixed martial arts and underground street fighting.
The film stars A-list actor Akshay Kumar and emerging star Siddharth Malhotra. Also taking part are Jacqueline Fernandez and Jackie Shroff in the film produced by Karan Johar's Dharma Productions.
Directed by trailblazer Karan Malhotra who brought us the hard hitting Agneepath, Brothers is set to hit theaters on August 14th. The director is once again going to take us on an emotional journey which we hear is a cinematic explosion of love, fraternal rivalry and high drama.
Just for you we have a short synopsis:
David (Akshay Kumar) is forced to confront his underlying problems when he finds himself reunited with his estranged family; his father (Jackie Shroff) returns after serving a ten-year prison sentence, and Monty (Sidharth Malhotra) the struggling alcoholic who is active in the world of street fighting, yearns for acceptance and love from his family. Brought together by the arrival of India's biggest international event in mixed martial arts history, 'Right to Fight', the family must face each other, and their demons, to win the ultimate battle, and find redemption.
If you missed it, here is the mind blowing trailer too

The gritty family drama required intense physical training and fitness aficionado Akshay Kumar left no stone unturned. Akshay, along with co-star Sidharth Malhotra, worked relentlessly on a gruelling fitness regime, both requiring highly controlled diets, prolonged martial arts training sessions and weight lifting. We also havr learned that Akshay Kumar made sure that all the fighting scenes were performed 100% full on to make sure that they looked real to add to the grittiness of the film.
Talking about working with Akshay and getting ready for the film, Siddharth said at the trailer launch, Akshay 'has been doing kicking and punching for a very long time. Since it was my first film like this, I was very nervous to work with him.'
Adding, "There was anxiety, nervousness but I have learnt a lot from them (Akshay Kumar and Jackie Shroff)… The way they deal with their work."
Now here is something special check out the Brothers bonding on set!