Some of the most lauded and iconic stars from American, Canadian and Indian cinema and entertainment join forces in 2011's most poignant drama, Speedy Singhs aka Breakaway, releasing in cinemas worldwide and in the UK on Friday 30th September 2011. Produced by First Take Entertainment and Hari Om Entertainment, Speedy Singhs is a gripping, cross-cultural hockey drama set in the Indo-Canadian community of suburban Toronto, Canada. The film is making its world premiere this weekend at the Toronto International Film Festival and then opens worldwide on the 30th of this month!
Directed by Hollywood filmmaker Robert Lieberman (D3: The Mighty Ducks, Table for Five), Speedy Singhs features Hollywood heartthrob, Rob Lowe; global comedy sensation Russell Peters and the lovely Camilla Belle (The Lost World: Jurassic Park, 10,000 BC) alongside Indian stars including sensational screen debutant Vinay Virmani who delivers a world class performance, and veteran of Indian cinema Anupam Kher (Bend it like Beckham). The co-producer of the film is India's biggest star, Akshay Kumar, who is the first Bollywood star to become a producer of a major Hollywood film. Akshay continues to make his mark in Hollywood and makes a guest appearance as himself in the film. A galaxy of other exciting cameos are provided by the likes of recording artist and actor Aubrey "Drake" Graham and Grammy Award winning rapper Chris "Ludacris" Bridges. Ludacris added his vocals to the cross-urban music track of the year, "Shera Di Kaum", the promotional song for Speedy Singhs, where he also features in the video. The track is already championing the airwaves and global playlists ahead of the film's release.
Riveting, entertaining but also entrenched in a strong social context, Speedy Singhs explores the issues of race relations, migration and cross-cultural tensions while superbly balancing both tenderness and humour. It tells the story of a young man caught between two cultures and two sets of ideals. The film speaks of the sports genre underdog, but in this case, the underdog reflects issues of assimilation that immigrants deal with daily as they strive for acceptance in their new home country.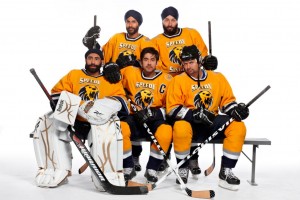 Speedy Singhs also has a generational story to tell, as a young man tries to find his way in a new, western world, daring to disobey his father's sacred traditions. It gives the audience an insight into the little known Sikh culture, a beautifully humble group of South Asians that embrace a strong sense of community. These real issues ground 'Speedy Singh' in a story that has deep resonance – even in its hilarity, it has poignancy.
Comments Bollywood superstar Akshay Kumar, "Breakaway is a touching story about a young Indian Ice Hockey player who wants to get into the big league. I am introducing Vinay Virmani, who is a very good Ice Hockey player in real life as well. The film is about an Indian family wanting to break the stranglehold that mainstream communities have abroad in sports."
Synopsis:
Rajveer Singh is twenty- one-year-old young man dreaming of a professional hockey career. We open with him dreaming of scoring a game-winning goal, followed by a moment of bliss as beautiful girls surround him. Rajveer has the talent to succeed but faces many hurdlers. Being of an ethnic minority Rajveer struggles to succeed in a traditional white-man's sport. He is conflicted as his father wishes that he give up his quest of pursuing a hockey career and devote his life to his religion and family business.
Raised a traditional Sikh, Rajveer was forbidden as a boy to cut his hair and had to wear a turban. Wearing a turban prohibited him from participating in hockey. In his early teens when he refused to follow his family's religious traditions and beliefs. He removed his turban and cut his hair to become more accepted in his adoptive country. Tensions heighten between Rajveer and his religiously devout father over the path he chooses.
Rajveer has been obsessed with hockey since his childhood. He demonstrates a natural talent for the game and continues to improve. As time runs out, he takes matters into his own hands and creates an all-Sikh hockey team. These young men begin their journey of ethnic conformity and social acceptance.
Speedy Singhs is about a young man's journey to find himself in a new adoptive land. Speedy Singhsis a fun, action-filled sports comedy bringing a dash of Bollywood entertainment to Canada's favourite sport.