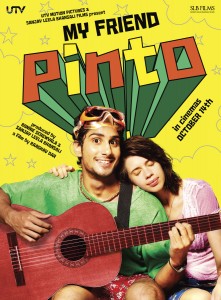 On Friday, October 14th we will see the hot young actor Prateik take on a new avatar, that of a comedy hero, in the film My Friend Pinto. The film also stars Kalki Koechlin as Prateik's love interest and is directed by newcomer Raaghav Dar. Describing My Friend Pinto, Dar said, "The film is a racy, mad comedy about a young musician who comes to Mumbai from Goa to visit a friend. He is a simple, innocent guy who gets lost in the city and has a one night adventure with people from different walks of life."
Not only is it Prateik's first stab at comedy, it is also the first comedy film for well-known filmmaker Sanjay Leela Bhansali, who is producing the film with UTV. So what drew SLB to the film? "It was a script that was filled with smiles, filled with unusual characters, created with an unusual perspective, which had humour in the strangest of circumstances. I just found the whole take fabulous and fascinating."
Of course, SLB is known for more serious subjects and epic films, but the challenge to make something funny is what made him want to get involved, "My Friend Pinto is a totally different film from what I've done so far. And that's the beauty of it. I love challenges."
Both Bhansali and Dar wanted Prateik for the lead role, "A lot of people thought it was suicidal to cast a non-established actor in the title role, but I went ahead according to my gut feeling and said that Prateik was apt for the role. His face, his body language and the whole attitude is just what Pinto is all about," explains Bhansali.
Dar says the character of Pinto is along the same lines of roles that Charlie Chaplain or Raj Kapoor might have done. "It is in the same tradition as the films these legends have done, but more contemporary. Prateik is also a natural actor like these veterans. The film will remind you of Raj Kapoor's Jaagte Raho. The hero wants to help people out but instead puts them in trouble and causes problems for himself too. There are many comic situations throughout the movie."
Prateik agrees and says it is a tribute to them, "All of us together can say that for all the comedians of the world, be it Mr. Bean, Roberto Benigni or Raj Kapoor, this film is like a tribute to their art and genius."
He added, "I love and enjoy what I am doing. I like playing different characters. I want to do good work..something that audiences enjoy."
With this being a first time comedy role for Prateik, Dar says it did take him a bit to come out of that shy shell he seems to have in real life, "Prateik is a friendly guy in real life but he takes time to open up. He worked hard on his body language and became somewhat extroverted,"
In the end Bhansali says Prateik made it look 'effortless'. "Prateik is Pinto in so many ways. There is certain innocence about him, a magic that comes from the pedigree of being Smita Patil's son. You cannot move your eyes away from her even today when you see her film. Prateik has the same power. There is a great watchability which will make Prateik a very important star. I really hope this performance will make him the star that I expect him to be. This film is innocent, light, unpretentious and spontaneous."
My Friend Pinto hits theaters on October 14th.