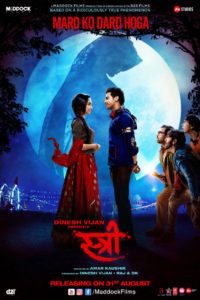 Producer Dinesh Vijan is all set to give us a rarely made genre of Horror Comedy with his next film Stree. Directed by Amar Kaushik and set to release on 31st August 2018, the film stars Rajkummar Rao and Shraddha Kapoor, as well as Pankaj Tripathi, Aparshakti Khurana and Abhishek Banerjee.
Stree is a first of its kind horror comedy, inspired from a true phenomenon. The film is set in a town called Chanderi, where men have started disappearing mysteriously. Is 'Stree' taking them away? Who is she and what does she want? Watch the trailer to know more.
Here is something interesting, Rajkummar Rao is known to be a method actor and always goes out of his way to get into the nuance of his character. For Stree, the actor underwent a month long training for becoming a tailor. He learnt stitching of varied kind of woman outfits from a blouse to shirt. For Rajkummar's character in the film, being a tailor was an important connect to the story line.
Talking about his new learning the actor points out that the job seems easy but required a lot of prep. Rajkummar shares "Once you sit on that chair, the coordination and reflexes are something else. You can cheat with a body double but I wanted to do everything and bought myself a sewing machine and hired a tailor in Mumbai to teach me how to sew. I also had a tailor guiding me on the sets in Chanderi."
Rajkummar was very keen to adapt to the Chanderi dialect. He underwent continuous training for about a month and also had a dialect coach on the sets who made sure that Rajkummar sounded like a resident of Chanderi. He even made sure to have a chat with the locals there to understand how they communicate on a daily basis.
The actor further adds, "I took a couple of weeks off from other projects to prep for Stree. We finished the shoot in one go. The horror-comedy genre while unexplored in our country has a huge audience."
While Shraddha says of her role in the film, "I had a great time working on this film. It was a good change as the other films I had been a part of they have had a more intense zone. So being in a horror comedy was fun."
The film had its grand trailer launch recently along with the entire starcast of the film which includes Rajkummar Rao, Shraddha Kapoor, Pankaj Tripathi, Aparshakti Khurana and Abhishek Banerjee. Also, present at the event were director Amar Kaushik, producers Dinesh Vijan, Raj & DK and music composer Sachin-Jigar.
Shraddha and Rajkummar also helped a few journalists and taught them ways of being safe from Stree and draping special Chanderi saree on them.
The day was special for Dinesh Vijan who celebrated his birthday along with the cast and crew by cutting a surprise cake organised by the team.
Check out these snaps!