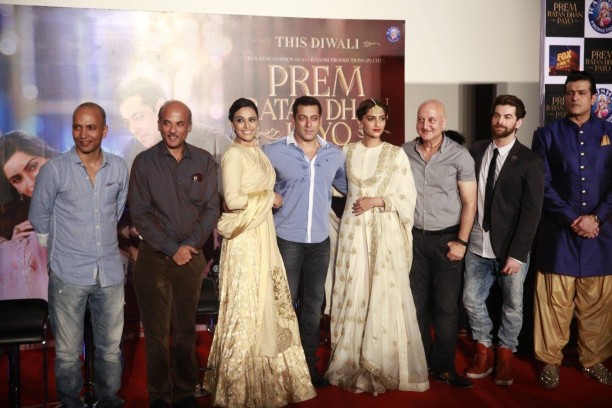 The most awaited family drama of the year Rajshri productions 'Prem Ratan Dhan Payo', had its trailer launch on 1st October. The film marks the return (after 16 years!) of superstar Salman Khan to his most loved on screen Rajshri character of 'Prem'.
The star cast of the film Salman Khan, Anupam Kher, Sonam Kapoor, Neil Nitin Mukesh and Armaan Kohli were of course there to celebrate the film. We also hear Director Sooraj Barjatya was seen in a very jovial mood at the event!
Salman recalled when he first met director Sooraj Barjatya, "We met 27 years ago. Since then I have made my share of mistakes. He (Sooraj) didn't. From the day we met each other, we created a bond for life. I have worked with a lot of directors but the love, fondness and respect that I have for Sooraj, I don't have for anyone. There are lots of directors in our industry and people say you should worked with so and so. But I am happy to have worked with one person, Sooraj. As a director and human being, no one better is than Sooraj. When you leave the theater after watching a Barjatya film, you leave as a better human being. When Sooraj directs, there is so much beauty. He brings back our culture that we keeping on losing. He draws us back to the morals and root."
The film also stars senior and most loved actor Anupam Kher who said at the event that 'Prem Ratan Dhan Payo' is Salman's best film til date. Anupam said, "Salman is nothing but complete heart. He is very evolved. Also he is not a fake person. When the whole world says you are a nice person for a long time, you can't be that if you aren't real. Salman is very real. If he is talking to you, he will genuinely listen to you. He will never pretend that he is listening to you. I am happy to have worked with him as a person and when u know Salman as a person, you feel richer as a person. The most difficult thing in this industry is to be real. The more successful he is becoming, the more real he is becoming."
The film's leading lady Sonam Kapoor also spoke about how much she enjoyed making the film. "I feel privileged to be a part of the film. I have been a huge fan of Salman Khan for a long time. I was a bit nervous…It was intimidating for me to be on the sets, but I was excited as well. After a few days, I got comfortable as Sooraj sir gave me a lot of love. I cherish it. I had an amazing experience."
One of the highlights of the trailer for many, has been the title song. The title song has been sung by singer Palak Muchhal (Aashiqui 2, Jumme Ki Raat (Kick) fame) and the music has been composed by Himesh Reshammiya (who not only composed the full album, but has also co-composed the background score of the film too!) with lyrics by Irshad Kamil. The title song has a very pure and timeless melody. If you are an avid fan of Rajshri cinema, you will know that music is considered to be one of the most integral part of their films. It is reported that the music of Prem Ratan Dhan Payo has been sold to TSeries for a whopping 17 crore. It surely is the most awaited soundtrack of the year!
The trailer release saw a series of happy responses from fans and industry folk across Social Media. Check out some of the responses below and don't forget to share your thoughts with us about the trailer. Prem Ratan Dhan Payo releases in cinemas on 12th November 2015. Stay with BollySpice for all the updates on the film.
Karan Johar tweeted:
Sooraj Barjatya inspired me to be a director! Am standing first in line to see his labour of love! #PremRatanDhanPayo http://t.co/TrXApjyNmK

— Karan Johar (@karanjohar) October 1, 2015
Raghuvendra Singh Filmfare tweeted:
Absolutely loved the trailer of #PremRatanDhanPayo @BeingSalmanKhan @sonamakapoor @ReallySwara @deepakdobriyal https://t.co/CrEhholdmh

— Raghuvendra Singh (@raghuvendras) October 1, 2015
Aamir Ali Television actor:
https://t.co/iZzwPzVBnJ ..Wat a superr promo from de best human I've met n worked wid #SoorajBarjatya .. @BeingSalmanKhan @sonamakapoor ????

— Aamir Ali (@ali_aamir) October 1, 2015
Mayur Puri Lyricist:
सुख दुख झूटे, धन भी झूटा, झूटी मोहमाया … Return of melody & good lyrics? Kudos @Irshad_Kamil & #HimmeshReshammia

— Mayur Puri (@mayurpuri) October 1, 2015
Joginder Tuteja Bollywood journalist:
#MyEarlyMorningThought – Himesh Reshammiya appears to have put his lifetime best score in @BeingSalmanKhan's #PremRatanDhanPayo

— Joginder Tuteja (@Tutejajoginder) October 2, 2015
With over 7 million views we are sure you have seen it but just in case or if you want to experience the Prem magic again!