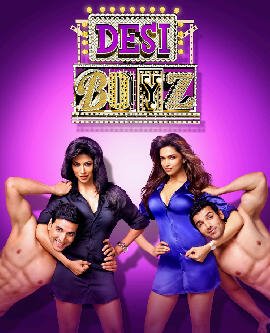 On November 23rd, the hot Desi Boyz aka Akshay Kumar and John Abraham will hit theaters worldwide. Directed by Rohit Dhawan in his debut film, Desi Boyz also stars Deepika Padukone and Chitrangada Singh as well as Omi Vaidya and Anupam Kher. Desi Boyz follows the story of Nick and Jerry. The year is 2009. The world has been struck by the financial meltdown. But Nick Mathur and Jerry Patel don't feel a thing in their comfortable pad in London. Nick feels smug with his successful investment banking job, the new bonus in his pocket and his beautiful fiancé, Radhika, by his side, while Jerry is so used to scraping the bottom of the barrel and living off his best buddy Nick, that recession feels like home. But life has a way of pulling the rug from under our feet. Nick and Jerry stop smiling the day Nick's company decides to downsize and unceremoniously fires him. And Jerry is informed by the Social Services that his nephew Veer, who's local guardian Jerry is will be placed in a foster home unless he gets a steady job. Desi Boyz is the story of two men who are forced to do something extremely bizarre which gives them instant gratification but the repercussions tear them apart and its aftermath which tests everything including their friendship.
Talking about his character Akshay said recently in an interview, "I am basically a guy who doesn't care, about anything or anyone, what the beautiful part about this film is how the recession literally forces me to buck my ideas up, take some responsibility in life and knuckle under and the journey is very rocking I must say. Me and my best friend Nick (John Abraham) completely run out of money and in our desperation are offered to become male escorts, of course me being the frivolous one I think it's a brilliant plan, hence the name 'Rocco', Rocco is my night time name shall we say, where pole dancing becomes a necessity for both of us, the rest is for the lucky viewers that go to see this film at the cinemas, only they get to experience the real Rocco & Jerry in me!!! This film is a first of many, 1st time Director Rohit Dhawan, 1st time co-staring with Chitrangda Singh, 1st time Pole dancing, there is so much of freshness in this film that I genuinely feel people will see so much from all of us, I love the story & you'll all see 'why' when you see it…"
Talking about the film, Dhawan said, "The film is entertaining but it's not only a comedy – it has a lot of drama in it. It's a healthy blend between drama and humour, and more so it has all those masala Hindi film ingredients – strong romantic tracks, a pretty strong amount of emotions, etc., so the film does change gears. It's not a one-track genre film."
John says, "Desi Boyz is a different film. It is a comedy that the audience has not witnessed as of now. Desi Boyz is a film for families. It's not about strippers but two people spreading love."
Akki agrees and has said, "It's not about stripping at all. It's mostly a drama-driven film, which shows how difficult it is for men to put food on the table at a time of economic crisis. The movie has its funny moments and it's racy – and by that I mean fast-paced. But the subject is emotional for any man. At times it makes me want to cry."
This is the first time John Abraham and Akshay have worked together since the super hot Garam Masala in 2005 and both actors have nothing but compliments for each other.
John on Akshay: "I'm always happy being around Akshay and it shows. I owe him a lot. He has great comic timing and watching him helped me grow as an actor within the same comic space. I have worked with Akshay in Garam Masala and have learnt a lot from him. Also, I respect Akki for the kind of healthy atmosphere he creates while work." Adding laughingly, "I have improved in the comedy genre also. In fact, Akshay has complimented me for having an improved comic timing and now I feel I have delivered better than Akshay."
Akshay on John: "All I can say is we are a pair and a half, our reuniting has been well over due, and it's been absolutely brilliant shooting with him again, the respect we both have for each other's bodies and professionalism is immense for two heroes in the same industry to have. We have very similar backgrounds so it's easy for us to get along so well, he's always worked damn hard in his career and in this film he's giving the ladies exactly what they deserve. The only thing that has changed about him as an actor is his growth, not only in his muscles but his maturity and dedication to prove he's more than meets the eye."
We will bring you more Desi Boyz news so stay tuned for more!