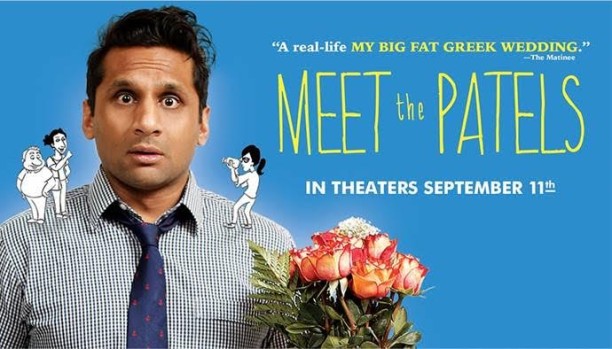 Meet The Patels, the real life heartwarming romantic comedy is currently being screened at the London Indian Film Festival both tonight and on July 22nd. The film will next make its way to the US and open this September! MTP tells the story of Ravi Patel, an almost-30-year-old Indian-American who enters a love triangle between the woman of his dreams…and his parents. This hilarious and heartwarming film started as a family vacation video (with Ravi's sister behind the camera) and reveals how love is a family affair.
Here is something interesting it took the sibling directing team, Geeta V. Patel and Ravi V. Patel, six years to make the film. It then took another two years until it premiered at Hot Docs Film Festival in 2014.
"When it finally premiered a year ago, the crowd went wild, and what followed was a chain of sold-out screenings across the country. It's nice to know that my pain and suffering is something audiences enjoy watching," said star Ravi Patel. Patel, an actor, is currently playing a lead opposite John Stamos in Fox's new single-camera comedy pilot GRANDFATHERED.
Talking about the film Geeta said, ""As we made the film and tested it with audiences, we knew that this film was not about the "Indian Issue". It was about family. About relationships, the moment when you think your relationship with your spouse, your mom, your dad, your friend, sister, brother — you think that relationship is never going to get better, that this person is never going to understand me….This film is about getting to the other side of that. About trying so hard and realizing that people do change, and relationships are the most magical and important parts of life!"
The film has won numerous awards including the Audience Award at the Los Angeles Film Festival and has won praise from critics everywhere. Variety called the film "Sharp and riotously funny!". While Hollywood Reporter said, "Tremendous crowd-pleaser…a runaway phenomenon in the vein of another narrative love story, My Big Fat Greek Wedding".
Here is a bit more about the wry and witty, spoof comedy documentary with some really cool animation about the perils of meeting the girl of your dreams, but don't worry, your parents are there to set you right and find the perfect wife. American Pie, commitment shy Ravi is making his eccentric Gujarati parents quite jittery. He is nearly 30 and un-married – why? The pressure is applied and after being mentally beaten for months Ravi finally gives up and agrees to traditional matchmaking. Delighted Mom and Pop go into overdrive sending him on a global quest to find the Mrs Patel of his dreams. All seems hopeful, until his secret, ex-girlfriend Audrey reappears.
Check out the brand new trailer!

Meet The Patels opens on September 11 in NY/LA/Chicago and then will expand to additional cities on September 18!