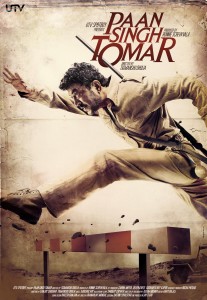 Paan Singh Tomar, which opened on March 2nd and has garnered some amazing reviews, is a film based on a true life story of an athlete turned Dacoit directed by Tigmanshu Dhulia (Haasil, Saheb Biwi aur Gangster, Shagrid). Starring Irrfan Khan with Mahie Gill, Paan Singh Tomar is an untold true story of a simple farmer, a loyal soldier and a champion athlete who became one of India's most dreaded dacoits!
Paan Singh was a small town lad who went on to win the steeplechase at the Indian National Games for 7 consecutive years! He broke the national record, a feat that was unsurpassed for 10 years! A series of life changing events however forced Paan Singh to give up athletics, pick up the gun and become the scourge of the infamous Chambal valley in central India. Filled with deep emotions and fateful twists, Paan Singh Tomar is a gritty, no holds barred action adventure.
Director Tigmanshu heard about Tomar during the shoot of Bandit Queen (1994) and resolved to make a movie on the 'baaghi' (rebel) athlete. He researched for two years, visiting Tomar's native village Bhind, interacting with his family and even meeting some of the dacoits, who had since surrendered and been respectably rehabilitated. It was shot in the Chambal Valley and the barracks of one of our oldest army cantonments in Roorkee.
Irrfan says he was drawn to the challenging role simply because of the story of the man he was playing. He has described it as one of his best performances, and also the most physically and mentally demanding film of his career. In fact, for a dramatic race sequence, 49-year-old Irrfan trained with steeplechase coaches and still broke his ankle during the shoot of the film.
Talking about the role Irrfan said, "The purpose of making Paan Singh Tomar is not to highlight the criminal activities of Paan Singh. The film has a romanticism about it, in that it seeks to capture the angst and pain of the life of Paan Singh Tomar."
"It was a challenge for me to play Tomar. His life was full of uncertainty and confusion. For instance, there is a scene in the film where Paan Singh is shown to be at the crossroads of his life not knowing where to go. The scene aptly reflects his angst," he said.
He adds, "Every film has its own soul. This had my heart."
Shikha Kapur, senior vice president marketing, UTV Motion Pictures has full faith in the film, "Paan Singh Tomar is a movie with an Indian heart. We're confident this is another race Tomar will win."
Stay tuned for our review!
httpvh://youtu.be/enwaoPOO0Ik