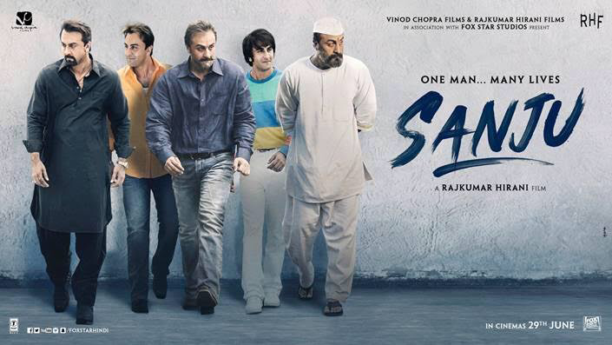 The unbelievable life story of one of Bollywood's most controversial actors comes to life in Rajkumar Hirani's SANJU. Ranbir Kapoor stars in the hotly anticipated biotpic based on the dramatic life of actor Sanjay Dutt. The film also features a supporting cast made up of incerdible actors including Paresh Rawal, Manisha Koirala, Anushka Sharma, Sonam Kapoor, Dia Mirza, Vicky Kaushal, Jim Sarbh and Boman Irani.
Releasing worldwide on 29th June 2018, Sanju is an exploration of one man's battle against the more wild aspects of his nature and the powerful forces around him that threaten to engulf him. More than the story of an actor, the film depicts the journey of a man who endures everything that life can throw at him.
The teaser begins with an unrecognisable Ranbir Kapoor inhabiting the role of a more recognisable modern-day Sanjay Dutt, as he recounts his "rollercoaster ride" of a life. The audience is then treated to glimpses of various moments from Dutt's tumultuous life, from his experience as a drug addict at 22 to the superstar lifestyle in his prime, to his time locked away as a prisoner.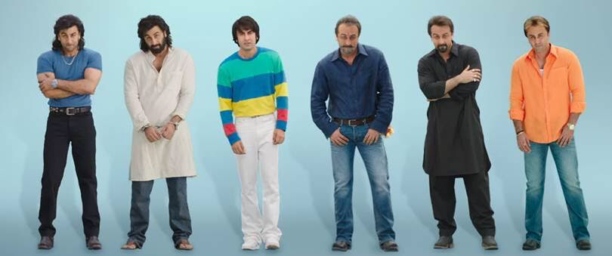 Kapoor's resemblance to Dutt throughout his life is uncanny, with the actor embodying the film's tagline "one man…many lives".
Saying this 'screenplay was sent from heaven' Ranbir went on to reveal at the teaser launch, "I was always a Sanjay Dutt fan. So for me, it was like a fan trying to play his icon on-screen. The hardest thing was to give confidence to myself that I can play this man… I did not have the confidence, the courage, understanding or the acting chops to do it."
About his transformation, the actor said he really worked to become Sanjay Dutt and not just portray him, "When you do make up, put on costumes, that is the easy part. Looking like someone is not a big deal. But to understand the character, the soul and where he came from was a little hard initially. Vulnerability is something either you have or you don't. As an actor you have to express it."
Adding, "So, this is not an acting gig for me. I don't think I have tried to showcase my talent. For me, it was just an opportunity to be a part of the story of someone, whom I consider my icon. He is flawed but a very good person."
Few lives in our times are as dramatic and enigmatic as the saga of Sanjay Dutt. Coming from a family of cinema legends, he himself became a film star, and then saw dizzying heights and darkest depths: adulation of diehard fans, unending battles with various addictions, brushes with the underworld, prison terms, loss of loved ones, and the haunting speculation that he might or might not be a terrorist.
Sanju is in turns a hilarious and heartbreaking exploration of one man's battle against his own wild self and the formidable external forces trying to crush him. It depicts the journey of a man through everything that life can throw at him. Some true stories leave you thinking "did this really happen?" This is one such unbelievable story that happens to be true.
Get ready for this turbulent ride – the unbelievable yet true story will shock and surprise cinema-goers!
SANJU is directed by Rajkumar Hirani and is produced by Vinod Chopra Films and Rajkumar Hirani Films in association with Fox Star Studio. The film releases on 29th June 2018.