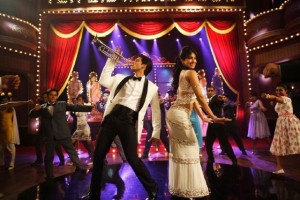 We may not have a title yet and the film does not open until mid-year, but the buzz about Kunal Kohli's next film is really high. In fact, it is one of the films that we have on our "We can't wait until this hits the theater" list. Starring Priyanka Chopra and Shahid Kapoor, it is a story about soul mates.
Of course, it being Kunal Kohli, the film is a love story and though we don't know much about the details we do know it spans different time periods. We revealed to you earlier that, "The film explores four aspects of love represented by four couples, with Shahid and Priyanka featured in quadruple roles. Each segment will see the two stars sport a new look and will be set in a new city."
Both characters, the director says, are happy throughout the whole time expanse. He told Subhash K Jha, "Neither Priyanka nor Shahid is in an unhappy space in the script. The fact that they're both intrinsically happy people helped."
One of the love stories is set in the 1960s and has a musical/film treatment, we have learned that Shahid is playing a music director while Priyanka takes on the role of an aspiring actress.
To prepare for her 1960s role, the director had her talk with Asha Parekh and Saira Banu, "Ashaji and Sairaji represent a certain spirit of bonhomie and joy. I wanted Priyanka to play her character with the same positivity."
Another time period is 1910 in Punjab. They could not find a location so a massive set was constructed for the film. "I needed to create pre-partition Punjab in 1910 and couldn't shoot in actual Punjab because the topography has changed completely. So we decided to put up a vast set. But none of the studios in Mumbai had space! So my art director Munish Sappal, who is a Punjab expert after 'Pinjar' and 'Rab Ne Bana Di Jodi', finally built it on Madh Island," Kohli told TOI.
One of the scenes they are filming on this set is a song sequence – a Qawaali choreographed by Chinni Prakash. "The Qawaali, written by Prasoon Joshi and composed by Sajid-Wajid, is a hell-raiser. Both Shahid and Priyanka, though thorough professionals, are apparently bracing themselves for doing an 'Aashiqana Qawaali' in full public view, replete with references to boys with roving eyes and girls making eyes….".
The day of filming, he tweeted, "Finished shooting a kick ass dhamaal song with @shahidkapoor and @priyankachopra with the brilliant Chinni Prakash. What fun working him."
Here are some of the other tweets Kohli has shared recently:
Song recording time. Sajid-Wajid. Prasoon Joshi. A new combination that I promise you is gonna deliver chart busters next year 🙂
Just love song recordings.Get totally lost to the world. Actually with all depts of filmmaking, writing, shooting, editing, bgm [background music]. All consuming
And the latest: "Had a mesmerising shoot with @shahidkapoor last night. @priyankachopra joins us day after. Looking forward to bringing this one to you all."
You may have noticed that he and we have not mentioned a name for the film; well we have a scoop just for you! They are going to be running a contest to name the film… but more on that later!
The film is in its last shooting schedule, however sadly we have to wait until June to see the four avatars of Priyanka and Shahid! Stay tuned we will be bringing you much more!