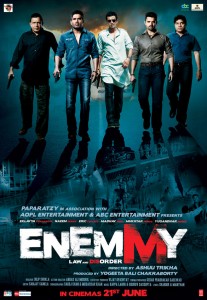 One of the things we like to do here at BollySpice is shine the light on some people who work hard at the movies but never really get the focus on them: people like producers, singers, composers, music directors, costumers and more. Today we have a unique treat just for you. We recently interviewed Gourov Dasgupta, the music director of the upcoming thriller Enemmy and it was a fab. One of the coolest things is that he gave a shout-out to all of his team that worked on the OST with him. We thought it would be really interesting to talk with them as well. See what music producer Roshan Balu, lyricist Manathan and signers Torsha and Keshav told us about the music of Enemmy!
Music producer Roshan Balu Talks the Music and Background score of Enemmy
Since I have my influences ranging from Carnatic music (because being from a musical family from South India) to Heavy metal and everything in between describing what we do will be very difficult.  Because of Gourov's composing style the stuff we make has a signature and have a certain edge to it, which I compliment through production. 
 
Gourov and I have been working together for last six years starting from Dus Kahaniyaan and Enemmy is just a step forward for us. So while creating music for Enemmy everything fell in place as usual. Being an action film we were required to give a 'big' sound for the movie so we ended up using lots of symphonic and rock elements in the soundtrack which has given the movie a very edgy soundscape.
The Background score
Director Mr. Ashu Thrika has immense knowledge in music so working with him and designing the BG was fun. The film being a very fast paced action thriller, the background also turned out to be a full-blown rock and electronica symphony. We used various classical instruments fused with Gourov's guitar riffs and modern day sounds. A lot of operatic vocal textures were also used to give a certain gothic edge.
Gourov's singing
If Mr. Dave Mustaine From Megadeth sings in Hindi you have Gourov singing – So I love it.
Singer Keshav Talks 'Bheege Naina'
Bheege Naina I would say could be easily rated as one of the "Evergreen songs of Bollywood". The song really grows on the listener and creates a deep resounding impact. It's any singer's dream to sing such a song as one can showcase the singing prowess as well as true emotions at the same time, which in turn creates a very respectful image as a "True Singer". The song appeals to you instantly and hypnotises the listener making them hear it again and again. 
The high notes and a strong melody of the song are the best part. The high notes spellbind you and a strong melody ensures you are completely consumed by the song! The other thing is the trance element in the track. It creates a hallucinogenic effect on the listener making the song very addictive. Inclusion of guitar (played by Gourov da himself) takes this song to an international level and makes the song more intense. 
All the credit goes to Gourav da, as it is his vision and creation. I am only an instrument in realizing the same. It's very humbling and satisfying to know that the response has been humongous! Trust me, there is no greater happiness for an artist than his work getting recognized. In fact our whole life revolves around craving for people's love and respect for the work we do. I sincerely hope and pray to make a mark in the industry through this invaluable souvenir, which Gourov da has blessed upon me. I also take this opportunity to offer my heartfelt gratitude to Mithun da without whom; I wouldn't have been in this position today.
Singer Torsha Talks 'Hit the Lights'
This is my Bollywood debut and I cannot thank Gourov enough for giving me an opportunity to render my voice to 'Hit the Lights'. He is wonderful as a person and as a musician. He thinks and works at a different level from the others. There is no feeling of pressure while working with him. He is relaxed and tense at the same time and still delivers his work flawless. I have hardly seen anybody doing so. It's a great experience all together.
Manthan Talks the Lyrics of Enemmy
I have written 3 songs in this movie…
'Bheege Naina' is a heart touching song, is well composed by talented music director Gourov Dasgupta. This song is very close to my heart. I have tried to write this song in a very easy method so that people can connect themselves easily. I'm blessed that music lovers are showing their love and appreciation. Thanks to Gourov bhai for giving 'Bheege Naina' a different dimension. Keshav is also making his Bollywood debut by this song. He is the future of music industries.
'Hit the Lights' is a peppy number. Composer Gourov bhai has done it again: nice composition and superb singing by Gourov Dasgupta and Torsha. I'm a die heart fan of Mithun da. Along with Mithun da, Suniel Shetty, K.K. Menon, Mahakshay and Johnny Lever are shaking their legs. It's a nice experience for me to provide my lyrics in Enemmy. I have tried to put some crispy words in these lyrics.
'Enemmy title song' is a political satire. Lyrically this song is completely different. I enjoyed a lot writing this kind of lyrics against corruption and disabled system of law and order.
All these tracks are wonderfully produced and mixed by Roshan Balu…
Enemmy, which hits theaters on June 21st, is a drama thriller starring Mithun Chakraborty, Suniel Shetty, Kay Kay Menon, Johny Lever and Mahaakshay directed by Ashu Trikha.