Bollywood stars are constantly in the limelight, whether it be for a new film, new relationship, a wardrobe malfunction or an award – the media just can't get enough of them and neither can the fans. BollySpice takes a look at the most talked about stars of 2012 and the positives which made these 10 stars outshine the rest.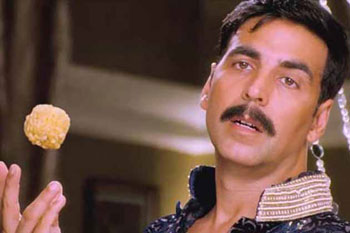 10. Akshay Kumar
Akshay Kumar starts off our list at number 10. This year will end on a very high note for Akshay: the producer, actor and father. Rowdy Rathore, Khiladi 786 and Housefull 2 all rocked the box office while Oh My God did that and so much more with its various social messages.
Akshay then went on to bag the maximum awards at Big Star Entertainment Awards, including The Big Star Most Entertaining Actor in an Action Thriller Role – Male 2012 for Rowdy Rathore, the Complete Entertainer of the Year – Male 2012 for Rowdy Rathore, The Most Entertaining Social Film 2012 – for OMG and Most Entertaining Action Film 2012 and Most Entertaining Comedy Film 2012 for Housefull 2 and Rowdy Rathore
And if this was not enough to put a big smile on Akshay's face, his wife Twinkle Khanna recently gave birth to their daughter to which Akshay said, "It's been a great year for me…my daughter was born this year that makes it very special. Of course professionally too it worked out well. I'm happy."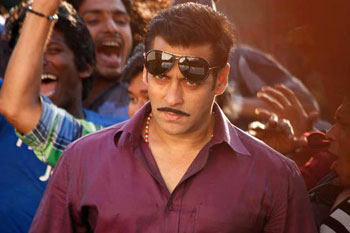 9. Salman Khan
Salman Khan takes ninth place for his continued rockstar status. With Ek Tha Tiger he broke records of all shapes and sizes. He returned towards the end of the year with Dabangg 2 and broke the jinx for sequels in Bollywood by delivering the biggest non-holiday opener for Indian cinema. Of course he remains in the headlines for his various pending court cases also. More than any of the above reasons he remains in the news courtesy of his eligible bachelor status at 47. This year he seems to be especially frustrated with the never ending questions about when will he finally settle down. He went onto to exit a Dabangg 2 press conference in a miffed state when a journalist strayed from questions about the film and asked about his marriage plans. He's said time and time again on various platforms such as The Front Row with Anupama Chopra and Bigg Boss 6 that he's very happy with this current status in life both personally and professionally and is no hurry to change thing. Say what you will Tiger Khan but this interest in your love life is definitely not subsiding anytime soon.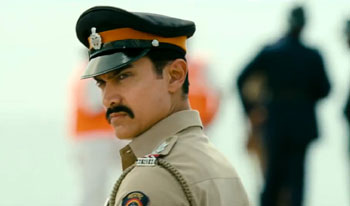 8. Aamir Khan
Aamir Khan is at eighth place with Talaash entering the 100 core club and his TV programme Satyamev Jayate, which explored many social issues such as dowry and honour killings. He received much deserved praise for Satyamev Jayate, including being honoured by the National Commission for Scheduled Castes. When speaking about the programme Aamir said, "The show has brought me in touch with reality and taught me so much in the last two years that it can never be measured in money." He's brought about much change from the show much to the skeptics' dismay. Not only is Aamir tackling social issues, he is set to raise awareness for cervical and breast cancer with his nephew Imran Khan.
Things only got better for Aamir when he went on to become the face of Time Magazine for the August cover, making him the fourth Bollywood actor to have the honour. It has been a more than busy year for Aamir Khan who usually only takes the news for one film and one film only however thanks to his show and various social causes we heard and saw a lot more of Aamir this year than usual.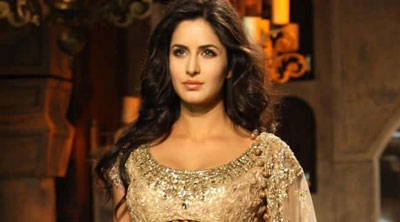 7. Katrina Kaif
In seventh place is Katrina Kaif, who is said to have emerged as the most downloaded star on mobile phones this year. The actress who is one of the last heroines to have starred in a Yash Chopra directorial was also in the headlines for being the only heroine who has locked lips with Shah Rukh Khan on screen. She kick started the year with one of the most popular item songs of recent times 'Chikni Chameli' for Agneepath, a Dharma Production film. She then followed it up with two Yash Raj Film productions, Ek Tha Tiger and of course Jab Tak Hai Jaan, both of which went onto be part of the 100 crore club. Her off screen reasons to being in the news involved names like Salman Khan and Ranbir Kapoor, however, as always the actress remained silent about what all is happening her private life. Nonetheless this didn't stop the media from constantly making her their headlines sweetheart. Finally, it was announced that Katrina will be seeing starring opposite Hrithik Roshan in a remake of the Tom Cruise – Cameron Diaz rom-com-action-adventure film Knight and Day! Fans went wild and can't wait to see this jodi on screen!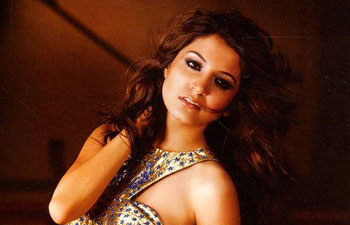 6. Anushka Sharma
In sixth place is Anushka Sharma, who although seems to be hitting headlines for dating woes, an apparent lip surgery and eating disorder, has much to be happy about in 2012. The actress recently told IANS about the highlights of her year being "buying a new house, signing Raju Hiran's film (Peekay), Jab Tak Hai Jaan release, signing more brands and changing [her] manager have been the highlights of the year." The actress is one of the last heroines to have worked with Yash Chopra alongside Katrina Kaif in the hit Jab Tak Hai Jaan. As well as having future projects to look forward to, Anushka is also waiting for the release of Matru Ki Bijlee Ka Mandola alongside Imran Khan coming January 11th.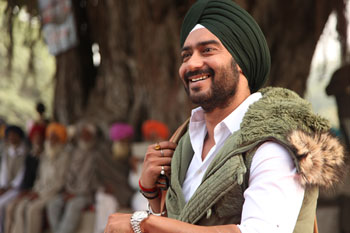 5. Ajay Devgn
In fifth place is Ajay Devgn who entered the 100 core club once against post Singham with Rohit Shetty's Bol Bachchan and Ashwin Dhir's Son of Sardaar. He was in the headlines for standing against Yash Raj Films after both Son of Sardar and Jab Tak Hai Jaan were to be released on November 13th. Many felt Ajay Devgn should allow Jab Tak Hai Jaan to be released alone out of respect for the late Yash Chopra, but Ajay Devgn accused Yash Raj Films of using their influence to keep Son of Sardar out of theatres. There was a prolonged battled with press statements flying in all directions from both production houses. Wife Kajol was dragged into the ordeal having shared a long relationship with YRF. One to usually be silent and stay away from the limelight we wonder what made Devgn finally speak up this year.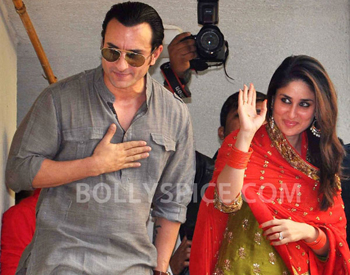 4. Saifeena
In fourth place is Saifeena. The mystery that surrounded Kareena Kapoor and Saif Ali Khan's wedding kept them in the headlines. Bebo even admitted to loving this curiosity for her wedding plans by the media and fans and said she'd remain silent about the plans for that very reason. Rumours circulated B-Town for many months as to when they would tie the knot; with the release of Agent Vinod, it was hinted they may get engaged soon after, but the rumours proved false. October 16th became the latest date to be the day, however, Kareena and Saif remained tight lipped about the wedding and any details. Saif's mother, Sharmila Tagore told NDTV, "I am giving a warning to Saif. I am confirming that the wedding will take place on October 16th." And so it did, Saifeena tied the knot on October 16th in a four day celebration. She wore her mother in law's wedding lengha and became the begum of Pataudi. She is now is the only cinema personality to own two of the most powerful names of Indian cinema, Kapoor and Khan!
On the career front Kareena Kapoor also got voted the hottest woman in the world in Maxim magazine beating many international stars. Kareena has had a successful year with her films; Ek Main Aur Ekk Tu which was an economic success and her performance in Heroine which was regarded as her best to date. Kareena also earned praise for her role as Rosie in Taalash. Saif, on the other hand, saw success with Cocktail which was produced under his own banner, lluminati Films; the film was a commercial hit which introduced Diana Penty. Agent Vinod on the other hand did not do as well at box office. Saif however will surely hit back with Race 2, which is set to release early next year.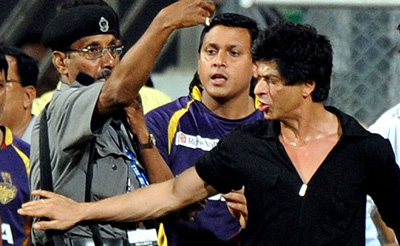 3. Shah Rukh Khan
How could a most talked about stars list be complete without the addition of King Khan? Although Shah Rukh Khan has had a rough year with the many controversies facing him such as the slap showdown with Shirish Kunder, being detained by immigration in New York, smoking at an IPL match and then being banned for Mumbai's Wankhede Stadium. Shah Rukh had been making the headlines for all the wrong reasons. However, things started to look up for Shah Rukh as Jab Tak Hai Jaan was a box office hit and all was well as Shah Rukh once again won the hearts of many as the final Yash Chopra hero.
Shah Rukh also celebrated 20 years in the Indian film industry and was invited to DJ on The BBC Asian Network in order to celebrate all his years in Bollywood. Shah Rukh who is known for constantly working was asked by his family, "Do you like working so much?" to which he replied, "Yes, I don't know what else to do because it doesn't seem like work to me. Whenever I go to work, I just go out and start acting or singing or dancing or being with people, and just making them happy. So it doesn't feel like work."
Well, we're glad Shah Rukh because we love seeing you on our screens!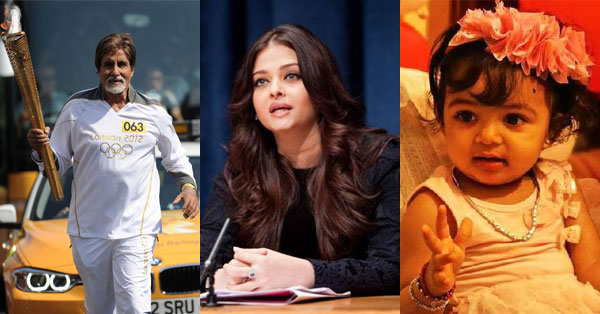 2. The Bachchans
The Bachchans are at number two, with Aishwarya, Aaradhya and Amitabh constantly in the headlines for something or another, the Bachchans dominate most front pages and are a hugely influential family.
Of course there have been many rumours as to when Aishwarya will return to Bollywood, but the final answer and what film it will be has not been revealed. She remained in the limelight through attending the Cannes film festival, becoming the Goodwill Ambassador for UNAIDS and opening the Kalyan Jeweller stores.
Beti B aka Aaradhya remained the focus of attention through constant praise from Amitabh and Abhishek's Twitter profiles. We finally saw glimpses of her this year with photographs that made everyone go awww!
Grandpa Bachchan had a busy year with a very glamorous 70th birthday party which was attended by the who's who of cinema and politics. A red carpet affair with stars such as the late Yash Chopra, Madhuri Dixit, Sridevi, Kajol and Rishi Kapoor came to celebrate with him. He followed that up with a prestigious opportunity to carry the Olympic torch.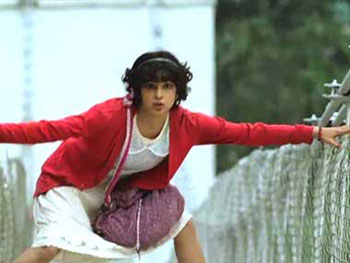 1. Priyanka Chopra
Priyanka Chopra has had a great year with some fabulous roles and a new project. Her outstanding performance as an autistic woman in Barfi was given raves reviews. Not only that, Barfi was India's nomination for the Oscar Best foreign language movie category. The actress also showed another avatar that of a singer. She recorded and released her first single 'In My City' with none other than Will.i.am. Fans couldn't stop praising her songs and we had various rumours about her increased demand in the music fraternity. It seems there is no end to Miss Chopra's talents as her single was a commercial success in India. The actress was also seen in Teri Meri Kahanni and though the thrice upon a love story did not do as well as Barfi at the box office, Priyanka Chopra once again justified why she is considered one of the best actresses around by playing three different characters in the film.
It seems Priyanka is the first choice for many directors and producers now as Priyanka has already been selected to play the protagonist in a biopic of the Indian boxer Mary Kom. Plus she has Gunday and Krissh 3 in her line up for 2013! Priyanka is doing well to remain at the top and we do not see her budging from her number one spot any time soon.
Since we're pressed to pick only 10 names these are those we opt for but of course there's many more that can be added to list. We cannot forget the likes of Vidya Balan who continues to outshine in the male dominated industry and ended the year on a high note when she finally tied the knot with UTV CEO Siddharth Roy Kapur. Dabangg girl Sonakshi Sinha also frequently made the headlines for her multiple exciting upcoming projects and her various link up rumours.
We're eager to see if these names feature on this list again in 2013 or do we have a new crop of celebs who steal the limelight in the new year. Only time will tell!