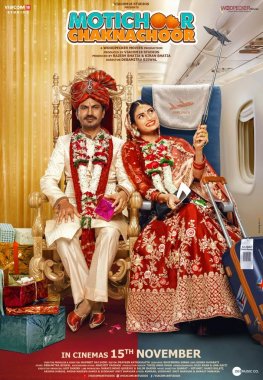 To hear the name Nawazuddin Siddiqui in Bollywood today is a mark of quality, a mark for interesting characters and interesting stories that revolve around them. Motichoor Chaknachoor is of course another in this line. From the trailer this seems to be the average arranged marriage scene that audiences have seen over and over again with two people who couldn't have an arranged marriage finding each other somehow in love. And yet along with Athiya Shetty, Nawazuddin just keeps getting in and out of trouble. To add another interesting angle to this movie is the 6-song album given by 6 different and unknown in Bollywood music directors. This is bound to be an exciting ride over the 22 minutes of the album.
In the initial stages of a love story the characters seem to be both obsessed and yet think of the other as a bit weird. So, the first song is Crazy Lagdi by Swaroop Khan. In the same way as the characters this song seems to be obsessed with maintaining the image of a Punjabi couple with some straightforward folk bhangra, but the introduction of a clarinet takes it to another level. Unfortunately, this seems to be all the song has going for it as the song is so repetitive that even the verses disappear into irrelevance. Both the music and the words whirl around each other in a loop leaving even a strong singer such as Swaroop Khan sounding lacklustre.
Next is the glamourous Sunny Leone doing an item number Battiyaan Bujhado. Sung by Jyotica Tangri and Ramji Gulati, this is about as classic an item number as there can be. The dancer shows off while the actor just stands at the edge of shot or is occasionally cut to all to the beat of some standard club song. Generally, these can be a bit more fun or flirtatious, but this fails to get going at any point with a repetitive and unchanging beat, a Bond flourish which has no effect and Sunny pulling the same 5 moves in different outfits.
Considering what has been produced so far it would seem Choti Choti Gal is the pinnacle song of this album and in all honesty it's very good. So much so that two versions have been written for the film, the earlier sung by Yasser Desai (effectively male version) and the other known as Choti Choti Gal – Jyotica version features Jyotica Tangri. 'Choti Choti gal da bura na manaya kar…' hits home in a way that nothing so far in this album has managed, striking directly at the heart. While the singers are different, the instrumentation is also different with a slightly more western approach for Yasser, while Jyotica is singing over an earthen rhythm. Both singers are good in their own style, both comfortable with the language and the lyrics. Only downside is that this style of song has been done over and over by Bollywood music directors and neither version does anything to try and break the mould.
Aaj Jaage Rehna is sandwiched in between these two and is very much a slice of bread in between burger buns. Himani Kapoor and Siddharth Amit Bhavsar deliver a proper sad song. The music director has been interesting with this, not really providing any beat but a couple of acoustic guitars and the occasional violins for flourish. 'Tere palko pe aasu aaye to, mere kandha rone ko hai…' delivers a promise that everyone needs occasionally and so the song is both tissue-worthy and mindful.
So that only leaves Kaise Banegi Sarkar by Vidhya Gopal, Dr. Pallavi Shyam Sundar and Deepa Shirodkar. The purpose of this song is not clear and neither has the video for the song been released. This could easily be a background piece to some sort of comedy scene; a shennai playing to evoke a possible wedding shot. Even on a close hearing the lyrics while clear, don't really seem to say anything at all and effectively add to a musical confusion that is somehow provided by an acoustic guitar backing 3 lead singers.
There are countless versions of this sort of story which seem to just start at different points of the Bollywood love story. Many of these had epic opening songs, with mesmerising milan pieces and agonising sad songs to represent breakup. The item song(s) are there for a bit of comic relief and the film always ends in a final coming together song. In this album, there's no coming together song and the epic opening fell over quite badly. The item songs are comic but for the wrong reasons and the real hit is the agonising sad song so much so there seems to be three of them. Nawazuddin Siddhiqui is known for interesting and eclectic works… maybe this album is the perfect backdrop for that, but doesn't really hit the mark either as songs or album.