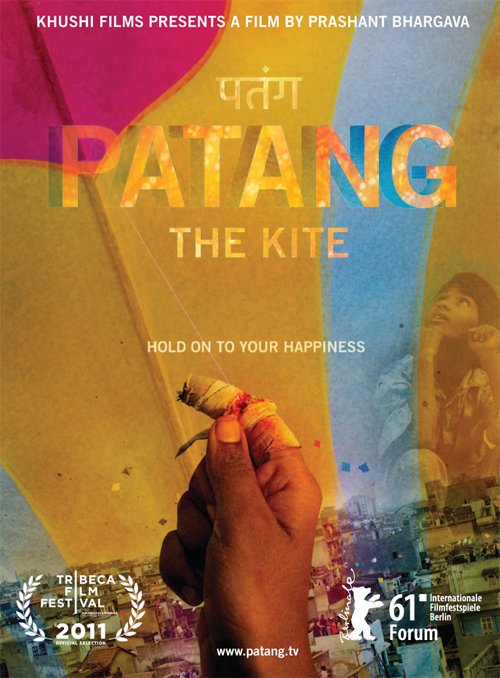 After winning awards and acclaim at prestigious film festivals across the globe, including its World Premiere at the Berlin Film Festival and North American Premiere at the Tribeca Film Festival, the colorful and vibrant motion picture PATANG will have its theatrical release on June 15 at Cinema Village in New York City. Openings in additional U.S. cities will be announced soon. Starring Seema Biswas (Water, Bandit Queen) and Nawazuddin Siddiqui (Peepli Live, Dev D), the powerful and moving film tells of a family which must confront its own fractured past during Uttarayan, India's largest kite festival in Ahmedabad. About the film noted critic Roger Ebert wrote, "The storytelling is effortlessly made part of the hypnotically beautiful visuals, and woven into a kaleidoscope of colors, faces, music and a little romance. Bhargava is masterful in the way he allows his story to emerge from his mosaic, instead of spelling it out by the numbers. Evokes the old and new Indias side by side as well as I've seen done."
Official Selection at the many prestigious film festivals around the world including:Berlin Film Festival, Tribeca Film Festival, Jerusalem Film Festival, Vancouver International Film Festival, Chicago International Film Festival, Hong Kong Asian Film Festival, Philadelphia International Film Festival, Geneva International Film Festival, Patang also won The Best Narrative Feature at both The Hawaii International Film Festival and DC APA Film Festival.
INFORMATION:
Release Date: June 15
Cast: Seema Biswas, Nawazuddin Siddiqui, Mukund, Shukla, Sugandha Garg, Aakash Maherya, and Hamid Shaikh
Director: Prashant Bhargava
Producer: Jaideep Punjabi
Official Site: http://www.patang.tv
SYNOPSIS:
A poetic journey to the old city of Ahmedabad, PATANG weaves together the stories of six people transformed by the energy of India's largest kite festival. Every year a million kites fill the skies above Ahmedabad – dueling, soaring, tumbling and flying high. When a successful Delhi businessman takes his daughter on a surprise trip back to his childhood home for the festival, an entire family has to confront its own fractured past and fragile dreams.
Music and fireworks, food and laughter, a kaleidoscope of color and light, the magic of the kite flying high – a traditional recipe of healing and renewal. With naturalistic performances from actors and non-actors alike, bold, lyrical editing, vibrant cinematography and a kinetic score, PATANG delights the senses and nourishes the spirit.