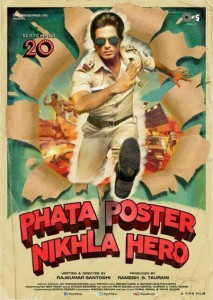 Rajkumar Santoshi's comedies are mostly about 'anything goes' and his latest Phata Poster Nikhla Hero (PPNH) is no different. Once again he creates a madcap world which may seem more authentic in an animation film than a real one. Shouldering the responsibility of bringing Santoshi's vision alive on screen is Shahid Kapoor who uses this as an opportunity to showcase his versatility.
Vishwas (Shahid) dreams of becoming an actor but his single mother Savitri (Padmini Kolhapure) wants to see him as an honest police officer. He moves to Mumbai to try his hand at films and comes across the overenthusiastic social worker Kajal (Ileana D'Souza) who mistakes him for a real cop. Helping her earns him an enemy Gundappa (Saurabh Shukla), an underworld Don. More trouble follows in the form of his mother who lands up in Mumbai with the misconception that he has finally become a police officer.
PPNH is a Shahid vehicle all the way. He dances, he fights, he romances, he shows his acting chops and he does it all with aplomb. Unfortunately the erratic screenplay doesn't give him the necessary support. This is a film that needed to maintain one mood throughout but it keeps changing its mind at regular intervals. The frequent turns towards melodrama weigh down the breezy bits, so much so that at times it feels like watching two different films together.
There is no novelty in PPNH's storyline but that is not a problem that an engaging narrative can't solve. And the narrative does engage in bits and parts. Some of the comedy pieces are really hilarious and the action scenes are pretty good too. However, there is also a lot of potential that never gets fully realised. The culprit is the random mixing of emotional drama with comedy, which ends up being neither here nor there. The songs also pop up suddenly without the right build-up and hence, fail to make the impact they could have made.
What helps the film stay afloat most of the time is the stellar star cast. Though this is Shahid's film all the way, he is ably supported by super-talented actors like Saurabh Shukla, Sanjay Mishra and Darshan Zariwala. It was also good to see Padmini Kolhapure back on the big screen after a long time though her role is the weakest link of the film. Ileana is only one who disappoints. This is a lacklustre follow-up to her spirited act in Barfi.
Phata Poster Nikhla Hero is not a film that can be highly recommended but it not unwatchable either. It does have the feel-good factor and clean entertainment for family viewing. However, one should not go expecting an out-and-out comedy. And low expectations will help.