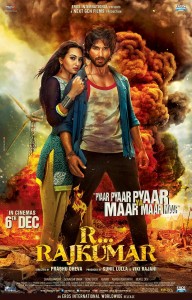 Prabhu Dheva's cinema is a different genre altogether – utterly unrealistic but still entertaining in its weirdness. Once again he has thrown logic and realism to the winds and come out with R…Rajkumar, a masala entertainer through and through.
A small town called Dhartipur is ruled by two warring drug mafia gangs. One day Rajkumar (Shahid Kappor) lands up there and joins the gang headed by Shivraj (Sonu Sood). He also falls in love at first sight with Chanda (Sonakshi Sinha), the niece of the other gang leader Parmar (Ashish Vidyarthi). Unfortunately for him, Shivraj falls for her too and soon the battle lines are drawn. It is either pyaar or maar for our protagonists.
R…Rajkumar has many drawbacks. It is crass, regressive in its portrayal of women, has no story to speak of, and is completely missing that little thing called logic. Yet it works because Prabhu Dheva never lets go of the fun factor. He serves up an entertaining potpourri of comedy, action and romance and ensures that the dull moments stay few and far between.
The film starts off lamely but picks up after the first half hour, and then comes together well in a series of comic gags and action sequences. The gags work more often than not. However, the real attraction of the film is its hardcore action. It works not only because it is very well staged but also because, despite his lean built, Shahid manages to be convincing when bashing up goons twice his size. The good music and well-choreographed songs help keep the entertainment going, with the exception of Kaddu Katega which is not just astoundingly vulgar but also pops up at the wrong time.
The cast is in fine form especially Shahid who makes the transition from chocolate boy to action hero with surprising ease. He carries the film on his shoulders and this is one of his best performances till date. Sonakshi does what she has been doing in most of her films till now but gets more screentime than her usual outings. Sood and Vidyarthi play the half-menacing/half-cartoonish villains with aplomb and at times bring the house down with their comic timing. The rest of the cast provides adequate support.
R…Rajkumar is only for those who enjoy the South-style masala movies. If the offerings from the Prabhu Deva school of film-making have worked for you in the past, this one will too. Don't take the kids!