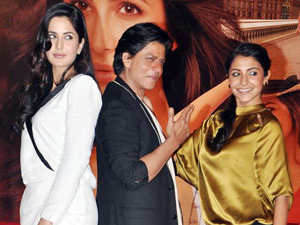 November is finally here! So that means only one thing. The film of the month and arguably the most anticipated Bollywood film of the year Jab Tak Hai Jaan will be releasing on 13 November. Directed by the late Yash Chopra, the film will see Shah Rukh Khan, Katrina Kaif and Anushka Sharma coming together for this epic romantic drama. To mark the occasion, a grand premiere will be held on 12 November, a day before the film's global release. In addition, as a mark of respect for the sad demise of Yash Chopra, his sons Aditya and Uday and his wife Pamela are planning to make this premiere a moment which both the Indian film industry and fans will never forget. Although the event will be a platform to mark the release of the film, it will be more about Yash Chopra and celebrating the pivotal contributions he has made towards Indian cinema.
It is being reported that the premiere for Jab Tak Hai Jaan will be like a 'moving museum,' which will pay tribute to the late filmmaker's work. The male protagonist of the film, Shah Rukh Khan, confirmed this to a leading Indian news company a few days ago and had this to say. "There will be a big screen and a special sound system is being brought down by specialists who will make film-watching possible in areas which are not regular studios" "It'll be a moving museum of Yashji's work, which kind of does not end, but continues with Jab Tak Hai Jaan." However, despite this revelation, plans for the premiere are still under tight wraps, so we will only know once the event takes place on the 12th. Other than the moving museum concept, Shah Rukh himself is oblivious about what is actually being planned for the premiere. "I don't know the exact designing that Adi (Aditya), Uday and Pam aunty must be doing with a lot of love and care. Hopefully, everybody will come, have a great time and enjoy this eventful and entertaining film."
It can be safely said that the wait is almost over! No more reading about or seeing clips related to Jab Tak Hai Jaan. The film will officially unfold before our eyes in cinemas in less than two weeks. Be there if you want to see Yash Chopra's magic for the last time ever!