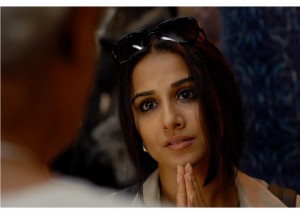 After a phenomenal 2011, Vidya Balan is set to champion the Box Office again with her fifth female-centric film, Sujoy Ghosh's Kahaani, and has garnered support from none other than Amitabh Bachchan, who has been promoting her film on various social networking sites. The screen legend has sung Rabindranath Tagore's iconic song 'Ekla Cholo Re' for the film and has been talking about it on his blog and Twitter page. "My friend Sujoy Ghosh of Aladin fame… puts out his trailer for his next with Vidya… Kahaani… interesting watch," he tweeted.
On his blog, Mr. Bachchan wrote: "May I just say that singing Rabindra Sangeet for the first time was the greatest revelation. The beauty of the language, the lyricism of the tune and its dhun (music) are outstanding.
"This particular, world famous number Ekla Cholo, expounding to all that if no one came to you on your calling, walk alone!! And what a fabulous song has been incorporated by Vishal-Shekhar. Truly awesome and worthy of all award."
In response, Vidya commented, "That is very, very kind and generous of him. He has sung a song for us. It is a very special song for Kolkata and all the Bengalis. It has been sung by Mr. Bachchan, so it becomes all the more special."
She has been hailed for her performances in Ishqiya, No One Killed Jessica and The Dirty Picture, but Vidya has no plans to exercise her vocal chords. "So far no, because I don't know. I am not even a bathroom singer. So I am happy listening," said the actress who plays a pregnant woman searching for her missing husband in Kahaani.
Kahaani unfolds in cinemas across the UK on 9th March, releasing through B4U Pictures and presented by Viacom 18 Motion Pictures.
In case you haven't seen it yet, here is the video for the song! Vah Mr. Bachchan Vah!
httpvh://youtu.be/iBHlFaw5E8c
Also stay tuned because we have an exclusive with Sujoy Ghosh coming up soon!