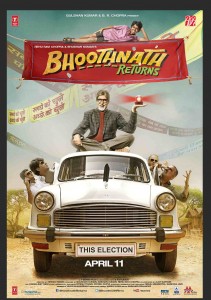 Very few luminaries in today's time have the humility and compassion to extend their time for the sake of others, once such example is superstar Mr. Bachchan, who we hear spent a considerable amount of time interacting with the child actor Parth Bhalerao aka Akhrot of Bhoothnath Returns before the shoot!
Not only did they get along like a house on fire, but the acting veteran made him so comfortable that Parth gave his best during the shoot! In fact, the too got along so well that Mr. Bachchan would constantly call him 'Champion', support and guide him.
Here's something cool, Mr. Bachchan was so used to calling Parth 'champion' to motivate the youngster, that in one of the dialogues he subconsciously slipped the word during one of the scenes! The director gladly used the lines as it truly reflected the chemistry the duo shares, onscreen as well as off screen!
Bhoothnath Returns releases on 11th April 2014!