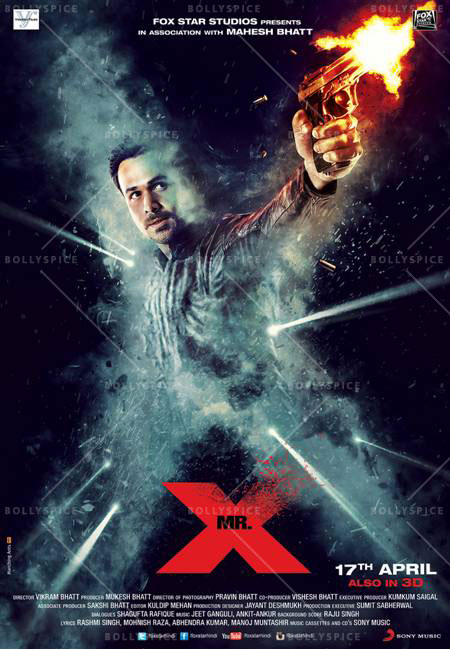 Starring Emraan Hashmi and Amyra Dastur, the sci-fi flick with the intriguing premise, Mr. X, hits theaters on April 17th. What makes it so intriguing is that in the Vikram Bhatt directed thriller, Emraan Hashmi plays an invisible man!
Ankit Tiwari,in both his singing and composing avatar, as well as composer Jeet Gannguli, were brought in to create the mood and the music of Mr. X. The OST also boasts a fabulous line up of singers including Ankit, Mili Nair, Arijit Singh, Neeti Mohan, Palak Muchhal, plus a surprise. So was the music of the film one to add to your favorite Bollysongs playlists? Read on to see!
A lovely melodious piano and guitar line starts off the Ankit Tiwari composed Tu Jo Hain. It gets even better with the extra treat of Tiwari's soulful, longing-filled vocal. In his composition, Tiwari utilizes a mix of a pop-rock vibe, but with an underlying Indian flavor and this makes for a wonderful song. One of my favorite things was the snappy acoustic guitar sections, which really added something special. It would be interesting to hear another voice on this track to see how it played and maybe a little less of the echo layer at the mixing board. However, you can't go wrong with the fabulous Ankit Tiwari supported by great music! Definitely give this one a play!
Saad Shukraana also features music and vocals by Ankit Tiwari. I love that he uses the acoustic guitar to ground and lift up his music. Of course, his vocal is once again pitch perfect, full of emotion and this makes the softer sections of song all that it is. The change up to the instrumental section with a cool percussion beat begins well, but overall the music was distracting with too many sounds and instruments that fought with his vocals. It either needed to stay simple or have the vocals be more sharp and modern to match the groove. It was just a bit of a mismatch that felt like to many to notes and ideas. It was too produced and composed – if that makes sense. Maybe playing within the movie it won't feel as if it is too much so I would say wait for Mr. X.
Knowing the story of Mr. X, the Title Song sets the perfect mood with its haunting music. Mili Nair shines, invoking the mysterious essence of the music and the movie. She has such a gorgeous voice with clear tones that are brill hitting notes both soft and strong. Composer Jeet Gannguli got producer Mahesh Bhatt to sing for the first time on this song. Though more of a mood enhancing line, his punching deep vocal adds a cool layer. I especially loved his emotion filled spoken stanza. Probably not one you will have on replay but will definitely add to the scenes it backs up in the film.
Composer Jeet Gannguli brings to the OST two versions of Teri Khushboo, featuring vocals by Palak Muchhal and Arijit Singh. The song begins with a killer driving guitar line that continues throughout the track and is the base that everything builds on and it rocks. For the female version Palak Muchhal's piercing gorgeous voice comes in and it is just musical happiness. I do love her every note. There is a more electro beat with a 80s feel synthesizer and an Indian essence that takes over the song in parts and that distracts a bit instead of enhances. But that is just a minor thing, it is the picture her voice and the main musical line paints that makes it such a brilliant song. I can't wait to see this in the film and love it all the more. The best song on the album.
Matching the excellence of the Palak's version is Arijit Singh's rendition. He brings a different feel and emotion and you feel the lyrics almost more. He gives you chills listening to the emotion in his voice. You definitely have to give this fabulous version a listen as well.
Each is a brilliant song that are highlights of the album. They both will make me smile when they show up in my playlists!
The modern electro beats of Alif Se, again composed by Tiwari, has a very cool quality with sharp percussive hits, synth beats and some Indian instrumental lines all mashed up and it works… somewhat. Neeti Mohan, who always elevates a song with her amazing voice, brings the song to life. Ankit Tiwari also features on the track in a more modern avatar and it is great. The song is good but it feels like it needed something more. It is not bad but it is not something that stands out either. I will let you decide if it is your jam but for me I will skip.
Overall this is a good album full of great singers, but there was no song that made me really go WOW! Of the five tracks, the two versions of Teri Khushboo and Tu Jo Hain are the best and made it onto my Bollywood playlists.