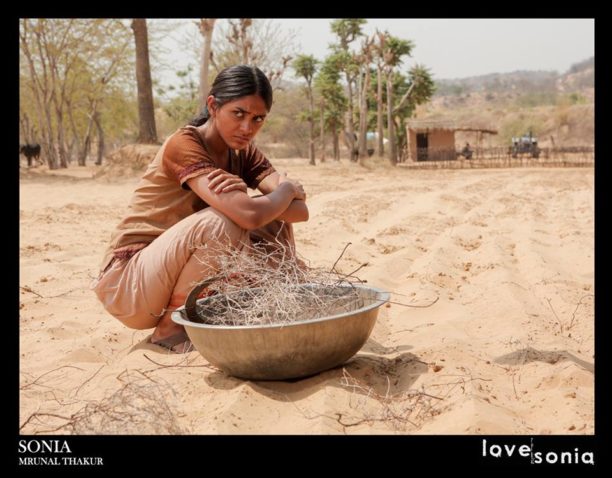 Known for presenting a thought provoking line-up of independent films, this year's London Indian Film Festival is once again showcasing some incredibly powerful stories. To open the festival, LIFF has chosen a film that shines a spotlight on the horrific tragedy of global sex trafficking. Directed by Tabrez Noorani, Love Sonia is a hard-hitting film inspired by true events. This is the story of a young Indian village girl, Sonia. Her life changes irrevocably when she is entrapped in the global sex trade while trying to save her beloved sister Preeti. Struggling to free herself from small-time pimps, Sonia does not realise they are merely the foot soldiers of a ruthless, powerful army with its reach around the world. As she becomes aware of the enormity of the odds against her, Sonia is sustained by a fragile dream that is worth surviving for. Battling with a strength she didn't know she had, her searing journey spans three continents and a lifetime of experiences that no young girl should have. Sonia is determined not to become one of the 800,000 women and children who are victims of the international sex trade industry every year.
To find the actress to play the title character the director searched and auditioned over 1800 girls and finally he came upon Indian television actress Mrunal Thakur and knew he had found his Sonia. After many rounds of auditions, Mrunal went on the difficult journey of this role and this film.
In an open, moving, incredible conversation Mrunal gives insight into the part, the film, the terrible tragic stories and what makes her so passionate about Love Sonia.
You had quite an extensive audition process for this role
It was a long process when I first auditioned for Love Sonia. The first round was a lovely scene between Sonia and Preeti, and you know I could relate to that scene – I am so close to my real sister and I thought what if it was my own real sister standing there. But that was all I knew of the script. After that first round I did not hear from the production. However, there was this urge of really, really wanting to play Sonia. Later I was very happy to hear from the production, the second round happened, the third round happened, I have actually forgot the count of the number of rounds we went through. Love Sonia was not easy for me, but when it comes easy you don't value it. I worked hard for it. The process of nine months was difficult yet I wanted to play this character irrespective of anything.
However, when I read the script I couldn't stop crying. It was very difficult to read. Everyone, all the actors, their reaction was that they were so petrified that this is the real world. We live in a bubble, the bubble we live in is having great friends, going to restaurants, even just eating lunch and dinner, but when you step out of the bubble you see what reality is – it is that girls are being trafficked every minute – every second.
When you did find out that you got the lead was there excitement as well as trepidation that you would be able to do justice to this film?
I was very, very excited. I was very happy that I got the role. They announced in on my birthday, Mrunal Thakur you are going to play Sonia. I literally was jumping and I had tears.
However, my battle didn't start with getting the role, my battle was to convince my family so I could do this film. I told Tabrez sir that I cannot do this film! He got a shock of his life! He said what are you talking about? He convinced so many people to have me on board because he thought I could do justice to the role. The thing that was going through my head was I don't know how to convince my Mom. I remember my mother literally said, No. Tabrez spoke to my Mother and he explained to her, she is like our daughter as well, I understand what a girl goes through and we will make sure that we will take care of Mrunal, we will not shoot if she is not comfortable. Hearing all these points she allowed me to do it.
But more than anything my father was very proud. He always pushed me and said Mrunal give your best. He always compares me to the actress Smita Patel. He says that whenever I watch you onscreen I feel like you are Smita Patel. That is such a huge compliment.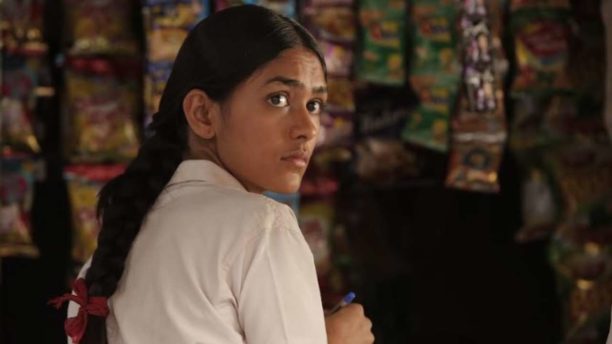 The reason why my dad always stood by me for this film is because he is a banker; he is in the Agricultural department. I remember when I was seven or eight my father came home and he was sad. I asked him what was the matter and he said there is a farmer who committed suicide. I did not know what the meaning of suicide was. He said now you are a big girl I will explain to you what suicide is, when a farmer is unable to repay his loan because of circumstances and he has no other way to pay the loan – he kills himself. That is suicide. Since then, I understand what a family goes through when there is no money. So, he was like this film is for a cause and if after watching Love Sonia 10 girls are saved and if that awareness is made in this world, which is very important, I am very proud of you. That is something that will make me proud. That kept pushing me! And it helped convince my mother.
Tell us what you did to prepare and become Sonia
I watched a couple of films like Sophie's Choice – classic films. Tabrez sir, he sent me a number of films. Also Breakfast at Tiffany's and others. Classics. These are the kind of films he made me watch because it [the performances] is so effortless. You know, when you go through that process, that hard work of creating a character that is just on paper, you have to make sure you make that character breathe. It has to get into your skin. It was my aim.
We did extensive workshops! It actually was not much script reading just study the body language. We would hang out with the girls that are the real victims.
That must have been devastating to meet them and see
It was, it was! There are a lot of boy friends who take these girls on vacation and then they just sell them off. You know, these are the stories I got to know when we went for research in Calcutta in a red light area called Sonagachi. There were a lot of girls there from 13 on, so many young girls. There was a 16-17 year old girl who had two kids! It was terrible. Imagine a 16 to 18-year-old girl having 2 children.
And not children of their choice
When I asked them what is the money that they get? It is less than one-pound Indian currency; it is as good as 1 dollar. I felt very bad for the women out there in that red light district all they needed was love and someone to tell them that they are worthy, but everybody makes them feel like they are not even worth a penny. That's the kind of life they're living – that traumatic life.
It was a battle to cope with the fact of all that these girls go through. It was very sad. I remember my BP dropped when I returned back to my hotel. I was so thankful to God that we have a great life, a great family, great friends and all of the amenities that we want. These girls for 30 bucks, 1 pound a day they have to trade their body. It is quite something.
Stacey, you will not believe it, children staying in the red light area be it a two and half-year-old kid they know what sex is about. They know everything. They mature before their age. WHY?!? Did you know that there are so many sex workers that children do not get admitted into schools because their mom is a prostitute. These are the stories I heard.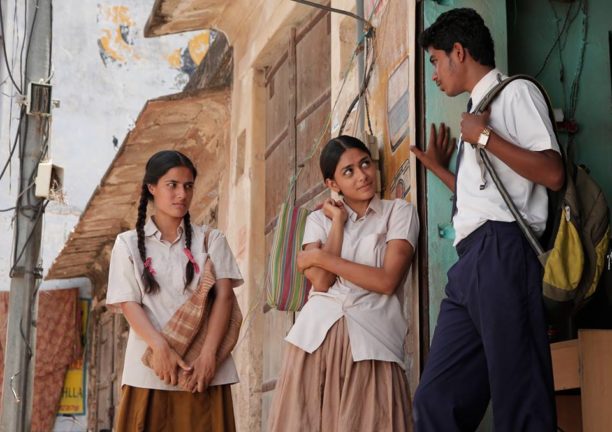 I realized something that is missing in these girls is hope and faith. I realized the meaning of this world worthy! It is such a small word but it means the world to me right now because now I understand the meaning. You are worthy! That is so important! Imagine that to a girl who is going through so much if you just go walk up to her and say your are worthy! Don't let anything harm you for any damn reason! Imagine what you can do and change with that. That is just the kind of emotional talk that you need to do with people!
It was difficult for me. I was not prepared. I knew that Sonia is something I could do justice too but I was not sure that I had that courage to play Sonia in the film and go through the journey that it is.
Now shooting this, it must have been so, so, so hard to go through it…
You know, for the matter of fact, I was so immensely blessed to have this crew. They understand sensitivity. Be it our sound recordist Mr. Resul Pookutty, he made sure that everybody is quiet on set when I entered. But the moment the director used to say Cut!- everybody used to start laughing so it was normal, so it was balanced. The crew took care of me because they knew emotionally, mentally what I have to go through when I have to perform scenes like that. So they made sure it was a quiet more serious when we begin the scene but the moment we cut the shot it was back to normal. Back to real life. What's happening in your life? What did you eat for lunch? Things like that! I was very blessed to have that set because they appreciated and understood the sensitivity of this project.
There were three scenes, which were very difficult for me. One was in Hong Kong where it is the first time Sonia gets sold and she is being raped by a man who is 65 years old. He is as good as her grandfather.
Oh My God! How did you get through that?
I don't know how I did it! So imagine your 16-year-old child doesn't know what sex means and that girl is being sold to man who, what do I say, for his personal fetish needs, buys a young girl, a virgin girl and he rapes her. It is terrible. That was one scene, which was very difficult for me. Of course it was very suggestive, nothing bad has been shown but again to go through that, to be there and just being touched by that old man. It gave me goosebumps. I just broke down on set – I just broke down! It was Tabrez, Lukasz (Bielan – cinematographer), David Womark my producer and my makeup person Virginia, they were like 4 pillars sitting right across from me. I remember staring at the ceiling, lying on the bed and I was just crying, tears were rolling down. Tabrez said just give one shot. That is when he said, Mrunal you are my Meryl. That made me so happy! He really made my day. It actually really was so quick that I didn't really realize it was being filmed. It was very difficult to shoot that scene in Hong Kong.
Number 2, there was this scene at Grant road (red light district), south Mumbai, where I am running on the streets of Mumbai trying to run away, find my sister and there are people chasing me. If you come from a village and suddenly you come to New York City, there are people everywhere, trains are moving, people are moving, you don't really know where you are or where you stand. You look; you stare and think what is happening. That was my character's situation in Bombay. I am standing in front of these guys chasing me and they are about to kill me. I am just running around. I don't know what to say, or what to do. I am reaching out to the police, but they have been bribed, so I am this clueless person running in the streets where I almost got killed matlab I think that I had the feeling that I almost might get killed because it was so crazy. It was a real location. It was very difficult to handle. They handled it really well, we had four cars with the stunt masters there, they were coordinating on the walkie talkie, Resul Pookutty was running behind the camera to record the sound because he thinks whatever natural sound it is is the best. The amount of dedication… Lukasz, whenever I saw him he was always holding the camera on his shoulder running around with me. There was one shot where I passed the bus and Lukasz was just before it. I panicked and I didn't know what to say or do so I yelled. That one yell everyone in the production on the walkie was scared that anything could have happened. But luckily we got through it safe.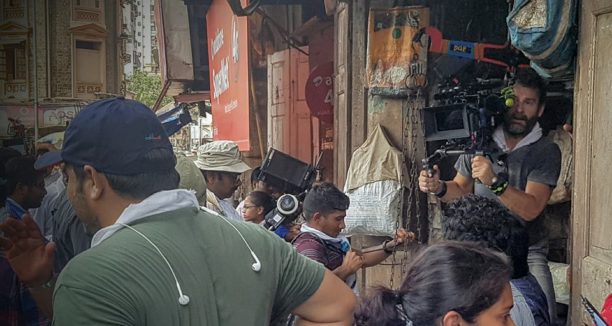 The third difficult scene was where we were shooting in a real red light area but we couldn't shoot because it was a Sunday evening and that is the time the business is open. The people got offended there and they were banging on the doors. It was crazy. People were looking at me like they were literally going to eye rape me. It was so crazy and so terrible. When I stepped in that red light district I almost puked and I almost fainted. This was the scene with Sunny Pawar; he is a very strong boy too. I remember he was sitting on my lap when all of this happened. We were running around, didn't know what to do, we finally had to call it off. It was so difficult. We were so traumatized that I think Tabrez gave me an off day the next day. It was quite terrible and terrifying. I am so thankful, Stacey, that I have a great family that can take of me.
You are working with the great Manoj Bajpayee
Personally he helped me as an actor so much. He sat with me and he rehearsed the lines. Even at the dubbing he helped me. All he said was just be natural. Find out what you think is important and underline that and focus on that. Then I watched him on this film and he looked very casual. Nothing great, but when on the monitor I saw him performing that scene I was like Oh My God. What intensity he has got. He plays with his eyes without saying a word. That is the power of an actor, when he says millions and millions of things and he portrays lots and lots of feelings without saying a word. So for me Manoj sir he is actually genius! I don't know how he does that but he has got that X factor.
I have grown up watching him, his film Pinjar I watched when I was young. And now look after just a few years I am playing Sonia where Manoj Bajpayee plays the bad man. I am like Oh My God. I was awestruck to see all the actors in the film first of all. I am blessed to be with them, acting with them.
Tell us about Tabrez Noorani as a director what was that experience like?
The way he was so humble, so genuine, the way he was so dedicated made me work 10 times harder. He told me that he has been to brothels pretending to be a client and has reached out to girls and saved them. But he was close to getting shot! He has experience – he has been there. Actually Rajkumar Rao's character called Manish is actually inspired by Tabrez. That is how he came up with that character. So Manish's character is inspired by Tabrez, who went into these red light areas and tried to reach out to girls who are minors under 13 or around 13 years old. He would reach out to help them. Sometimes Tabrez did get into trouble as well. All these experiences he shared with me. His research, the pictures that he shot. The body language, he really made me study that. He showed me clips of these women, how they behave, how they walk, how they behave in a certain situations. So all these things, his dedication. He was so prepared. When you see a person do his homework it makes you feel like Oh My God I should pull up my socks and perform better. Be good! Since it is his first film (as director) and my first film it is my responsibility to be alert and aware about what is happening. I am so happy I am doing Tabrez sir's first film. He mentioned to me that he was glad that I did his first film too!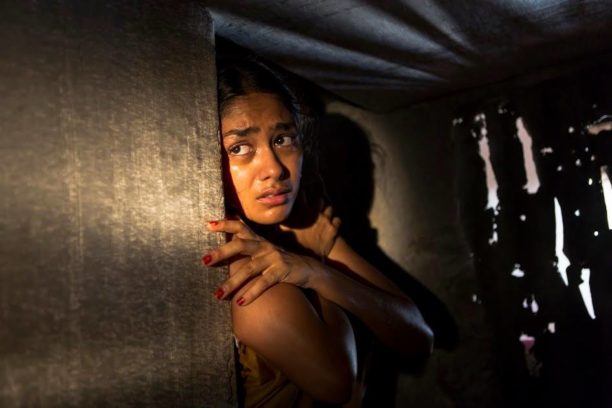 Did you know the overwhelming facts that human trafficking was such a huge worldwide issue and tragedy before you started this film?
No I didn't. I chose a particular film, a particular character, a particular subject and then you have got to do the research. And that research is like an ocean. You know sex trafficking or human trafficking might sound like two words but when you get deep into it you get to know the statistics, the amount, the level, the percentage happening worldwide it is insane! I didn't know much about sex trafficking but after getting this part there are some films about it and then I went surfing on YouTube watching girls that had been victims and what is their story. It is something (she has no words)…. You know all the girls out there they are so naive and people take advantage of it.
I really hope that when the audience comes and watches the film it should leave an impact on them. Somewhere down the line if you are aware at what is happening in front of your eyes and if you are quiet it as good as you being guilty. All you have to do is just raise your voice. If you raise your voice and tell them that there are people who will take advantage and this is wrong, you might save so many girls lives. Imagine that could be your daughter, that could be your sister, that could be anyone, your close one. I just want them to know that anyone's daughter is as good as your daughter. They are Worthy! You can't treat anyone's daughter as some piece for sex. It is just crazy!
Did it change you as a person?
Whenever I travel, say in public local way on trains or bus stops I started noticing young girls, I saw who they were with, their company. The moment I saw the person and he looked like he was no relation and he was with 2-3 girls traveling in a bunch I used to get so scared. I used to think Oh My God, what if he is trafficking these girls. Should I reach out to them? Should I talk to them? So these are the kind of thoughts that I went through when I did this film. It made me have a fear of touch, and at a point it made me feel pathetic and I was like please don't touch me! It was real! Any friend of mine or anybody who tried to touch me, even if it was just a small gesture I felt fear. I was like please don't touch me. I had some sleepless nights thinking about the girls. It is so terrible, Stacey.
I know your father said if it saves girls then this film is very important and that is true but to you why do you think Love Sonia is so important to get out in this world?
It is important, you would not believe! You know there is demonization in India a year and a half a go, now this was right after the film was shot, I thought the sex trafficking and everything would go down because people can not deal with black money. It actually became worse! There were girls that were trafficked in containers! The world needs to know! You know without passports, without anything girls are being trafficked! They are being drugged for many days. So for example, if the girl is getting trafficked from Mumbai to Hong Kong in the container and if she reaches there alive it is a win situation for the traffickers but to them if the girl dies it is okay let's find another virgin. That is what their attitude is. So it is very important for the people to know that there are big personalities, big people who have the power and who can change the world to be a better place but they don't do that.
There is so much sex trafficking out there, there are a lot of girls just being picked up at the station. The reason that I wanted to do this film was because after watching this film if the girl is at the station all I need her to do is just be aware, be cautious. She should know what she should do in case she does get trapped. You are not supposed to get into this manipulative world. People are very good at manipulation. There are a few girls who get on line to chat and they assume to be boyfriend and girlfriend, then they meet in Miami and all he does is take advantage of that girl after making love. That boy just sells her! And the girl cannot get back to her father because she lied to her father saying Dad I am going out with friends! That is why she is quiet. She has been raped twice, she has been stitched twice and then she has been sold off as a virgin TWICE! Can you imagine? Stacey, there are so many girls out there that need help right now! I feel privileged to be an actor that I can achieve for a cause like this I can at least stand up and chose my films and promote it and bring notice. I don't know how much business this film will do, I honestly don't know but all I wanted to do is that there should be girls saved after watching this film.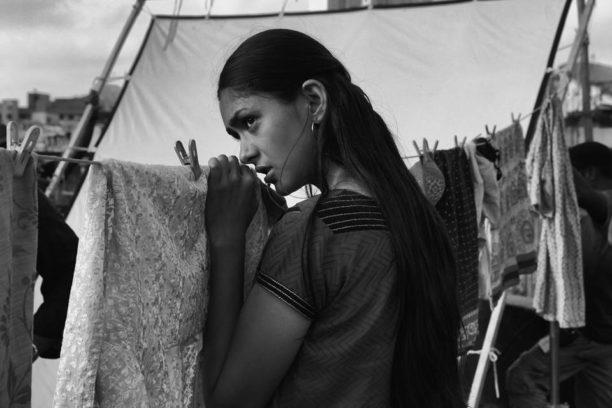 In fact, there is this woman called Natalie, she is Tabrez's friend. I spoke to her recently and she said Mrunal after watching this film I was inspired to start an NGO to save girls from sex trafficking. She has saved more than 30-40 girls in 3 to 4 months. I am like WOW if this is the impact before the release I can't wait for it to hit the screens and win people's hearts.
To have this film have its World Premiere at the London Indian Film Festival, I think is very important because it will get this story out there.
I am so excited first that it is going to be screened at the London Indian Film Festival. It is very important for films like this to be screened there. See this is not only for India. It is a global issue. I didn't know that it was going to release in the US and the UK when I signed the film I am so glad that Tabrez has made it a point that he is going to release this not just pan India but to the world. And if through the film medium, my team, we can help girls and the more it reaches the better it is. I can at least go to bed go back to sleep and that okay at least I saved one girl.
I know you are proud but are you happy that you did this film and that you went through this experience or is it kind of Oh My God I went through so much?
I am 25 now Stacey but I think like a 30-year-old. I will tell you why. Because of this film I have become so mature now. I can see through people. I can see what their intentions are. That is the power of this film that it has given me. It has made me alert. Not only personally but professionally. It made me so alert, the way you deal with people. Also it helped me grow as an actor. It is a blessing to work with such great talent, such great actors. You know in between the takes, the way the co-actor acts, that is the exact thing you learn. That is the learning process. And I believe in the power of observation. For me I learn through observing. Through observing I realized Richa Chadda, her acting style is totally different. Then I see Frieda Pinto, her acting style, the way she looks at that scene is totally different. When Manoj Bajpayee does it and the way Demi Moore did it there is a difference in everything. I am telling you again, I am blessed to have this bunch of actors. I approached them and I asked them what do you think Sonia should do. They told me their thoughts, their views. I took those thoughts, I took the real life incidence stories, I took those into consideration, I spoke to my director and I took his briefing and then me and the Sonia that was written in the script. So when you include all this, Sonia is an amalgamation of the script, the director's briefing, co-actors thoughts, the crew's thoughts and the real life incidences. That is how Sonia was born.
I am very fortunate to play Sonia because not all Bollywood girls get the title role as their debut! I am very blessed to have Love Sonia.
You didn't jump in quietly did you?
It was my director, the research and my DOP who got this out of me. So I am thankful to the entire team of Love Sonia. I always had a feeling when I did my first film it should leave an impact on the audience. It should be a cult film. People should know it for what it is. So that was my main motto behind it.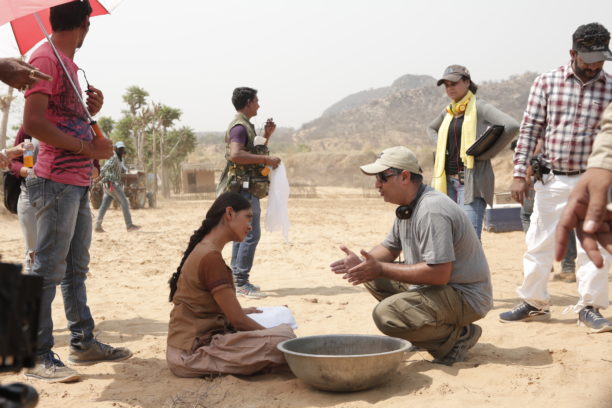 Have you seen the entire film, what are your thoughts on it?
Yes, and well as an actor I kept telling Tabrez I could have been better in this scene, I could have done good in that scene. I am always critical. I cannot judge my work. And you know, if I judge and say okay I was good in it I am finished. The moment I feel that I am good at my job my learning process has a big full stop right there. I don't want to stop. I just want to learn, experiment, try different acting methods, different films and different roles. I should be like Meryl Streep. I mean, every film she comes out with Oh MY God! Even Kate Winslet, they are just like a different character all together in their films. People should not know me as me people should know me as a particular character. Now of course I am experimenting I want to do everything possible. Now I am doing a Bollywood project. And I have a couple of more projects as well which are quite different, not just different they are poles apart.
That is the film with Hrithik Roshan; Vikas Bahl's Super 30 right?
The movies are poles a part, but the one thing that is common in Super 30 and Love Sonia is that is for a cause. Let me tell you about Super 30. Super 30 is a program consisting of 30 students preparing for their IIT (Indian Institute of Technology) entrance examination. The founder of this program is Mr. Anand Kumar, he is from Patna. So Hrithik Roshan is doing a biopic where he is playing Anand Kumar. I am playing Hrithik's love interest. This is a very different film. I get to wear make up in this, I get to wear jhumkas, those big earrings, flowy dresses, those anarkali dresses so it is very colorful.
When I first met Hrithik I felt like Oh My God he is a star, he is a big, big, big, huge star! I don't know how he is going to be, will he be kind enough? But it turned out to be the exact opposite. He is one of the kindest and most humble people I have met. He is so down to earth – he will discuss the scene, he will tell me what he feels about Supriya. He is like a mentor. He is very experienced but he never flaunts that. He is very down to earth and that is what is fascinating that there are people who have achieved so much success at the same time they would remain so calm, they would introduce themselves as Hi, I'm Hrithik Roshan. And I was like I know (laughs) I did not expect him to be like this. I can't tell you how happy I get when he tells me that in the scene you really performed well. He always compliments me. He pushes me. He makes sure I am into fitness. He is one dedicated person I have ever met in terms of and as far as fitness is concerned. Vikas Bahl is a great director he asks me what my view is on the character. It is a great journey. We have almost finished 75% of the film.
The best thing about this is also we are going to do a proper Bollywood song! So I am quite looking forward to that! I can give you a hint, right now, for Supriya's character I am training in and learning the Indian classic form Kathak. I love dancing. I don't mind wearing those ghunghrus, dancing doing the Kathak movement. Just flowing. It is such a relaxing thing for me. I love dancing. It makes me happy!
I feel so blessed. You know I don't have anybody in the industry. I am in the right hands. So happy to have all of them because everybody keeps helping me. I am blessed!
Starring Mrunal Thakur, Freida Pinto, Demi Moore, Mark Duplass, Manoj Bajpayee, Rajkummar Rao, Richa Chadda, Riya Sisodiya, Anupam Kher, Adil Hussain, Sunny Pawar, Love Sonia opens the festival this Thursday June 21st in London. It also screens June 23rd in London, and June 22nd in Birmingham.