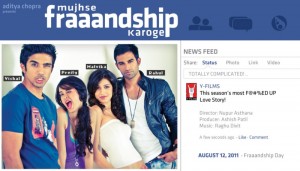 Yash Raj Films are synonymous with love stories, and with their second release from newly launched youth division Y-Films, the production house stick to what they know best: a story about love.
A romantic comedy set against the backdrop of social networking, Mujhse Fraaandship Karoge tells the tale of two losers, Vishal (Saqib Saleem) and Preity (Saba Azad) who fake their online identities in an attempt to get the attention of drop dead gorgeous Malvika (Tara D'Souza) and rockstar Rahul (Nishant Dahiya). What they do not realize, is that the person they hate most in the real world, just happens to be the same person they have fallen in love with online.
So, the premise for the season's most screwed up love story, is: Rahul loves Malvika. And Malvika loves Rahul. But Rahul is not Rahul. Rahul is Vishal. And Vishal loves Malvika too. But Malvika is not Malvika either. Malvika is Preity. And Preity loves Rahul. But Preity hates Vishal. And Vishal hates Preity. Got it? Good.
From the opening scene with a naked guitarist gone viral, it is clear that director Nupur Asthana – previously known for cult TV shows like Hip Hip Hurray and Mahi Way – is firmly targeting the 18-30 demographic. MTV style jump cuts, speeded up segments and innovative camera angles, do not let us forget that this is a film for the youth.
We have a vague plot centered on a college project to celebrate the founder's day of the college. Add to that a cast of shiny, happy students, in a campus where seemingly everything takes place except the small matter of study. Throw in shirtless boys and debut heroines not yet at the 'no-bikini-clause-in-my-contract' stage of their career, and wash it down with copious amounts of tequila and a thumping background score. And there you have it, all the ingredients necessary for a sweet, zesty film.
Asthana scores bonus points for tapping into the language of young, urban India. So people are 'despo' and things are 'obvo'. A 'Jawaani Booty Booty' (don't ask, just watch) MMS scandal and a 'BRB' Facebook status announcing the intermission, will appeal to those always on Facebook – day and night.
As anyone in Bollywood will tell you, launching not one – but four newcomers – is a big risk. Here we have no established stars to support the debut actors, as YRF had tried previously with Shah Rukh Khan and Amitabh Bachchan in Mohabbatein. Nor have we taken the star offspring route Karan Johar is currently travelling down in his forthcoming Student of the Year.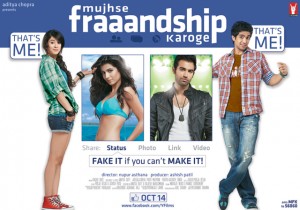 When you are banking on newcomers, one of the key attractions that get you into the cinema in the first place, is the kick-ass promo backed by even more kick-ass songs.
With indie musician Raghu Dixit onboard as composer, Mujhse Fraaandship Karoge has created a soundtrack to rival the popularity of 'Pappu Can't Dance' (Jaane Tu… Ya Jaane Na), and the I Hate Luv Storys title track. 'Dheaon Dheaon', a tribute to the South Indian street music form of Dappan Koothu, has been given a fusion feel with hip-hop and rap influences. Sung by Vishal Dadlani and Aditi Singh, the song is already a hit across music channel platforms. 'Uh-Oh Uh Oh!' is charming and likeable, picturised with a funky choreographed campus dance. 'Chhoo Le' brings Suraj Jagan belted out vocals into a modern twist on the classic stadium rock track.
As is de rigueur for every Yash Raj release post Bunty aur Babli, we are also treated to a bonus track, in the form of a karaoke version of 'Kajra Re' sung in the back of a speeding rickshaw.
Performance wise, Saqib Salim as loser Vishal gets my vote. Nishant Dahiya delivers a confident debut as the equally confident Rahul.  Katrina Kaif fans will see something of the star in Tara D'Souza (an identikit accent for starters), while Saba Azad brings the cuteness of Genelia to the table.  Pay close attention to how Preity goes through a post-interval metamorphosis. Graduating from checked shirts and hideously oversized jeans (1974 called and wants its denim back), to a sleek and sophisticated conventional Bollywood heroine look.
Without giving the movie away, the climax – all about love, pyaar, ishq, mohabbatein – ties up the story so that everything is as it should be, and everyone is with who they should be. The final reels have fun with a photo story montage, and seem to do the trick of preventing the audience of rushing en masse to the exit sign before the movie is properly over.
In the pre-Diwali rush to release everything and anything before the arrival of a certain Shah Rukh Khan sci-fi project, Mujhse Fraaandship Karoge jostles for a place in the crowded box office with four other releases. While its target audience will get it, and in urban centres the movie should do well, non-multiplex audiences, however, might literally not connect with this love story.
On the whole, BollySpice is quite happy to make fraaandship with the film (though perhaps on limited profile).  It is not just another love story. 'It's complicated' and we 'Like'.