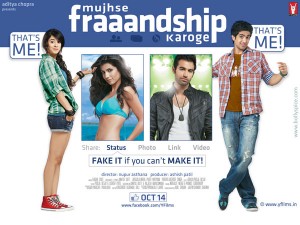 Mujhse Fraaandship Karoge is the latest project from Yash Raj Films' offshoot youth oriented studio Y-Films. The story is a romantic comedy set in the very modern world of social networking – following what happens when two social outcasts, Vishal and Preity, fake their identities online to capture the hearts of their dream partners, Malvika and Rahul. The twist: Vishal and Preity don't know that the people they have fallen in love with online are the same people that are their sworn enemies in real life…
A film aimed at a young, pop culture savvy audience can't get away with having a mediocre, been-done-and-heard-before soundtrack, so Raghu Dixit (of the Raghu Dixit Project) has been brought on board to make his Bollywood debut as music director/composer for the soundtrack. The result is an outstanding success. Consisting of five original tracks and three remixes, with vocals from a range of fresh upcoming talents: Aditi Singh Sharma, Shefali Alvares, Ash King, Joi Barua, and Suraj Jagan; as well as seasoned professionals Vishal Dadlani and Shilpa Rao,  the MFK album, I am thrilled to report, is exactly what it should be. Appropriate to the film, it's youthful, energetic,  eclectic, and totally infectious.
The album opens with the quirky, desi-inflected hip-pop of Dheon Dheaon which features a foot-stomping beat, plenty of rhythmic dhol and spitfire, accented delivery of perfect on-the-nose lyrics, as well as a guest appearance from Chennai rappers Attitude. It's also fun to hear Vishal Dadlani and Aditi Singh Sharma flex their impressive vocals on a track that's not an all out rock track – it's a unique party track actually, with an awesome South Indian feel. It feels like this could easily have veered down a 'novelty track' road but it doesn't, the balance of all the elements is perfect.
Included is Dheaon Dheaon (The Seeti Seeti Bang Bang Mix) isn't a radically different mix but extends the party for a couple of minutes.
Uh-Oh Uh Oh! is possibly one of the cutest and catchiest love songs I have EVER heard. Built upon a simple backbone of barbershop  "do do dooo"s that escalates into some quite luscious, intricate orchestration, Ash King and Shilpa Rao duet about how they "guess they've fallen in love". Ash's voice is lovely and husky and Shilpa's voice is the perfect counterpoint. A sweet, upbeat, catchy pop song with some surprising twists in the arrangement, and a super infectious chorus.
The remix is cutely titled Uh-Oh Uh-Oh! 2.0 and lends a electronic edge to the poppy love song, filtered as it is through layers of twinkly effects and rapid beats. The treatment is almost twee-techno, reminiscent of The Postal Service.
Third track Baatein Sharu is a mellowed out rock number with a funky guitar riff and the distinctive rock inflected voices of Shefali Alvares and Joi Barua lending the track some edge. The melody of this track is instantly likeable, but also unpredictable – there's enough variety  to keep things interesting. An upbeat, immensely likeable track.
The rock vibe continues with Chhoo Le, which amps up the guitars and adds an anthemic chorus to create a true stadium rock vibe: imagine a sea of people rocking out to this one. Suraj Jagan has a great emotive rock voice, belting out the vocals over a full-on rock band backing: the drums going hardcore, the guitars wailing.
The Chhoo Le (Big Bang remix) turns the typical rock anthem into a trance-infused dance track. I have to say, I personally prefer the original track, but it's an interesting example of blending two genres you wouldn't necessarily imagine together. Possibly only for super-fans of the song.
Finally, Raghu Dixit himself contributes a track to the album: Har Saans Mein. A Raghu Dixit Project track from 2007, it's almost the "odd one out" of the album in that it sounds less immediately poppy or "mainstream" – it's best described as desi-rock, combining traditional instrumentation and arrangements with….well, rock. If anything, the vibe of this track sums up the vibe of the album overall: a clever mix of old and new, traditional and modern, making something completely original and fresh, and awesome.