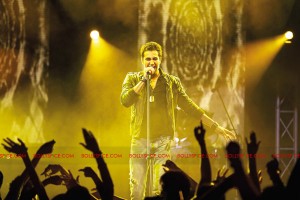 During the shoot of the rock song, 'Chhoo Le', in Mujhse Fraaandship Karoge, there was a requirement of over 2000 junior artistes to act as the crowd. But due to a last minute strike, some of the junior artistes decided to not be a part of it.
Things started to look really bad until someone from the crew played the track loudly on the system as part of the sound test. Suddenly, people from nearby areas started dropping in on the set and checking out the song. In fact, so many people walked in that there was no need for junior artistes anymore. We had a live audience rocking to the song that introduces Nishant as Rahul in the film.
Seriously, the music of the film, scored by Raghu Dixit is definitely something to definitely watch out for.