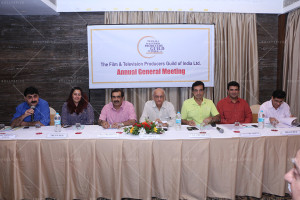 Mukesh Bhatt was unanimously re-elected as President of The Film & Television Producers Guild of India Ltd. ("Guild") at the first meeting of its newly constituted Guild Council of Management which was held immediately after the 61st Annual General Meeting on 11th September,2015 at Hotel Sun-n-Sand, Juhu, Mumbai.
The other office bearers re-elected as part of the Guild Management Team are Dheeraj Kumar, Siddharth Roy Kapur, Manish Goswami and Vijay Singh as Vice Presidents, Ashim Samanta and  Srishti Arya as Treasurers.
Kulmeet Makkar will continue to manage the affairs of the Film & Television Producers Guild of India Ltd. as its Chief Executive Officer.
In his opening speech at the Guild Annual General Meeting – President Shri Mukesh Bhatt, in the course of apprising the members about various initiatives of Guild during last year, also said, "Throughout the past 3 years, our Management Team has embarked on the path of my illustrious predecessors and worked with dedication, determination and intensity on embellishing & brightening the image and reputation of Guild and to this end I would like to emphasize on the contribution of Kulmeet Makkar, Guild CEO, who has devoted his energies to reinvigorate and revitalize the approach and modus operandi of Guild. We continue to engage with State & Central Governments over several issues concerning the film & television industry. There have been many fresh initiatives undertaken by Guild such as waiver of all the charges pertaining to Publicity clearance and Titles registration to make the system more transparent and provide enhanced value to the members, release of first edition of the Film incentive Guide which provides processes and incentives in detail to benefit Indian producers for shooting in 12 countries apart from other reports such as Make in Maharashtra, Film tourism, GST way forward…"
Vishal Bhardwaj has been once again inducted into the Guild Council of Management. The other members of the newly elected Council of Management of Guild:-
Mukesh Bhatt (President)
Dheeraj Kumar (Vice President)
Siddharth Roy Kapur (Vice President)
Manish Goswami (Vice President)
Vijay Singh (Vice President)
Ashim Samanta (Treasurer)
Srishti Arya (Treasurer)
Ramesh Sippy
Manmohan Shetty
Ashutosh Gowariker
Rakesh Roshan
Karan Johar
Farhan Akhtar
Ekta Kapoor
Vishal Bhardwaj
Sushilkumar Agrawal
Ratan Jain
N P Singh
Madhu Mantena
Hiren Gada
Sabbas Joseph
Kiran Shantaram (Permanent Member)
Randhir Kapoor (Permanent Member)
Amit Khanna (Permanent Member)
Kamalkumar Barjatya (Member Emeritus)
Rajkumar Kohli (Co-opted Member)
In addition to the existing three Special Invitees Subhash Ghai, Ritesh Sidhwani, Guneet Monga, eight more Guild members/representatives – Prem Sagar, Asit Kumar Modi, Sneha Rajani, Ajit Andhare, Sameer Nair, Apoorva Mehta, Aashish Singh and  Vipul D. Shah were nominated as Special Invitees.