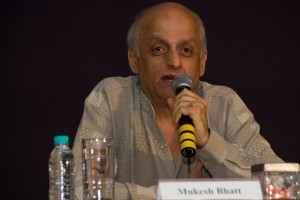 Shri Mukesh Bhatt was unanimously re-elected as President of The Film & Television Producers Guild of India Ltd. ("Guild") at the first meeting of its newly constituted Guild Council of Management which was held immediately after the 59th Annual General Meeting on 26th September, 2013 at Hotel Sun-n-Sand.
The other office bearers of the "Guild" Management Team were also reelected – namely Shri Dheeraj Kumar, Shri Ashutosh Gowariker, Shri Vipul Shah & Shri Siddharth Roy Kapur as Vice Presidents and Shri Manish Goswami & Shri Ashim Samanta as Treasurers.
Shri Ratan Jain, Shri Vijay Singh & Shri N P Singh were elected as new members in the Guild Council of Management for the year 2013-14 whilst Shri Rajkumar Kohli was nominated by the Council as a co-opted member. Veteran Council member & Ex-President of Guild Shri Amit Khanna was honored by the Council on being accorded the privilege of a Permanent Member of Council of Management.
Shri Kulmeet Makkar will continue to manage the affairs of the Film & Television Producers Guild of India Ltd as its Chief Executive Officer.
In his opening speech at the Guild Annual General Meeting – President Shri Mukesh Bhatt, in the course of apprising the members about various initiatives of Guild during last 12 months, also said …… "We have made a conscious attempt to radically change the overall image and make-up of the Guild with the ultimate endeavor to build 'Guild' – not only in the eyes of the Government and fellow trade associations/stakeholders but more significantly to earn goodwill amongst the Guild's most prized assets – our esteemed Guild members. I am pleased that we have brought in an assured outlook in our delivery mechanism approach to all concerned individuals/entities and the effects are very much visible. I must make a special mention of Mr. Kulmeet Makkar, Our CEO for his untiring efforts and professionalism to take Guild to this level.
The following are the members of the newly elected Council of Management of Guild:-
1.    Shri Mukesh Bhatt (President)
2.    Shri Ashutosh Gowariker (Vice President)
3.    Shri Dheeraj Kumar (Vice President)
4.    Shri Vipul Shah (Vice President)
5.    Shri Siddharth Roy Kapur (Vice President)
6.    Shri Manish Goswami (Treasurer)
7.    Shri Ashim Samanta (Treasurer)
8.    Shri Ramesh Sippy
9.    Shri Manmohan Shetty 
10.  Shri Rakesh Roshan
11.  Shri Bobby Bedi
12.  Shri Sushilkumar Agrawal
13.  Shri Karan Johar
14.   Shri Farhan Akhtar
15.  Shri Prosenjit Chatterjee
16.  Shri D.Suresh Babu
17.  Ms. Ekta Kapoor
18.  Ms. Shrishti Arya
19.  Shri Ratan Jain
20.  Shri Vijay Singh
21.  Shri N P Singh
22.  Shri Amit Khanna (Permanent Member)
23.  Shri Kiran Shantaram (Permanent Member)
24.  Shri Randhir Kapoor (Permanent Member) 
25.  Shri Rajkumar Kohli  (Co-opted Member)
Issued by the Film & Television Producers Guild of India Limited