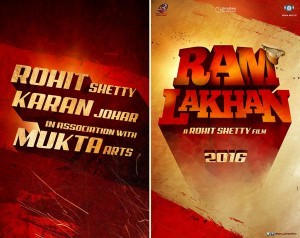 Anil Kapoor, Jackie Shroff and Madhuri Dixit starrer – Ram Lakhan is being remade by none other than Rohit Shetty and Karan Johar, in association with Mukta Arts.
The mix of Rohit Shetty – who is famous for his action filled masala films, and Karan Johar – known for making romantic drama films will most definitely make for an interesting remake of Subhash Ghai's classic.
There are rumors that Anil Kapoor and Jackie Shroff are not too happy about the classic hit being remade. Speculations are on that Arjun Kapoor might play Anil Kapoor's naughty role of Lakhan and that Tiger Shroff was offered the role of Ram originally played by his father Jackie Shroff.
Subhash Ghai's take on this "Ram Lakhan is being remade by Dharma in association with Mukta Arts. It is entirely the director's call whom he would wish to cast today. Even I am curious to know who will accept to come on board as lead actors. It's an interesting guess for everyone. Karan can rope in any star. Let's wait and watch."