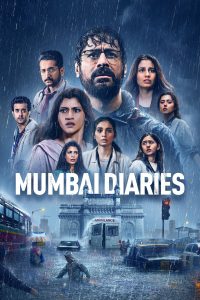 Mumbai Diaries Season 2 (Prime Video)
Starring Konkona Sen Sharma, Mohit Raina, Tina Desai, Shreya Dhanwanthary, Satyajeet Dubey, Natasha Bharadwaj, Mrunmayee Deshpande, Prakash Belawadi, Parambrata Chattopadhyay, Riddhi Dogra
Directed by Nikhil Advani
Overlooking the rather strange lacuna in the timeline whereby the second season moves from the terror attack of 26/11/2008 to the monsoonal deluge of 26/7/2005, Mumbai Diaries part 2 is a more intricately sketched portrayal of a city under siege than part 1 which suffered from under-developed characters and over-informed plot developments.
By now we know who's who at the Bombay General Hospital. They need no introduction, and their function within the disembodied domain of injury and trauma is clearly aligned to the crisis on hand. There is more of Konkona Sen Sharma's Chitra Das this time than Mohit Raina's Dr Kaushik Oberoi, the head of trauma who seems pretty traumatized himself.
There are tons of trauma to be negotiated by Chitra who suddenly finds herself face-to-face with her abusive husband from the past (Parambrata Chattopadhyay) whose strange British-Bengali accent is worthy of a PhD thesis. The cat-and-mouse game between the couple occupies considerable time in the screenplay which is otherwise pacy and effective.
What doesn't work is the repeated evocation of some of the characters' problems as patients which frankly, tries our patience. One electrocuted boy who is rolled in remains a matter of debate over his drug usage for way too long. What we needed was to meet more of the of the patients and their accompanying relatives, rather than negotiating an extra-expanded ambit of problems faced by the doctors.
That said, Mumbai Diaries 2 is never short of involving drama. The actors help keep the story of the deluge aloft. Konkona and Raina fall into the ever-reliable category. But some of the other lesser-known actors like Natasha Bhardwaj and Mrunmayee Desshpande pull us into their intern's internal trauma with a sense of commitment.
But my favourite character and actor is Sister Cherian played by Balaji Gauri who echoes Lalita Pawar's hardshelled soft-interior nurses's act from Hrishikesh Mukherjee's Anand. Satyajeet Dubey's intern's role suffers from an incurable silliness. While the hospital is afire with life-and-death issues, Dubey runs around with two tickets of Imtiaz Ali's Love Aaj Kal trying to get Chitra's attention.
Didn't Love Aaj Kal come four years after the Mumbai monsoonal deluge?