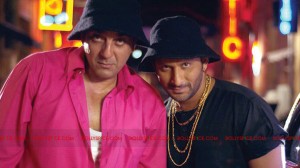 Munna Bhai MBBS and sequel Lage Raho Munna  Bhai had Bollywood audiences crying with side splitting laughter.
The heart warming comedy and the Mumbai hooligan antics came with a message. Whilst Munna Bhai MBBS had the protagonist "Munna Bhai", a lovable Mumbai hoodlum, become a faux- medical student who "cured" people through his humour and good heart, the second instalment had Munna Bhai don the disguise of a faux- history professor. Becoming an expert on Gandhi and Gandhism, Munna Bhai attempted to win the heart of his love through his supposed knowledge. However, through the lies and deceit, he finds himself haunted by a Gandhi who won't let his guilty conscious alone.
Along with these social and personal lessons, came a whole of fun…
The "Jaddo ki Jhappi" (Magical hug)
The "Bole Tau!" (What I mean "homie" is…)
The "Aae Mamu!" (You fool!)
And these antics are to make a grand return.
However, there is a bit of a wait.
Rajkumar Hirani, director of the Munna Bhai instalments so far, recently stated that a film will surely be made after Sanjay Dutt is released from prison. According to the Times of India, Hirani confirmed the next Munna Bhai film at the International Children's Film Festival of India, where his son Vir's film "Return Gift" premiered, "Yes. At some stage. Right now Munna Bhai (Dutt) is not there. Whenever Munnabhai comes back, we will make a film,"
The "Deadly Dutt" is currently serving a five year prison sentence after being convicted of illegal possession of arms relating to the 1993 Mumbai blasts case. The first arrest was made in April 1993 where Dutt served eighteen months of the sentence, he was then granted bail in 1995.
Speaking on the next subject and messages explored, according to sources, Hirani did not reveal too much, "It is being written. It is too early to discuss subjects," Dutt's lovable Mumbai thug "Munna Bhai" persona became popular with both the young and old. Perhaps it is only appropriate that not only did Hirani announce the statement at the children's film festival when questioned, but also encouraged the government to take on initiatives that inspired films to be made especially for children.
One such initiative suggested was the setting up of theatres especially for children. Hirani also suggested that film making become a part of the Indian educational curriculum. The director also added that the festival had inspired him to make a film particularly for children. According to sources, Hirani stated, "I never had the idea to make a children film. But after having seen so many children here, I want to make one."
Only time will tell what Munna Bhai and his lovable gang are to get up to next – however, perhaps this is a clue towards the subject of the next Munna Bhai instalment?