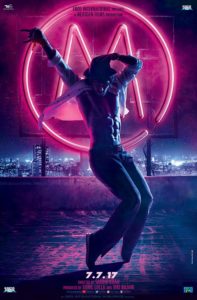 25 June 2009. The biggest news story of the day was the death of Michael Jackson. Then began the fanzines remembering Michael as the great singer/songwriter he was. But who can ever forget the dance? The moves, the poses? So many have tried to emulate but MJ is still MJ. Sabbir Khan's Munna Michael is an underdog story of dreams, passion, dance and most importantly the desire to bring MJ back to life on stage. Nawazuddin Siddiqui, Tiger Shroff and Nidhhi Agerwal play the lead actors and just like the combo, the album is exactly the sort of package we expect from the many music directors involved with the album. With Kumaar penning most of the lyrics, each singer, music director and lyricist involved has looked to remind Indian audiences of the magic that is Michael Jackson.
So, we must begin with an intro for Munna that would fit MJ. Main Hoon is that song: hip-hop, auto-tune and no attempt made at desi fusion styles that have been favoured in recent years. This is about Munna, it's about how much he loves Michael, it's about how much he wants to be MJ. Siddharth Mahadevan has already shown audiences that he has the power and confidence in his voice and Tanishk Bagchi gives Tiger Shroff every chance to show off some early moves.
Next up is Ding Dang, a love-fight song. Amit Mishra and Antara Mitra have the chance to fight it out for Tiger and Nidhhi in this heavily "Hinglish" song. Fans of films like Ladies vs Ricky Bahl will be very familiar with this type of song and Javed-Moshin don't look to drift too far from the formula as music director. The lyrics could be construed as hurtful but all in a comedic setting with lots of references to popular products shows that this is nothing to be taken seriously. We hope to see some dancing skill since that will be the only way to save this song from being instantly forgotten.
Pyar Ho is the butterfly effect of a boy infatuated with a girl. Vishal Mishra acts as both singer/songwriter for this one, and along with Sunidhi Chauhan finds a breathy and acoustic feel to show endless love. Kumaar gives us the eternal line "Pyar ho har bar tumse hi" and thus the song allows us to feel that love is the same wherever and whenever it happens. The pathos version sees Sunidhi Chauhan breath through the heartbreak and has an appeal the original misses out on.
Swag and Swag Rebirth are next. Pranaay Rijia having worked with Tiger on Baaghi, has been asked here to give a song that will show off what it means to have a sensation of it. Whether you want to call it X-factor, Skillz or as chosen for this film Swag, it's all about beautiful moves that make the music mostly irrelevant. When you watch, you are watching the dancer who is listening to the music for you. So, there isn't much in terms of lyrics, there is a rap break but its overridden by the chorus and there is a lot of saxophone. The singer Brijesh Shandilya doesn't really get much of a look in but there is enough to get a sense of him if you really try. However, since this one is more for the bromance of the actors, the appeal is focused on the visual.
While 'Swag' and its rebirth are short (a little over 2.5 mins each), Beparwah is back on form as an old style 6 minuter. Gourov-Roshin are music with Siddharth Basrur and Nandini Deb as singers in this 'lets show the world what we can do' song. Dance like no one is watching, as the famous quote goes and this is the song that epitomizes it. This song is partnered with Feel The Rhythm which feels like the stage version of this song, a chance for Munna the gangster to show off not just for himself but to the rest of the world that he can "Move it like Michael".
And just in case you thought the boys seems to be getting too much of the limelight here, there is Shake Karaan. Kanika Kapoor and the Meet Bros reunite for another version of hit songs like 'Baby Doll' and 'Lovely'. In other words, this is Niddhi's intro song and is supposed to her moment to shine. Even though this is sure to be one of the lingering chart numbers that Kanika is famous for, the familiarity of the song takes away a lot of the appeal so we hope for more skill.
Lastly is Beat It Bijuirya. While it could be described as a Rajhastani homage to MJ, we are pretty sure this song is Nawazuddin Siddiqui chance to play out his own skill, not the one Munna teaches him. In true item song style, its full of 'Punjish' (Punjabi English) and is intended to be proof that girls, in this case Asees Kaur and Renesa Baagchi, have just as much fun as their male counterparts. Yet once again, there is little expectation for the song.
In the end, the album isn't much different to an ABCD or a Banjo as it's so heavily directed towards one point that everything else takes a back seat. The result is you don't feel your inner Michael. You don't root for the underdog. Something the previous films sparked initially at least. The strong dependence on the visual is a little off putting.
Although it may well be the saving grace. Munna Michael may have the moves that will most likely find on YouTube but its missing the musical soul that Michael was all about.