Hit Dutch music artist Imran Khan has come to Bollywood. Known for his huge hits 'Amplifier' and 'Satisfya' among others, the singer has lent his cool beats and killer vocals to a track for the upcoming film Tevar, which stars Arjun Kapoor and Sonakshi Sinha.
First check out the groove of 'Let's Celebrate'!

http://youtu.be/L6C5wv5XbZQ
We got the unique chance to chat with Imran Khan about the track, getting Sonakshi to sing and more! Check it!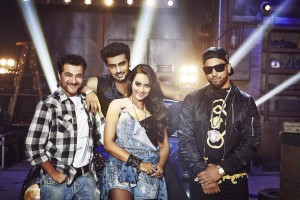 How did you become a part of the Tevar soundtrack?
First of all I never wanted to come to Bollywood. It was never my intention to come to Bollywood because I was doing good on the music side. But Boney Kapoor came to Dubai for a meeting with me. We were just talking about the creative side, the financial side, and we came out to the conclusion after that talk that we were going to do this song. Then they came to Holland with the whole Tevar team, the director and everyone. We were talking creatively and it was going well and the song was done within a week. They were happy and I was happy. And that's it, I am here now.
You know a few years ago I could have gone to Bollywood too. But then it always felt like they wanted to use me or something but when Boney Kapoor came, they really came up to me like I was their family. I really felt good too, to do this, you know? It is not just releasing a song in Bollywood, it really is more the relation and the work with the people in the industry. And the right people, that is very important. It is very important to me to work with people who appreciate your work.
It was an experience for me. For them to see how I work and for me to see how they work so it gets easier for the next time.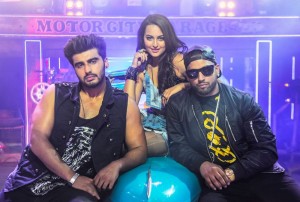 What was the creative process like to create the sound for this song for the film?
It had to be the exact emotion for the scene, you know? You have to lead into it, it is not like you have a very sad scene and then go into a 'let's celebrate' song. You really have to lead to it, you cannot just switch the mood. It has to be very smooth between the scenes and the actual beginning of the song. It is very important to talk about the song with the director and talk about the full script. You can use a couple of lines of the characters and what they are saying in the movie in the song. They gave me a few words to play around with. It is a whole process. It is not just bang bang the song is done; there is a lot, it is a whole process to get it done.
When I talked to Sonakshi Sinha we talked about you having her sing the female vocal on the track, so tell us about that.
Yeah I did! The director asked me if I knew any female singers because we want a female singer part in the song too. I said 'Oh, well can you provide the female singer for me?' And then suddenly I said, 'Why don't you ask Sonakshi Sinha? Why don't we put her in the song? It makes more sense. Even if she cannot sing, we will make her sing.' Anyone can sing, I believe. We had like a mini-studio session. She has done well!
What was it like shooting for the video? It looked like you guys had a lot of fun!
Yes it was! Normally when I do shoots for my videos there are like only 10-15 people. They had a whole team there, like 200 people or something. (Laughs) Everything was new for me. It was a great experience. I am looking forward to doing another one.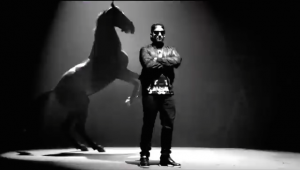 I wondered about that shot of you and the horse in the background, can you tell us about that and the significance.
When I was producing this beat I was empty and I was playing with my imagination, and suddenly I had the feeling of horses. In one of my previous songs, 'Satisfya', I used the cheetah. It was actually me doing that cheetah sound on the track. But this time I cannot actually make the sound like a horse so I just put a sample of the horse in the song. It makes a difference. So then I had another thought that I am going put a horse in that video. When we were doing the shoot, I asked them 'Can you arrange a horse?' They said, 'What do you want to do with a horse on the set?' I said, 'Just bring one if it is possible.' And you know in India they can get you anything you want and in the next 2-3 hours they brought a black horse to the set. (Laughs) We asked the owner 'can you make him stand on two feet?' and he said yes, he had him do it and then we took that shot. But, you know, in the beginning it was not working because the horse had never been in front of so many lights and the camera and so many people around him. He was very nervous but the horse did well and we got that shot.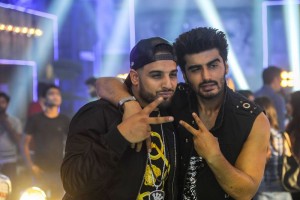 How was it to work with Sonakshi and Arjun on the video?
They are doing their job. They are proper actors. I think it went well. Arjun loved the song. Sonakshi loved the song. It was good.
It is doing really well, how does that feel?
It is doing well, it has almost a million hits. I am loving it! I wake up with the song. I sleep with the song. I play it in my car. I really do love it! It is the first time I have produced the song. I have co-produced before but this is the first time I have produced a song 100%. I am happy! I am happy that it even came in Bollywood. I never dreamed about that, that my first produced song is going to be in a Bollywood film.
What inspired you to put Instagram in the songs and lyrics?
Every person on this planet works with social media, almost. They really don't use other marketing skills, social media is the main source of promoting stuff nowadays. So I thought everyone is Instagramming, it is an in thing now, so let me put it in a song somewhere.
You can play this song for every occasion like if someone got their drivers license or a baby is born or for someone's birthday, they can celebrate with this song and you can Instagram the moment.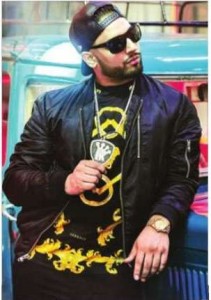 What are your thoughts on Indian film music?
Back in the day I used to love it, the old school songs. Nowadays I think it has gone downhill. I don't like it. As a musical genius (laughs), actually I am a musical genius in my field you know. (You can hear his smile continue) I personally don't like the new upcoming Bollywood songs. I don't and that is why I put my hands in it.
Would you do another one?
I want to change the Bollywood sound! Into a Western kind of touch, add that into it. I think that is missing in Bollywood. And nowadays there are a lot of rappers and hip-hop things are going on in Bollywood. I have enough reasons to come into Bollywood. Before I had no reasons to come into Bollywood.
Do you see yourself ever doing the music for a whole film?
Of course!
What are your upcoming projects?
My new single releasing under my own record label IK Records. I have some things coming up from the US. I am working with mainstream producers. I am also working on my album. I hope to release that next year sometime. I am working very hard on it. I am planning not to just drop a 15-track album but to do a 25-track album.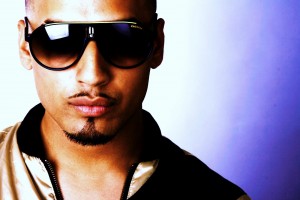 What do you love most about being a musician and singing? What is the coolest thing about your job and what you do?
When I am creating a song and I am halfway, then I am very happy. It is unbelievable, the feeling you get. I love that part the most. Because I know that this song will get finished now. The difficult part and the annoying part is always the beginning, but I think it is everything when you are halfway there.
We would like to thank Imran for the fun and cool interview and wish him all the best!
Tevar, directed by Amit Sharma hits theaters on January 9th!