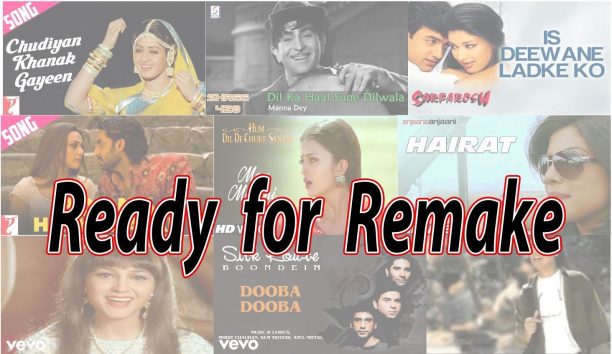 2019 has taken the remake trend of 2018 and pushed the dial to 11. We've seen straight rips of some classic old songs and some very good bits of reworking and modernising efforts from the new generation of music directors. We can look at how Ek Ladki Ko Dekha To Aisa Laga not only reminded us of Anil Kapoor bouncing around on his bed and in his old car but also brought the reality of Sonam Kapoor's role in the new film into focus. At the other end of the scale there's been a lot of reworking done for Punjabi pop performers, with several being invited to redo their songs with some of Bollywood's best.
In all cases what any remake does do well is to give listeners both new and old a chance to either reminisce or get to know a song that may be from a previous generation or in a different language. With a touch of beat and change of singer we get a bright modern, hip and fresh new taste to some great old classics. 'Mungda' is a perfect example of this. In this way there's plenty of songs that could still get this treatment, if nothing else to remind everyone in Bollywood that music has been such an integral part of the image. Below is just a taste of what could be…
'Dil Ka Haal Sune Dilwala' – Manna Dey – Shree 420

Who could disagree with the title of this song? The forgotten cousin from Shankar Jaikishan's finest ever album with none other then Raj Kapoor to make it magic in front of camera. While this song is effectively a comedy/item number, it has plenty going for it with a modern-day message of inclusion and a message about corruption.
'Ek Ladki Bheegi Bhaagi Si' – Kishore Kumar – Ek Ladki Bheegi Bhaagi Si

Kishore Kumar sang for and with everybody in a long career as the king of Bollywood singers. This is Kishore Kumar from top to tail: he sang it, acted in it, wrote the words and was part producer on the film. Its bubbly, fun and yet mysterious with the simplest of tunes. Its theme will need some reworking for a 2019 audience, but we've seen it done with the likes of 'Chin Chin Chu'.
'Chura Liya Hai Tumne' – Asha Bhosle – Yaadon Ki Baarat

A glass and spoon and an acoustic guitar set in Spanish style is all it took Zeenat Aman to make this one of the most famous Bollywood songs ever. Remaking this will prove a very big challenge as RD Burman's genius is everywhere here, not least of all in choosing Asha Bhosle to sing it. This hasn't stopped a bunch of pop versions of this song, so why not Bollywood?
'Chudiyan Khanak Gayi' – Ila Arun, Lata Mangeshkar – Lamhe

From one of the greats in Yash Chopra came 1983's Lamhe starring Anil Kapoor and SriDevi. Perfect casting only added to by a super album with hit after hit, Yashraj knew what made Bollywood tick all the way through to the mid noughties when that baton got passed onto Karan Johar. This piece is a folk song, so again challenging, but its visuals have already been borrowed by 1999's Kaache Dhaage for Pyar Nahin Karna… so all things are possible.
'Aye Dil e Nadan' – Lata Mangeshkar – Razia Sultan

There's no lack of period films being done in Bollywood these days, so this one could easily be slotted in. A moving tale of a powerful woman not able to find love in the sands of the desert, trying to find answers with no one to ask. This was one of the most beautiful pieces provided by Khayyam, who having passed only in August this year, could at least be revived in tuneful song.
'Tum Itna Jo' – Jagjit Singh – Arth

Even the purely sad songs are worth remembering and revitalising and this one is among the best. A ghazal written and sung by the maestro Jagjit Singh, tells a simple tale of hidden tears. While this may not be able to be modernised to a dance or club level, this song proved that beauty can be found in the absence of sound just as easily.
'Dil Dhoondta Hai' – Shailendra Singh, Lata Mangeshkar – Mausam

This one is not one but 2 songs. There is the happiness of youth in budding romance and there is the quiet of loneliness in old age. Either could be easily remade for several purposes, including the eponymous travel song that has been ever popular post 2000. When listening to this, listen to the first outside, but keep the second for a quiet dark room when you have a moment to yourself.
'Pehla Nasha' – Udit Narayan, Sadhana Sargam – Jo Jeeta Wohi Sikander

This is the song most known from Aamir Khan's early career and his steep rise to stardom. Normally Udit Narayan takes the credit for this song, but for me Sadhna Sargam owns this song with the opening lines "Chahe tum kuch na kaho, mene sun liya… ke saathi pyar ka mujhe chun liya". This line could be the spur for a new song, something brilliant and mind-blowing.
'Made in India' – Alisha Chinai – Private Album

To the first of the Desi pop songs on this list, this is the iconic song of India. No doubt many will remember this from an ad or product placement, playing on a radio or some cable tv channel. However, it's forgotten as its one of the earliest pieces of female power, with Alisha having the male model Milind Somond delivered in a box!
'Bohot Pyar Karte Hain' – SP Balasubramanium – Saajan

SPB is a singer from the south with an iconic voice that drives audiences crazy after some of the best of Tollywood and Kollywood music. It's often forgotten that in Bollywood he sang for Kamaal Hassan and the pre-muscles suit model Salman Khan exclusively, just like this iconic song from Saajan sung on-screen for who else but Madhuri Dixit in this early-90s love story.
'Tum Mile Dil Khile' – Kumar Sanu – Criminal

From one south star to another, this was a remake of 1993's Fugitive starring Nargajuna, Manisha Koirala and Ramya Krishnan. Having been a superhit in Telugu, this film came north and was fully redone. This is the paramount love song, sung by the love star of the north Kumar Sanu (replacing the SPB version), which is one of the major reasons this film did so well.
'O O Jaane Jana' – KK – Pyar Kiya to Darna Kya

This song is muscles-man Salman, arriving on a bike, shirt off and lots and lots of screaming girls. While the video for this made it look like a rock song, it was more jazzy then anything, and there was more of an attempt at comedy. For a film with a superb album, one song of which has already been pinched for upcoming Pagalpanti, this played the item number role, so this remake practically writes itself.
'Meheboob Mere' – Sunidhi Chauhan – Fiza

While this film didn't do well because of its serious nature, the song became a star-maker for both singer and the on-screen dancer Sushmita Sen. Its Arabic feel, desert atmosphere and powerful but sad lyrics make for a sensous combination. Maybe Nora Fatehi could replace Sushmita as she did for Dilbar last year.
'Is Deewane Ladke Ko' – Alka Yagnik – Sarfarosh

Alka Yagnik may have been queen of Bollywood between Lata Mangeshkar and Shreya Ghosal but she was certainly no lesser than either of them. Some of her best songs, while not technical, resonate so perfectly that its easy to forget that the on-screen actresses weren't the ones singing them. This one is one of the few female comedy songs pictured on Sonali Bendre with some hilarious interjections by Aamir Khan.
'Kismat Se' – Sonu Nigam, Anuradha Paudwal – Pukar

Anuradha Paudwal was lost to Bollywood in the mid-90s having been the exclusive voice of Madhuri versus Kavita Krishnamurthy who seemed to sing exclusively for Sri Devi. She found a new place in devotional music once again taking Lata's place. Sometimes it just takes genius to see a diamond, as AR Rahman brought her back for this song, where she hit probably the highest note ever heard in Bollywood. The rest of this song though is ARR's most underappreciated work… a melody for the senses.
'Bijuria' – Sonu Nigam – Private Album

From the previous song, its easy to forget that Sonu Nigam was even in it with Anuradha singing those melodious notes. But his own fame didn't start with Kal Ho Naa Ho but with his own Desi pop albums such as Bijuria, whose title song is featured here. A comic take on a haunted house, this would be a whole bundle of fun to modernise.
'Tanha Dil' – Shaan – Private Album

This song was Shaan's first hit attempt as pop star and is the wandering traveller sound from Razia Sultan brought forward 20 years and put in a male's perspective. This is a breakup sad song, but it made him a poster boy around the country. This could be the new Kal Ho Naa Ho… maybe a Ranveer hit???
'Dooba Dooba' – Mohit Chauhan – Private Album

To round out a couple of very decent Desi pop albums come Silk Route's 2004 hit Dooba Dooba having been fronted at the time by Mohit Chauhan. This song was Mohit's springboard to Bollywood, but is a beautiful, soft, smooth tale. A modern version might look like Yeh Dil from SRK's Pardes with a softer tone.
'Bol Na Halke Halke' – Rahat Fateh Ali Khan, Mahalakshmi Iyer – Jhoom Barabar Jhoom

We've heard a lot of beautiful love songs, but none that can reference the Taj Mahal and Humayun Ka Maqbara without missing a beat. Rahat is like the Buland Darwaza, leading the listener onto the glowing beauty of Mahalakshmi Iyer who seems to be a far better singer in this piece. This one is a challenge, as its best bits are its technical ones, but again one for the period music directors maybe…
'Bhor Bhaye' – Shreya Ghosal – Delhi-6

I know it, AR Rahman knows it, Bollywood has certainly seen it: Shreya Ghosal is super-talented when it comes to technical singing. This song pitted her against one of the best singers India has ever produced: Ustad Gulam Ali Khan. This is Indian classical in its most approachable, as most can get on board with Todi. Take a listen to Todi Trance by Purbayan Chatterjee for a feel of what a remake could sound like.
'Man Mohini' – Shankar Mahadevan – Hum Dil De Chuke Sanam

If Shreya is super-talented, then Shankar Mahadevan must be Bollywood's equivalent to a master being both a music director and singer as part of SEL. Being multi-lingual to boot, being trained in both Carnatic and Hindustani styles. This one puts his vocal skills to the test and its remake would need to adhere to that level of singing talent but could add some excitement with the beat.
'Chal Chal' – Sukhwinder Singh – Astitva

Who can ever forget the power of Sukhwinder Singh's voice? Nevertheless, to balance it out music directors often use heavy and loud instrumentation. This song is a pinnacle for the simple reason that the music director left Sukhwinder to sing. A song of desperation, it begs for an unrequited love between Monish Behl and Tabu. A remake of this, if nothing else but for a chance to listen to the original.
'Chahun Mein Ya Naa' – Arijit Singh, Palak Muchachal – Aashiqui 2

Where else to go looking for the female version of the previous song but in the ultimate love story. This one is Palak's debut song, with her playing student to Sidharth Roy Kapur's mastery performed by Arijit Singh. A beautiful and smooth song, this one is the first on this list that might not be out of copyright yet, so maybe one for a future remake?
'Meri Dhoop Hai Tu' – Javed Ali – Zindaggi Rocks

One of the early female rocker movies, this one is often easily forgotten but this song is unique in that its both an iconic love song and so very, very angry at the same time. Its faintly Arabic vibe could easily be transformed into something for a dancer, but its anger would be lost in that, so a chance to do something different.
'Hairat Hain' – Lucky Ali – Anjaana Anjaani

A driving rock rhythm, while driving across mid-western America. Fun, adventure, nothing but open space and Lucky Ali straining to belt out a tune. This one seems destined for a Vishal Dadlani re-do (as it was originally their album), taking it possibly somewhere darker, altogether more spooky. Think Aao Na from Haider as a model for this.
'Oh Humsafar' – Tony Kakkar, Neha Kakkar – Private Album

Technically speaking this is Tony Kakkar's song with sister Neha along to provide the female voice of this gentle love song. Like with so many of the Punjabi pop songs that have been brought across this year, it's not hard to see this being redone with a bit more glitz and glamour for Bollywood… maybe a job for Atif Aslam?
'Dua Saware' – Neeti Mohan – Private Album

Another one for a future remake, this is Neeti Mohan being allowed to show off her talents. Her voice resonates so well in this song written by Salim-Suleman for T-Series Mixtape. I could see it being turned into a lullaby type song or a just as easily a more melancholy female love song.
'Neela Yevaru' – Arijit Singh – Swami Ra Ra

Admitted that the last song on this list is a Telugu song but it has never been translated into Hindi. If this one could be done, I would expect it done by Anirudh Ravichander or someone of his ilk, as both the music and the words would need to be translated across. This is a simple love song but deserves every second you can devote your ears to it. Arijit may be king of Bollywood but imagine if he sang more songs like this one.
And thus comes to an end a list of songs that could be remade in 2020 or years to come as each while holding a special place in their own time period is just as ripe to be modernised to become a hit song possibly as item number, or the next great love song. At the end of the day, if any of these were redone it would give everyone a chance to return to the old versions and fall in love with them again too. I believe it's just as important to listen to these great songs, even in new versions, if they are willing to openly state where they came from. This way, new audiences can appreciate them, but also take a moment to dive into a rich history of what came before.